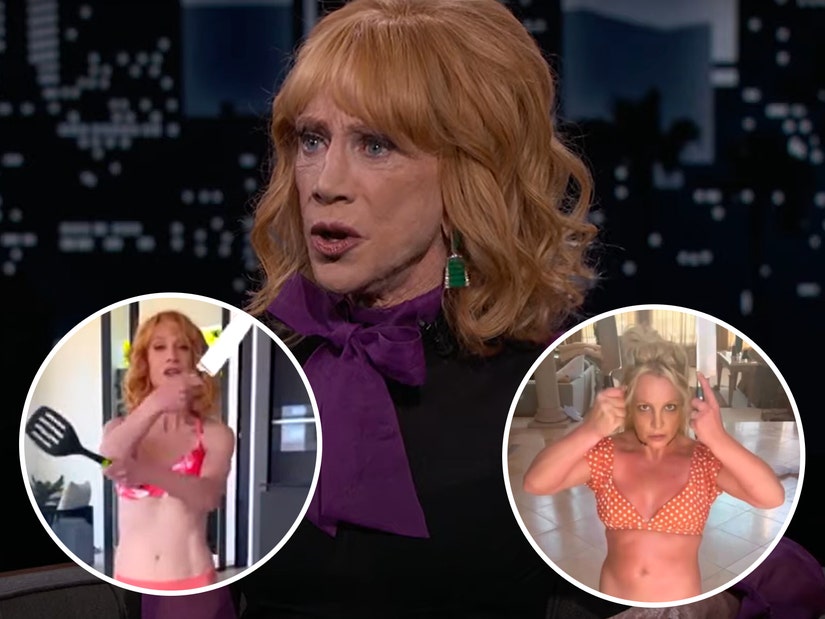 ABC / Instagram
Kathy Griffin donned a pink bikini for the tongue-in-cheek clip, which saw the comedian mimic Britney Spears' knife video, dancing around her home with a knife and spatula of her own, as she promoted her upcoming comedy show in Las Vegas.
Kathy Griffin trolled the popstar in a video of her own, donning a pink bikini as she danced in her home with a spatula and a knife in either hand.
In the spoof footage, posted to Griffin's Instagram account, the funny woman clarified that her knife and spatula were "not a prop," unlike the knives Spears said she was dancing with in her now-viral video.
"You guys, please come see me this Friday, October 6, at the Mirage in Las Vegas," Griffin said while putting her toned figure on display. "I'll be making fun of everyone and everything, including myself."
Waiting for your permission to load the Instagram Media.
The 62-year-old comedian was a guest on Jimmy Kimmel Live! Tuesday night, where she shared her thoughts on the #FreeBritney movement, and Spears' life since being released from her 13-year conservatorship back in 2022.
"I fear the #FreeBritney people, I do, but sometimes, a person can be too free," Griffin joked.
She added, "All I'm saying is, I love you gays and I love you #FreeBritney people, but you didn't have a plan."
While Griffin's video was clearly tongue-in-cheek, Spears' clip was cause for concern, with the pop star taking to Instagram several times to make clear that the kitchen knives she was "playing with" were fake.
"Don't worry they are NOT real knives !!! Halloween is soon 🙈🙈🙈 !!!" Spears edited the knife-wielding video's caption to read.
The "Sometimes" singer later clarified that she had been copying Shakira's recent performance from the MTV Video Music Awards.
While some fans defended her, others began to worry, so much so that police conducted a wellness check on the performer after her posts left "somebody close to" her "really concerned."
Waiting for your permission to load the Instagram Media.
Spears addressed the check via Instagram, writing that "no one needs to worry or call the police."
She later called out the cops in another post, alleging that police came into her home unwarranted and demanded an apology from law enforcement.
Spears' troubling videos come amid a trying time for the singer, who recently separated from her husband, Sam Asghari, after just 14-months of marriage.