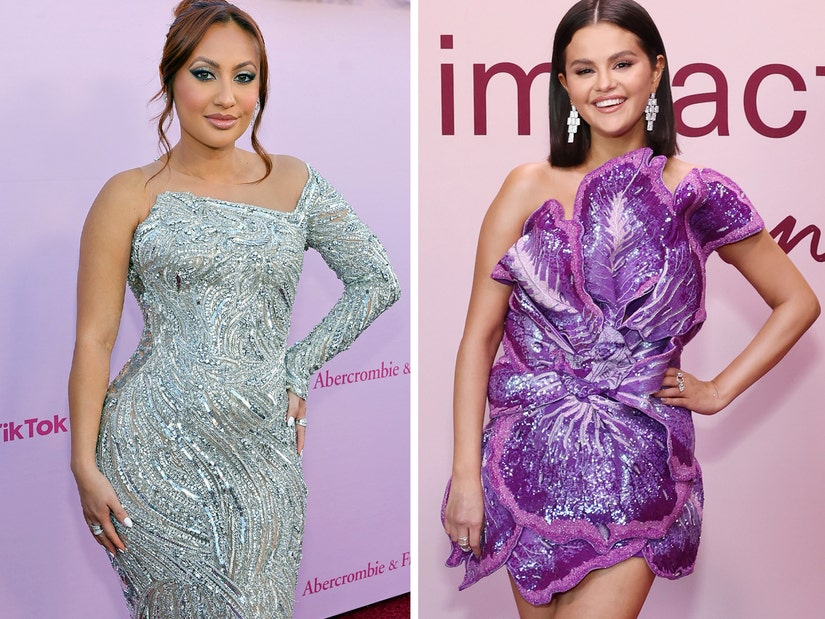 Getty
"We trauma-bonded, which is beautiful, but also it can get rocky and tricky," the actress said of Gomez while supporting the Rare Beauty founder at the inaugural Rare Impact Fund Benefit.
While speaking with Extra TV at Gomez's Inaugural Rare Impact Fund Benefit on Wednesday, the actress reflected on both the highs and lows of their years-long friendship, sharing that any past drama or conflict had "nothing to do" with her donating her kidney to Gomez.
"Sometimes, I feel people need to spend time apart in order to grow," said Raisa, 35, who came out to support Gomez at her event, which raises
"We had to almost go on our own journey and grow... I am really happy in my career now and my endeavor," she continued. "I don't know if I would be able to do that if I didn't really take some time for myself and figure out what the hell was going on with me, because I wasn't okay."
The How I Met Your Father alum said she's "okay now," before clarifying, "And just for the record, it had nothing to do with the kidney."
In 2017, Raisa and Gomez underwent a kidney transplant due to the latter's complications from lupus. While speaking with Extra on Wednesday, Raisa reflected on how the surgery impacted their friendship, admitting their relationship got "rocky" after the procedure following rumors there was a rift between them.
"We trauma-bonded, which is beautiful, but also it can get rocky and tricky… People grow, relationships change," she said of Gomez, 30. "Obviously, I treat her like my little sister, she treats me like her older sister ... I don't know any relationship that's perfect... When our situation came up… No, I never pictured that, but obviously I never regretted it. I am happy that we are here today, celebrating and supporting each other."
Reports that Raisa and Gomez had a falling out in their friendship began back in November after the former told Rolling Stone that her "only friend in the industry" is Taylor Swift.
However, months after the rumored rift began, the two appeared to be on good terms, with Gomez sharing a birthday tribute to Raisa on Instagram in July, and Raisa seemingly shut down any reports of a possible feud with Gomez in August.
The Secret Life of the American Teenager alum also addressed rumors that she was "forced" to donate her kidney to Gomez, stressing that she wasn't pressured to do it.
"I've said this before. I just felt it in my heart. I knew I was a match. I knew it was gonna happen," Raisa recalled on the Dear Media's Good Guys podcast in August. "No one forced me to do anything. It came out of the genuine kindness of my heart, and I've been super blessed ever since."
Before the transplant took place, Raisa said she experienced a "crazy calmness," sharing that she knew she had to go through with the transplant "the minute" she found out she was a match for Gomez.