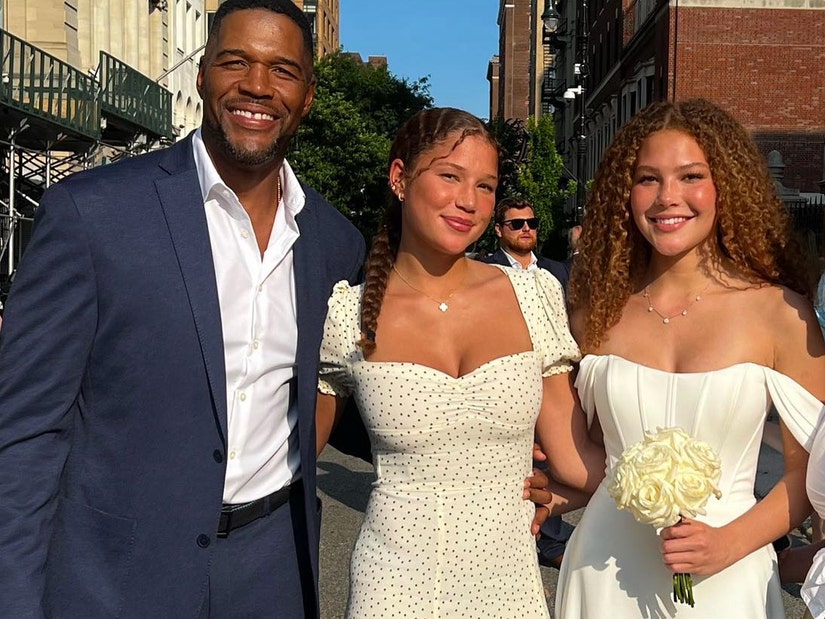 Instagram
"My baby girl is off to college…. I cried in the car!!!!"
Summer vacation has come to a close and students are headed back to class -- and for some parents, that means dropping their kids off at college for the very first time.
The milestone moment can be pretty emotional as moms and dads say goodbye to their children for the fall semester. While it's the start of a new chapter for these college kids, it's a difficult moment for many parents who become empty nesters overnight. And these famous parents know exactly what that's like!
Here are the stars who had to say goodbye to their kids this semester…
Waiting for your permission to load the Instagram Media.
This year, Alex Rodriguez dropped his 18-year-old daughter Natasha off at the University of Michigan for her freshman year, where she will be studying musical theater. The duo were also joined by Natasha's mom Cynthia Scurtis for the special occasion. On Instagram, Alex shared photos helping Natasha get moved into her dorm and posed for family photos around campus.
"Left my heart in Michigan 💙💛 Dropping off @thenatasharodriguez at college was one of the hardest, but most proud moments of being a father. Can't wait to watch her take on this big new chapter," Alex wrote.
Waiting for your permission to load the Instagram Media.
Kevin Hart just helped his 18-year-old daughter Heaven get moved into her college dorm at Loyola Marymount University in Los Angeles. For the monumental moment, Kevin brought the whole family along and the father-daughter duo posed for a dorm room photo alongside her siblings Hendrix and Kenzo.
"I'm not crying your crying…. So proud of my daughter….I can't even say little girl anymore because you have blossomed into the most amazing young woman ever!!!!! God knows I am beyond proud of you and that I love you with my all. Fly Heav Fly….The world is yours!!!!! My baby girl is off to college…. I cried in the car!!!!" Kevin wrote on Instagram.
Waiting for your permission to load the Instagram Media.
Michael Strahan officially became a "Duke Dad" when he dropped his daughter Sophia off at the prestigious university this August. On Instagram, he shared photos on campus and shopping for dorm necessities at Target.
"Dropped off the youngest of the tribe @sophialstrahan at college! Can't believe how time has flown by and I'm so proud of her. I know she's going to crush college life!!" Michael wrote.
While Sophia is all set at school, Michael shared that he would be dropping off her twin sister Isabella at her college soon.
Waiting for your permission to load the Instagram Media.
Teresa Giudice recently helped her daughter Gabriella move in at the University of Michigan. The Real Housewife posed for photos with a team of movers bringing Gabriella's things to school and also shared a family photo at dinner before their departure.
"As you embark on this exciting journey at the University of Michigan, I want you to know how deeply proud I am of you. Your relentless dedication and hard work have brought you to this moment, and I have no doubt that you will continue to impress and thrive," Teresa wrote on Instagram.
She continued, "Seeing you grow into the incredible woman you are becoming, fills my heart with indescribable joy. Your strength, resilience, and determination inspire me each and every day. Cherish the opportunities that lie ahead, and remember to embrace every experience that comes your way."
Waiting for your permission to load the Instagram Media.
Good Morning America host Lara Spencer dropped her daughter Katharine off at Vanderbilt University in August, taking a family road trip to Nashville. On Instagram, Lara shared photos from the drive as well as in front of a college building.
"Today is the start of a new chapter in your life. Write your story, baby," Lara wrote.
6. George Stephanopoulos & Ali Wentworth
Lara's GMA co-host George Stephanopoulos and his wife Ali Wentworth also dropped their daughter Harper off at Vanderbilt University this month. After sharing some funny photos trying to assemble dorm furniture, Ali got emotional about saying goodbye to her daughter.
"We dropped our baby off at college. Everyone is saying 'she's ready to launch'! But… I don't think I'm ready! I don't want to stop making pasta with vodka sauce, picking up wet towels, cuddling up to her familiar scent. As Joni Mitchell once wrote- 'the bed's too big, the frying pan too wide'. I know our daughter will thrive. But man, it's brutal on the parents. If you feel inclined- please send me baked goods. I'll be under my covers," Ali wrote on Instagram.
Waiting for your permission to load the Instagram Media.
Yellowstone star Cole Hauser and his wife Cynthia just dropped their 18-year-old son Ryland off at Texas Christian University. Cynthia shared photos from move-in day as they helped Ryland get set up in his new dorm room. In a final photo, Ryland can be seen waving goodbye to his parents.
"And just like that my baby boy is starting his life. Dad and I are so proud of you Ryland!! We know you'll touch so many lives! Thank you for being open to learning from us, sharing your enormous heart, and making Steely and Colt feel so special. We'll miss you very much honey," Cynthia wrote.
Waiting for your permission to load the Instagram Media.
Nicole Ari Parker recently helped her 18-year-old daughter Sophie get moved in at Howard University. In a montage shared on Nicole's Instagram, Sophie can be seen posing in her dorm room and embracing her brother before parting ways.
"Today is your official first day of college @howard1867," Nicole wrote. "I am so so proud of you. We miss you soooo much but we know you got this!! 💪🏽 Get to class on time. Call me after."