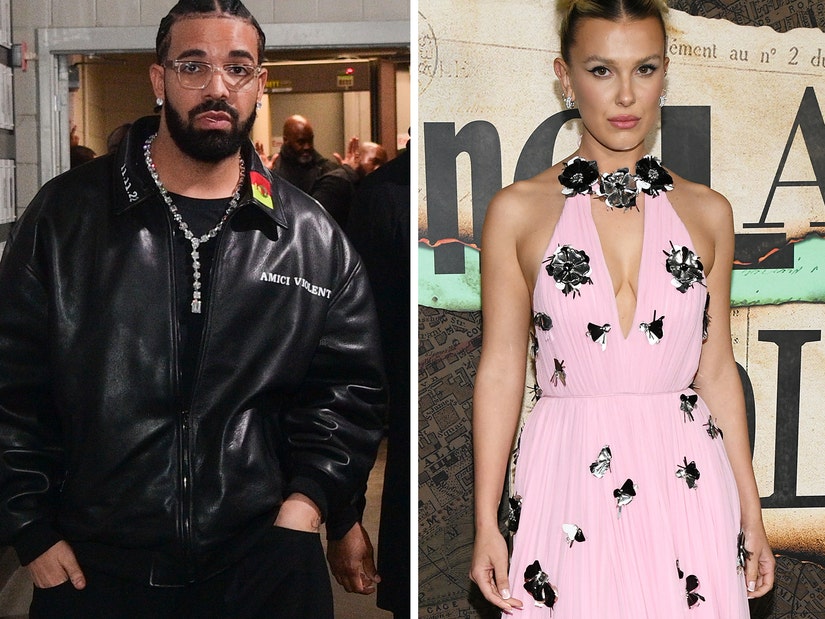 Getty
Years after a text exchange between him and the Stranger Things star made headlines, Drake called out those criticizing their friendship on his new album, 'For All the Dogs.'
Back in 2018, Drake, 31, caught flack when the then-14-year-old Stranger Things star revealed to Access Hollywood that she talks to the "God's Plan" rapper when she needs "boy advice."
At the time many took issue with the pair's friendship and the 18-year age gap between them.
Brown, who called Drake a great friend and role model at the time, went on to defend their friendship, telling fans she's "very blessed to have amazing people" in her life.
"Why u gotta make a lovey friendship ur headline? U guys are weird… for real. I'm lucky to have people in the business extend their time to help me further my career and offer their wisdom and guidance," Brown wrote in a 2018 Instagram Story post. "I'm very blessed to have amazing people in my life. U don't get to choose that for me."
She continued, "It's nice to have people who understand what I do. Now get back to talking about real problems in this world other than my friendships... jeez."
Years later, Drake is finally addressing the controversy on his new album, For All the Dogs.
On his song "Another Late Night," featuring Lil Yachty, Drake raps, "Weirdos in my comments talkin' 'bout some Millie Bobby/ Look, bring them jokes up to the gang, we get to really flockin.'"
Drake's eighth studio album, which dropped Friday, saw the rapper touch on other hot button topics in his life, including his relationship with ex, Rihanna.
While he didn't call out the songstress by name, he did reference her 2016 album, Anti, on the track, "Fear of Heights," before name-dropping her partner, A$AP Rocky, on the Lil Yachty-backed track.
"I ain't Pretty Flacko," he raps on "Another Late Night," nodding to Rocky's nickname, "B---h this s--t get really Rocky."