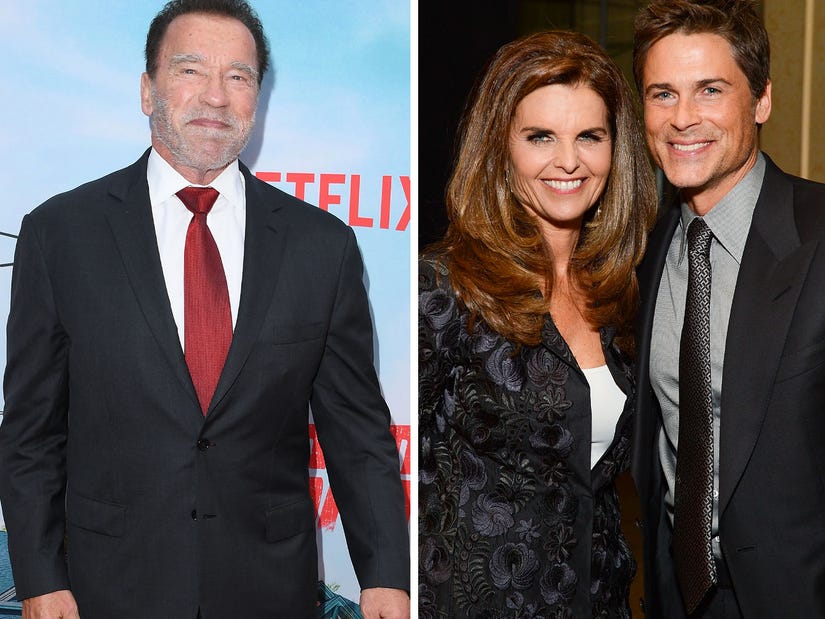 Getty
"Maybe eventually you're gonna wake up and say, you know, 'I can hang out with Arnold again and Maria's not gonna decapitate me,'" said Schwarzenegger.
In a preview of an upcoming interview for Lowe's Literally! podcast, the actor and former Governor of California joked that Lowe took the side of Shriver after the pair split following his infidelity.
"Let the story be told that since I got divorced from Maria, you haven't been around much," said Schwarzenegger. "I think she got custody," joked Lowe.
"You wanted to prove to her that you're loyal to her and not me," continued Schwarzenegger.
"So, because even though we didn't have any of those things, we always had friends that were loyal to me and to her, and they didn't get involved in all of this stuff, but I mean, you did," Arnold added. "It was, like, unbelievable how all of a sudden I said to Maria, 'Why is Rob not showing up?'"
Despite his teasing, Schwarzenegger admitted that he did miss Lowe.
"We had a lot of fun. And you came over to the house all the time. I kind of missed all that stuff," he explained, before adding, "But you know, maybe eventually you're gonna wake up and say, you know, 'I can hang out with Arnold again and Maria's not gonna decapitate me.'"
Arnold recently opened up about his relationship with Shriver and where they stand today, more than a decade after Schwarzenegger publicly admitted in 2011 to secretly fathering a child -- son Joseph -- with the couple's housekeeper, Mildred Baena, while married.
In an interview with People, Schwarzenegger shared that, despite their split, their relationship will go on "forever."
"We never left the [first] chapter," said Arnold. "Because remember, it's not like we had a feud. We didn't have a fight. It's just my f--k up, right? She said, 'Okay, this is what it is,' and then she decided to make a split, so it was her decision."
"But the fact is, we always made it very clear that the kids should not suffer because of that," Schwarzenegger told the outlet.
He noted that the exes still spend holidays and important life moments together with their children -- including Katherine, 33, Christina, 32, Patrick, 30, and Christopher, 26 -- and grandchildren.
"So everything is kind of just as if we're together but we have separate lives," added Schwarzenegger. "And she has her things, her relationship, I have mine, but we always communicate about the kids, about the holidays, about birthday parties and Mother's Day parties and Christmas."
"My chapter with Maria will continue on forever," he concluded. "Even though it's a different relationship, there's no reason for me to feel anything other than love for her."