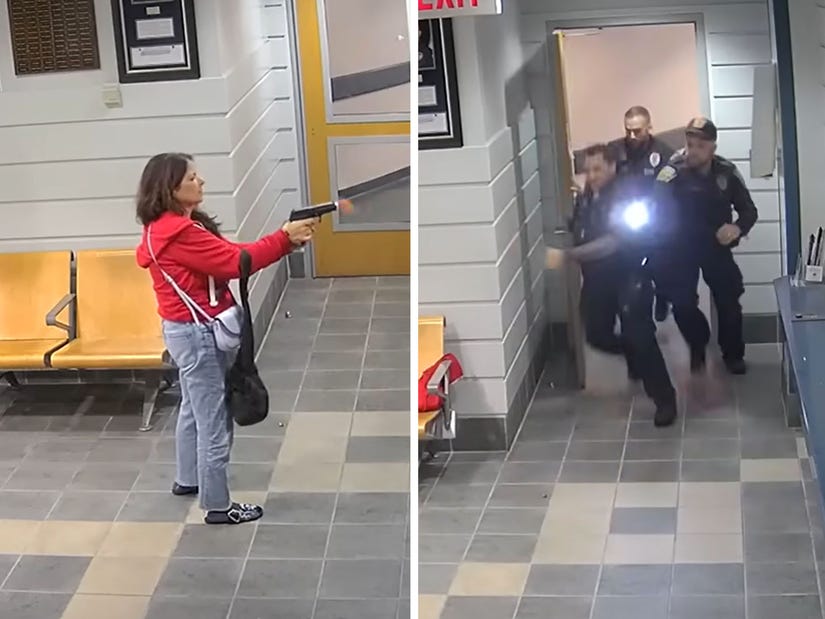 WFSB 3
A cop on the other side of the protective glass also fired back -- but both of them never penetrated the bullet-proof barrier
Videos from a shooting incident at the Bristol Police Department in Connecticut last week have just been released.
The Office of the Inspector General has named 51-year-old Suzanne Laprise as the shooting suspect shown in the footage, per local news outlet WFSB.
The inspector general says Laprise opened fire on October 5 into the PD's North Main Street lobby, shooting at bullet-proof office windows.
In the video she also appears to hammer on the reinforced windows with her handgun. The side of the glass occupied by Laprise was empty.
While multiple rounds were fired, as shown in the footage, none of them penetrated the bullet-proof glass.
Later, in the same videos, Laprise is seen taking off her sweater. The inspector general said officers behind the protective glass attempted to engage the suspect in conversation, but were answered with more rounds being fired in their direction.
The office said that one police officer, Spencer Boisvert, did return fire, but his rounds also struck the glass and did not hit anyone.
It was when Laprise apparently laid her pistol down that officers then rushed into the lobby and apprehended her, per the inspector general. One officer used a taser.
Laprise was evaluated at a hospital before being placed in the custody of Bristol Police; authorities believe she was attempting suicide by cop. Laprise's bond has been set at $1 million with a court appearance scheduled for next week.
The shooting in the lobby occurred roughly one year after two Bristol police officers were slain in an ambush, per WFSB.
If you or someone you know is struggling with depression or has had thoughts of harming themselves or taking their own life, get help. The National Suicide Prevention Lifeline (1-800-273-8255) provides 24/7, free, confidential support for people in distress.