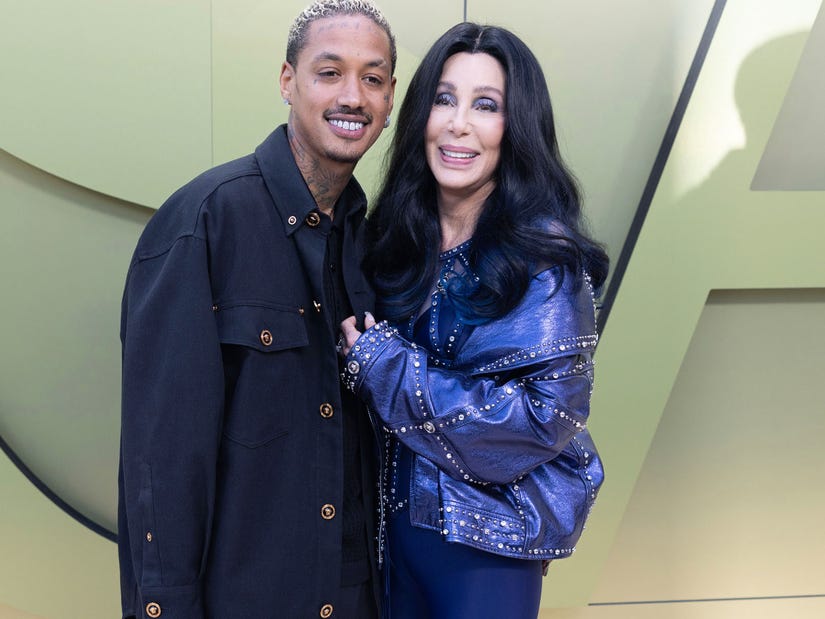 Getty
"We've been together a year, and if it was just a year, it would've been worth it. I've had the best time," the music icon, 77, said of her romance with Edwards, 37, sharing that she's "liv[ing] in the moment."
Cher is getting candid about her relationship with Alexander "A.E." Edwards.
In a new interview with People, the 77-year-old pop icon -- who has been dating the 37-year-old music producer for nearly a year -- opened up about her romance with Edwards, and shared her thoughts on the public's reaction to their relationship, including their 40-year age gap.
"Alexander's got diamond teeth, tattoos, white hair, and he's way younger. He's a beautiful man," Cher said, admitting that she was "not surprised" by how their romance made headlines. "Also, I think it's fun to be interested in somebody else's love life!"
The music legend previously revealed she and AE met at Paris Fashion Week last year. While speaking with People, she said they met "for about 15 minutes," and a mutual friend gave Edwards her number, which she said was "really shocking."
"People just don't give out my number. I had been telling all my friends, 'We're too old to go out with really younger men, and I will never fall in love on text,'" Cher recalled. "So I did what I said not to do!"
As for why the Grammy winner went against her own advice? "Because he's just special," Cher said of Edwards.
"I hate when people say people are special, but lots of people say I'm special, so I can say that he's special," she shared. "No matter what happens, I love being with him. He makes me laugh, and we have fun. What I learned is that it's never too late. If you wrote out all the statistics, you would go, 'Well, this is doomed.' But we've been together a year, and if it was just a year, it would've been worth it. I've had the best time."
"If you have happiness, you can't think about how long it's going to last," she added. "You have to think about 'How does it feel?' and live in the moment."
Cher teamed up with AE on her first-ever holiday album, Christmas. Edwards produced the song "Drop Top Sleigh Ride.
"He's a great producer," Cher said of her beau. "I let him do 'Drop Top Sleigh.' That's a hard thing to do when you are in love with someone and then you say, 'OK, here, take this record and do what you want with it.' But I had faith. And I was so thrilled."
Cher and Edwards first sparked romance rumors in November 2022. After they were spotted holding hands out in Los Angeles, Cher confirmed their romance, while also defending their 40-year age gap.
She hit back at criticism about the relationship on X, formerly Twitter, after she shared a photo of AE to her page. Cher responded to one fan who said they were "immediately suspicious of his intentions towards you" and hoped the singer wasn't being "taken advantage of."
"As we All Know …I WASNT BORN YESTERDAY & What I Know For Sure," she responded. "There Are No Guarantees. Anytime you make a Choice You Take a Chance. I've Always Taken Chances…It's WHO I Am."
"Haven't You Got Anything Else 2 Do? Let Me Explain…I DONT GIVE A FK WHAT ANYONE THINKS," she added.
Cher has had relationships with many famous men -- from her marriages to Sonny Bono and Gregg Allman to dating Val Kilmer and Tom Cruise in the '80s.
She previously told People, "The truth was if I hadn't gone out with younger men, I would have never had a date."
"Younger men weren't intimidated by older women," she explained. "But older men in my age category, they weren't having it."
Edward, meanwhile, shares son Slash Amber Rose. The two split in 2021 following a three year relationship after Rose seemingly accused him of being unfaithful with 12 different people. Edwards later admitted to cheating in an Instagram Live, saying he "got caught."
Christmas is out October 20.