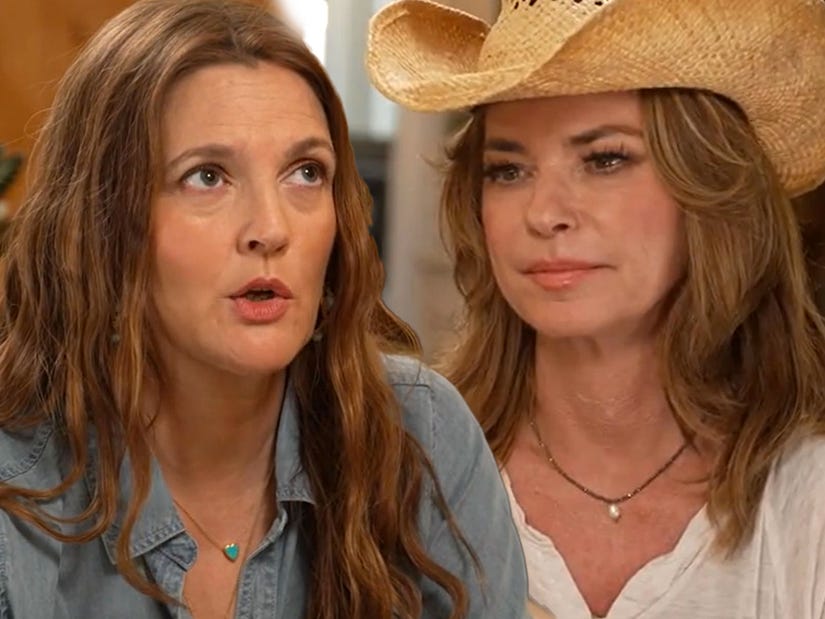 Paramount
During an emotional sit down with Shania Twain, Drew Barrymore spoke to the country singer about life as a child star, and the trauma that came with being exposed to partying at an early age.
Shania Twain has been in the music business since she was a kid, but she hasn't necessarily come out unscathed.
In a clip from The Drew Barrymore Show's season 4 premiere Monday, Drew Barrymore sat down with the country star, where they spoke about their careers, fame and being exposed to pitfalls of the industry at a young age.
Bonding over their childhoods, specifically about how their mothers brought them to nightclubs as children, Barrymore said she felt "pressure and anxiety" to continue working as a kid out of fear her family wouldn't be able to support themselves, prompting her to ask Twain if she had a similar experience.
"Growth means that you're moving from one level of education or maturity to another," Twain said. "I developed a little broken, I think. I mean, if you have drunk people falling all over you, and an adult, and I'm eight -- just being put in situations that are very unnatural."
Waiting for your permission to load the Instagram Media.
She continued, "I loved what I was doing. I loved the music, so I was torn. I had this passion for music and I thought, 'Well, I guess if you have a passion for music then this is the way you do it.' I think certain personalities are not capable of coping with it. So I feel lucky that I was so resilient."
Twain added, "But I paid a price for it."
Elsewhere in the interview, Barrymore, who has been open about her own rocky upbringing, detailed getting emancipated at the age of 14 and the difficulties she faced having to take care of herself at a young age.
"I got emancipated at 14 and got my first apartment and got away from it," Barrymore explained. "I was in an institution for two years. I was like, 'I've got to get away from this and I've got to go find my path somewhere else.' I had to take care of myself so young."
She continued, "My biggest thing that I would like to put to bed finally is to stop being angry and disappointed and so critical of the way I parented myself. But I had no other choice because I had to."
Twain, on the other hand, said she doesn't blame herself for the way she had to step in for her and her younger siblings, telling Barrymore it makes sense she was a "terrible parent" at 10 years old.
They were moments that molded her, however, with the "Man! I Feel Like a Woman" singer adding that experiences like those prompted her to take risks in both her life and career.
"You don't always know what's on the other side of the cliff. You don't always know how deep the water is when you jump in," Twain said. "Whatever happens to you, you will get to the other side and when you open your eyes, you're like, 'Wow, I achieved something. I actually went through a fear threshold. I passed the fear threshold.'"
She added, "It doesn't even matter what it is that you get on the other side. It's more about the fact that you succeeded at taking the leap."
During her first episode back, Barrymore did not address the controversy around her show announcing its return amid the then-ongoing writers strike, which has since ended.
The Drew Barrymore Show airs on weekdays on CBS.