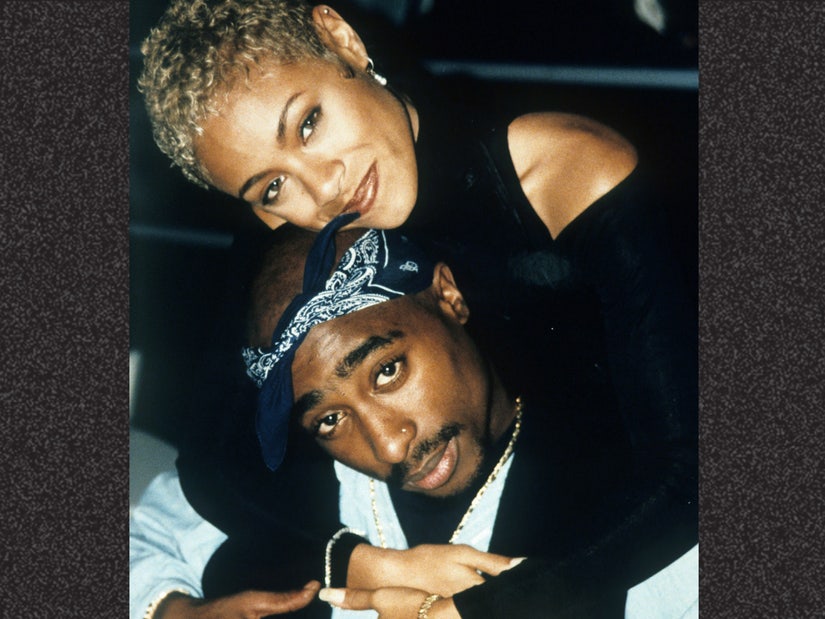 Getty
Jada says she realized she hadn't properly mourned the rapper while writing her new book, in which she details his marriage proposal, why she supported him amid his sexual abuse conviction and their blowout right before his death.
It's been 27 years since Tupac Shakur was gunned down and killed in Las Vegas and, for his longtime friend Jada Pinkett Smith, it took writing a book about her life to realize she never properly grieved him following his death.
Shakur's name is one that pops up quite a lot in her new memoir, Worthy, which details how she discovered her self-worth while tracing her life through her Baltimore upbringing to early stardom and eventual marriage to Will Smith.
"I'm still developing a relationship with grieving. And I just hadn't realized how much I didn't allow myself to mourn him," Jada told TooFab of what she discovered about their relationship during the writing process. "And then I was like, 'Okay, that process is not complete.' You know?"
She added that "there were definitely moments" that were "really difficult" to tackle, as she debated "how much am I going to share, what am I going to share and what am I not going to share," as far as Pac was concerned.
Pinkett Smith and Shakur met during her sophomore year at Baltimore School of the Arts. In the book, she said there was never any romantic chemistry between them at all, instead calling their friendship one of "powerful strength" which gave them "the ability to hold space for each other through some of the most unbearable moments of our lives." She added that he did kiss her once, on a date, and they felt nothing but mutual disgust; according to Jada, they also made excellent wing men/women for each other.
Though he moved away to California without warning, the two still stayed close as he started to make big moves in the rap industry. Pinkett Smith said he even sent her money while she was in college, before she dropped out and also moved to Los Angeles.
Because of how close they were, however, they would also have passionate, sometimes emotionally hurtful fights with one another. Pinkett Smith said she would often confront Tupac about how pervasive disrespecting women was in rap music ... and always felt like he was keeping her at arms length from his life, perhaps in a bid to keep her safe.
When Tupac was charged and convicted of sexual abuse, Jada stood by him steadfastly. "All I know is that if Tupac Amaru Shakir is ever in a room with any girl under any circumstance, she should always feel safe -- no matter what," she said she told him while visiting him behind bars, despite being called on to disassociate herself from him. While he was serving time at Rikers, she also said he wrote her a letter saying he came "to realize the friend, lover and soulmate was there all the time" and wanted to marry her. Per Jada, Tupac even asked her mother for her daughter's hand in marriage; though she considered saying yes, she said she turned him down after realizing he expected conjugal visits.
"I couldn't do it. It took some difficult conversations, but eventually Pac and I got to a place of acceptance," she wrote.
She went on to say that after he got out of jail -- signing with Suge Knight in return for the Death Row records founder to post his $1.4 million bail -- he was "different" and she began to worry about him. Tensions arose between them, she said, saying he thought she had gone Hollywood, while she was concerned about him getting into the East Coast/West Coast rap wars. This all led to a blowout fight and they went their separate ways, not speaking for nearly a year before he was shot in Las Vegas in 1996. Jada said she was going to visit him while in the hospital, but didn't after his mother allegedly said he was in a coma and was expected to recover.
Instead, she found out he died while in NYC with Will.
"I felt a huge piece of love for me leave the world, a part of myself gone," she wrote, adding that she was glad her last memory of him wasn't of him in a coma. She also expressed suspicion over Suge Knight having Tupac cremated, claiming Knight gave her a smirk when dropping off his ashes for his service. In retrospect, Jada said she felt she had let down her friend because she didn't know the right way to show up for him in the end. After his death, she wrote, she never felt the "same love for hip hop or the streets" again.
Jada's son Jaden actually first claimed Tupac proposed to his mother during an interview with Big Boy in 2018, but didn't provide any details at the time. Speaking with TooFab, Jada starting cracking up as she expressed surprise that Jaden had even mentioned that in a previous interview -- before pointing out how that moment proved Pac was still a presence for her family.
"Oh my god! Jaden! That is hilarious! You know, really, it's so funny. I know that if Pac were still alive, he would have loved the kids," she told TooFab. "And I think he and Will would have been the best of friends. As they were growing up, I wanted them to know Pac, so, I shared a lot with them."