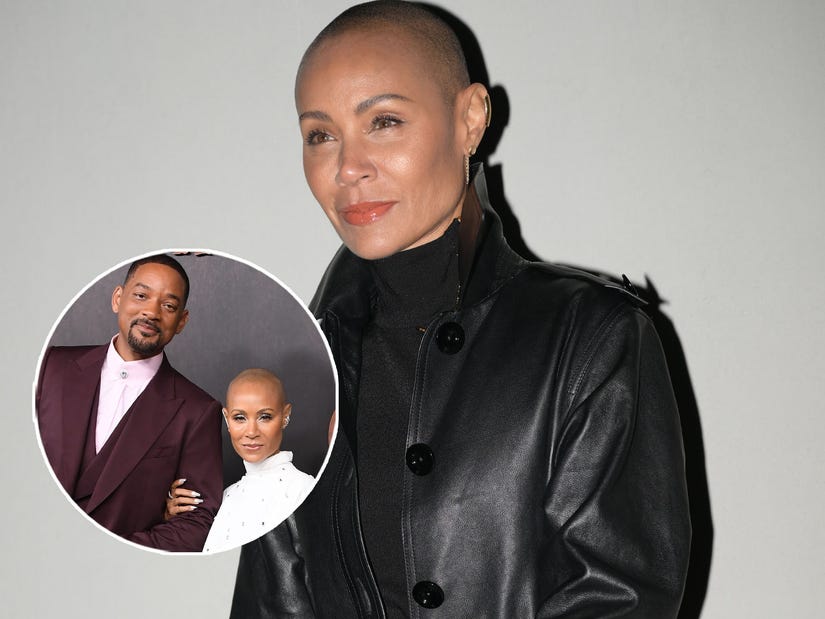 Getty
Jada opens up to TooFab about the "little house" she bought for herself, where she and Will stand today and what he thinks about the revelations about their marriage in her tell-all book.
Jada Pinkett Smith shocked everyone when she revealed she and husband Will Smith have actually been separated for seven years -- and now, she's opening up about the home she bought for herself in that time.
In the book, Worthy, Jada revealed she and Will reached a state of "irreconcilable differences" in their marriage in 2016, but were steadfast in their promise to one another before they married that they would never get divorced. Eventually, she moved in with her mother for about a year, before buying her own home as a 50th birthday gift to herself.
When asked for clarification on where she and Will stand today, as well as whether she's still living in her own house, Pinkett Smith made it seem like everything was once again in a new state of transition.
"We still share a family home. But I still have my little house where I have me time. I don't know how long that is going to last, to be honest with you. I think that time is kind of dwindling," she told TooFab. "To be honest with you, so I'm just enjoying the moments that I have left within my little sanctuary, but I do think that will be coming to an end."
According to her book, Will and Jada were honest with their children about their decision to separate every way except legally, just not the public. While Covid forced the pair under the same roof again for an extended period of time, they remained separated during that time. Pinkett Smith said even after she bought her own place, Will celebrated her birthday with her -- writing, "he had been in full support of my independence and was happy to see where I was in my life."
"I had turned fifty and I had finally found my home," she wrote.
Jada told TooFab that Will has already read the book, saying he "knew the importance of this particular journey for me" and how she needed "to really have my voice." She added, "He really respected and has supported that along the way."
"Everybody is really, really proud of me and so happy that I did it. And I have to be honest, Will has been a huge champion throughout this whole process. Just helping me understand what the process is and just really, really being deeply supportive and I am very grateful for that," she continued, before also praising her children, mother and friends.
"You don't do this alone. This kind of work you can't do it by yourself; you really need a lot of support," she told TooFab. "You need people checking in, you need hugs, you need shoulders to cry on, you need people to talk to when you're in doubt. And I'm so glad I've had that with my family and with friends."
Speaking with us, she also said her work on herself amid her revelations about her marriage to Will has sparked new conversations between them about their relationship.
"I think with everything that has happened in the last couple of years, we have been in such deep, beautiful, deep healing. Together and individually," she told TooFab. "Because your trauma will hide in these pockets of you thinking you're doing one thing, but you're actually doing something else. You think you're helping something, but you're actually deteriorating something."
"And so, really walking together through some of these really tough moments that have happened, publicly and not publicly and getting a deeper understanding," she added, "It has just been really really beautifully amazing."
The book ends on Pinkett Smith reflecting on an ayahuasca trip she took with her family about a year after The Slap; Will was present for the experience. "I looked over at Will and felt … differently … I could no longer deny our spiritual bond," she wrote, adding that in the moment she told him, "You are the king of my heart." He, in turn, called her the queen of his. "This was not a fairy-tale ending but a fierce acknowledgement of a connection that had been forged in some extreme fire," she concluded.
She told TooFab she ended the book there because it's where she truly began to embody that feeling of self-worth.
"That's where I wanted it to end, not like, 'Oh, I got the perfect marriage,' or like having the perfect ribbon around external circumstances. Like, no. Life is forever in flux," she explained. "For me, how I feel about myself -- no matter what is happening in the world, no matter what's going on -- my interior landscape is beautiful."