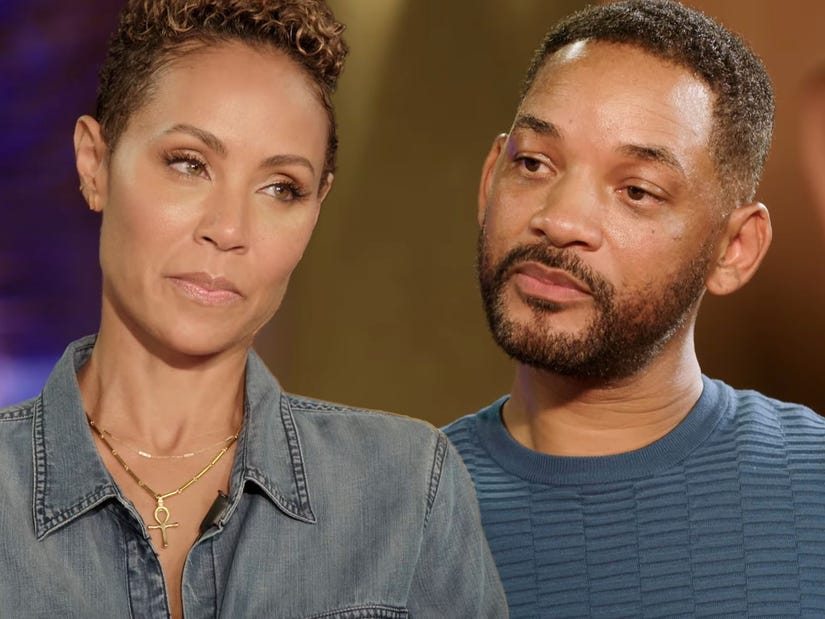 Facebook Watch
Speaking with TooFab, Jada says realizing how she was coming across on the episode -- which she considered stopping mid-way through -- was a "big healing moment" for her.
In 2020, Jada Pinkett Smith was joined by her husband Will Smith for an episode of Red Table Talk devoted to her "entanglement" with recording artist and family friend August Alsina. Now, three years later, she's admitting they were "ill-prepared" for the conversation, which Jada said wasn't nearly as candid as she hoped it would be.
Speaking with TooFab about revelations in her new book, Worthy, Pinkett Smith said realizing her frustrations with how the taping played out was a "big healing moment" for her, as it highlighted just how "co-dependent" she was on Will.
In the book, the actress explained she decided to address Alsina's claims about their relationship -- which happened while she and Will were allegedly separated -- because she was "not willing to allow someone else's narrative to put a shroud of shame on me." While she initially planned to address the situation on her own, Will joined the conversation, without being asked.
"We wanted to say that divorce wasn't an option and that family would remain our top priority," she explained of their plan for the episode. However, she felt midway though the taping that Will "seemed to convey that he had been done wrong" and made it appear like she kept the relationship with Alsina a secret, which she said wasn't the case. While she admitted she should have stopped the conversation in that moment, she "stalled my own voice" and kept going.
"Because I didn't want to oppose Will publicly, in my codependent way, I took the blame and played the pleasing and appeasing role I knew so well," she wrote, adding that she still went ahead with posting the episode despite being told by others it made it seem like she was in the wrong. In retrospect, she wrote that, "Neither Will nor I, in all our splendid dysfunction, was at all equipped for that conversation at the time. We were a classic comedic mess."
"You know, that was a big moment for me. It was a big healing moment, because I hadn't recognized that wounded-ness in myself that also created a dynamic between Will and I," Jada told TooFab ahead of the book's release. "As painful as that moment was, I'm so grateful. My mother kept telling me, 'You're codependent as hell. You need to get into some therapy.' And it wasn't till that moment that I was like, 'Oh, she is right.'"
She said that acknowledging that revelation and subsequent work on herself has sparked new conversations with Will, from whom she remains separated but still married.
"I think with everything that has happened in the last couple of years, we have been in such deep, beautiful, deep healing. Together and individually," she told TooFab. "Because your trauma will hide in these pockets of you thinking you're doing one thing, but you're actually doing something else. You think you're helping something, but you're actually deteriorating something."
"And so, really walking together through some of these really tough moments that have happened, publicly and not publicly and getting a deeper understanding," she added, "It has just been really really beautifully amazing."
In the book, Jada revealed she and Will reached a state of "irreconcilable differences" in their marriage, but were steadfast in their promise to one another before they married that they would never get divorced. Instead, they decided to separate every way except legally, with Jada saying they were honest with their children, but not the public.
As far as "entanglements" are concerned, Jada said she didn't consider them affairs, since nobody was cheating. "In terms of Will and me, there were no secrets, so there was no affair," she added, clarifying that her situation with Alsina simply "ran its course" after a period of being romantic.
Jada's book, Worthy, is available Tuesday, October 17.