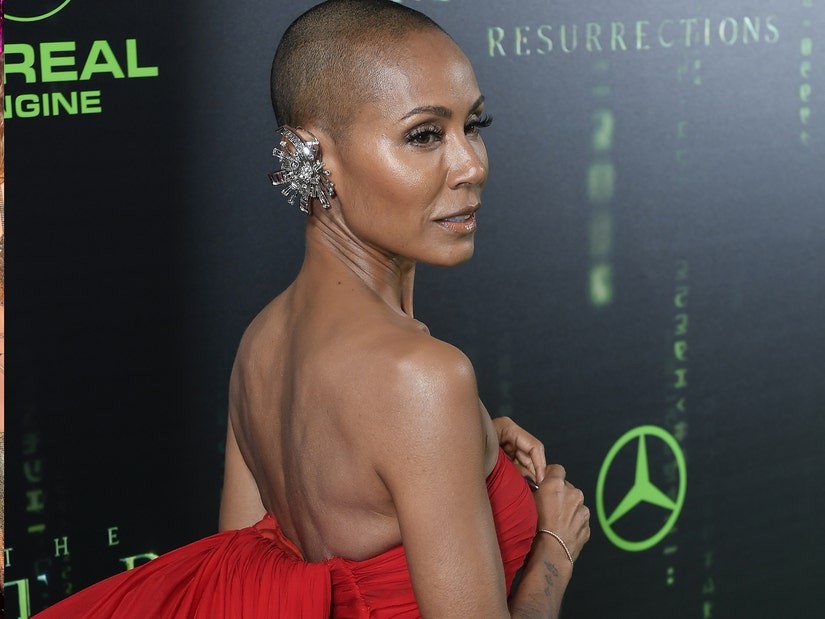 Getty
Jada warned her book is not "a fluffy journey," as she opens up about planning her suicide, how ayahuasca helped her heal and her trips with Will Smith.
There's a very specific reason Jada Pinkett Smith began her new book, Worthy, by detailing one of the darkest moments in her life.
In 2012, before she had been diagnosed with complex trauma with PTSD and dissociation, the actress admits she began "to think about how to have a fatal accident that wouldn't look intentional for the sake of my kids," picking out a cliff on Mulholland Drive she could drive off of to end everything.
"My only hesitation was that I might not die," she wrote in the first pages, saying that "suicidal thoughts were not completely new" to her. But then her son Jaden's friends opened up about their father's experience with ayahuasca, something she said changed everything as "the Universe intended."
"That was like the rock bottom of my mental health," Jada told TooFab about why she started the book at that moment. "I think that for the African American community specifically and just all the myths around, 'Hey, when you've got it all, when you've made it, you don't have any problems,' Like, no, no, no, let me just bust that myth right now from the gate."
She said her plan was to "just dive into the rock bottom of my mental health journey," reiterating how that moment truly was "the rock bottom of my life." From there, she wanted to go backwards and take readers "back to the beginning," to see how she got to that point, before detailing her recovery.
"I thought that was a very imperative moment to just start there and also to give the message that, like, this is not going to be a little fluffy journey," she added.
Pinkett Smith opens up in detail about her experiences with ayahuasca in the book, including one trip where she began hearing voices telling her to kill herself and claiming everybody only cared about her husband Will Smith. Throughout her trips, however, she began to "feel worthy and deserving of being loved," and never contemplated suicide again after her first retreat.
Jada said she and Will even did a few sessions together, which helped her see him "differently" amid their marriage struggles. Earlier this year, she wrote, she and her family -- Will included -- did a big ayahuasca retreat together, calling it a transformative experience for them as a duo. This came after they split years ago, staying legally married while living separate lives.
"I looked over at Will and felt … differently … I could no longer deny our spiritual bond," she wrote, adding that in the moment she told him, "You are the king of my heart." He, in turn, called her the queen of his. "This was not a fairy-tale ending but a fierce acknowledgement of a connection that had been forged in some extreme fire," she concluded.
When asked about her experience with ayahuasca and whether she believes speaking about it could help it becoming a more accepted route of therapy, Jada warned that it's not for everyone.
"Here is what I'll say: It was part of my journey. I don't know if it's the journey for everybody. I have to be honest with you. I definitely don't think it's something that should be approached without a veteran guide," she told TooFab. "But I do know it is talked about more and there are a lot of people have gotten really great benefits. Then there are some people that haven't. You know? I wouldn't say that it's the remedy. I would just say that on my journey, that particular plan has been really helpful, but there are other methods."
She also pointed to her work with a trauma therapist as incredibly helpful, saying they "totally changed my life," after previously working with a therapist who didn't specialize in that area. "So I think it's been a couple things," she added, saying she hopes other just "keep looking for the help that is for you."
Jada's book also begins with an author's note saying she's not an expert in any way, reiterating the importance of using any type of plant medicine with the assistance of a trained facilitator, outside of any recreational setting.
If you or someone you know is struggling with depression or has had thoughts of harming themselves or taking their own life, get help. The National Suicide Prevention Lifeline (1-800-273-8255) provides 24/7, free, confidential support for people in distress.
If you or someone you know needs help with mental health text "STRENGTH" to the Crisis Text Line at 741-741 to be connected to a certified crisis counselor.
Worthy is available Tuesday October 17.