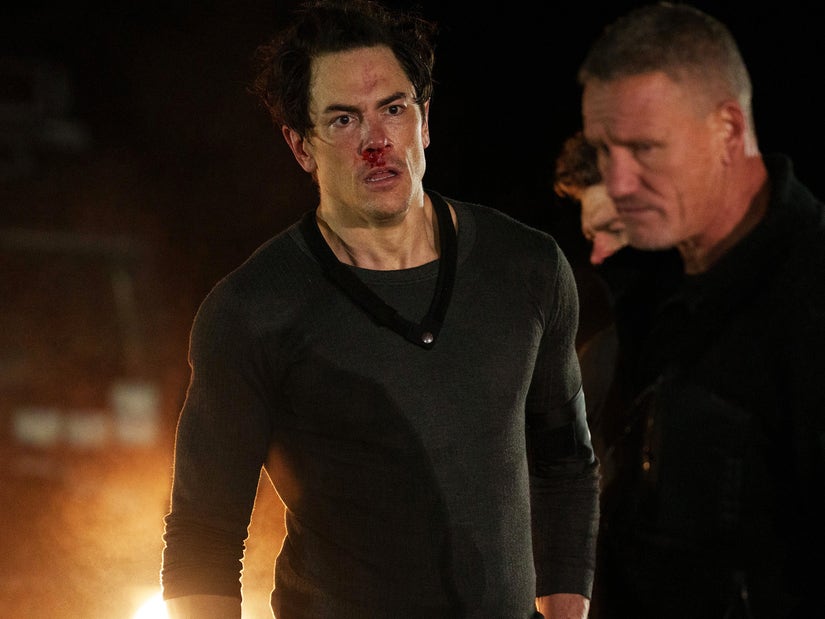 Fox
"I wanna punish myself, I think I deserve it," said Sandoval as he opened up about the Ariana Madix affair, was criticized for his lack of self control and was pummeled by Osbourne on Special Forces.
In the new hour, the recruits were first tasked with a 2-mile race in which two teams had to carry a 220-pound boat through rocky terrain. Sandoval's group performed pretty miserably, with Kelly Rizzo quitting the show and Tyler Cameron giving a full on Exorcist performance by projectile vomiting after finally completing the task.
After that mission, they all returned back to the barracks, where Sandoval opened up about the backlash he received after the world discovered he cheated on then-girlfriend of almost ten years, Ariana Madix with his Vanderpump Rules costar.
He described the whole affair as "a pretty juicy f---ing scandal," saying, "If you had Instagram, you would have seen me, Ariana, every day. I had an affair, and it just blew up." He added, "People were messaging me paragraphs of just like vicious, like, so visceral, like hatred."
When asked why it was "such a big deal" because people cheat "all the time," he said "I honestly don't know" -- exclaiming, "I'm a f---ing stupid reality star. Like come on man."
In a confessional, he further opened up about how public perception has changed following the affair.
"Before this whole scandal, I would meet people who had probably seen me on Vanderpump Rules, and they'd be like, 'Oh my gosh, he's so cool,'" said Sandoval. "And then now, people think I'm a complete narcissist, creeper vibes. I'm definitely not here to run away. I wanna punish myself, I think I deserve it."
Later in the hour, the whole cast was pulled outside for a training exercise in hand-to-hand combat. The narrator said it was a "test of character," in which two recruits were pitted against each other while wearing boxing gloves and headgear for their faces. The drill was to see whether they still had fight in them and would keep getting up when faced against an opponent also out for blood.
Sandoval first went up against Nick Viall, with the pair going at each other pretty strongly. When the directing staff (DS) told them to stop, however, Sandoval kept angrily pummeling Viall. To the DS, his amped up behavior showed he had a complete "lack of self control" -- though he was still named the victor of the match.
Because of an uneven number of contestants left, Sandoval had to then fight again, this time against Jack Osbourne -- who has a history of competing in and winning jiu jitsu tournaments. In a confessional, he said his goal was to play the long game and tire out his opponent, something which he did flawlessly against Sandoval.
"These last few months it just feels like I'm getting punched from all different directions, blindfolded ... dealing with this, dealing with this, it's like, boom. I carry around a lot of anger and I'm worried about my emotions getting the best of me," Tom said in a confessional, as he was seen getting punched square in the nose multiple times by Osbourne during their fight.
As they were fighting, everyone noted how "exhausted" Sandoval looked, noting they wouldn't want to be in his shoes either, having to fight in back-to-back matches. Osbourne was then named the victor, before then giving Sandoval some tissue to try and stop his bloody nose.
Back in the barracks, Sandoval's costars joked about him winning the Most Blood Award thanks to his mangled face, before he retreated to the bathroom. While sitting on the toilet, he vented to Bode Miller, telling him, "Dude, that was f—king so intense, man. I'm laughing and crying at the same time while trying to s—t. I felt so defeated out there."
Sandoval was then called in by the DS for tactical questioning, as the narrator said the staff was concerned about his behavior. After sitting him down, they told him that he had a pretty "bad performance" during the day's missions.
"I thought about quitting so many times. I got a lot of thoughts going through my mind. I've had a hell of a past 3 months," he said, before filling them all in on Scandoval. "I had like an affair with another woman, she' was also on the show. It just was the perfect storm. My publicist had never seen anything like it. A f—king reality star having an affair, on CNN, it's so stupid."
"It became this Team Ariana thing, they sold $200K merch in like two weeks. Seeing people I've been friends with well over a decade just turn on it, it's so exhausting," he added.
The DS wasn't having it though, telling him that "trying to play the victim makes it look pathetic." They added, "You are not a victim, you created this," before telling him he needed to own his behavior.
"I think when I explain things, it would come across as excuses and not taking responsibility. I handled it like a coward and I should have done the right thing," said Tom, before he was told by DS that the course was a chance for him to prove he has integrity and can make a "new start."
"That's what I want," he told them, before reflecting on the experience in a confessional. "I feel like with everything going on, I have a fire in me that is just raging and it could be my biggest strength that gets me through selection. Or it can be the downfall of me."
Special Forces: World's Toughest Test airs Mondays on Fox.