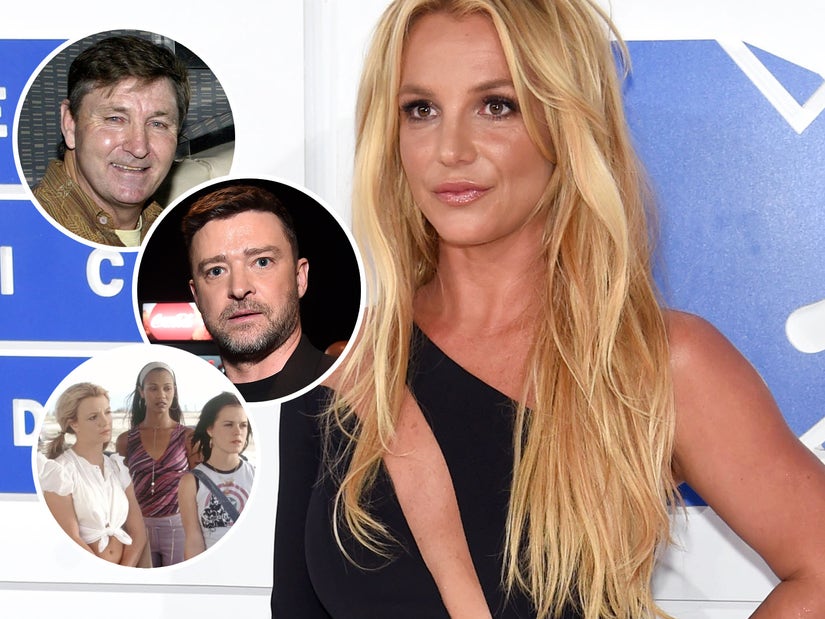 Getty/Everett Collection
With Britney's memoir The Woman In Me due out later this month, some of the biggest bombshells in the book are starting to hit the press -- involving her father, her conservatorship and even Justin Timberlake.
Get ready to see a whole lot of headlines about Britney Spears in the next couple weeks, as her team ramps up publicity for her tell-all memoir, The Woman In Me.
The book marks the first time Spears herself is sharing her story, following a lifetime in the spotlight and nearly 14 years under a much-publicized conservatorship. Ahead of the memoir's release, excerpts have already started to drop in the press, as well as stories about some of the explosive reveals she makes in its pages.
Speaking with PEOPLE ahead of its release, Spears said she's "finally free to tell my story without consequences from the people in charge of my life," adding that it's "finally time for me to raise my voice and speak out."
Keep reading for every bombshell claim so far:
Her Father Body-Shamed Her
Britney said that while she experienced people commenting on her body since day one in the spotlight, that was nothing compared to what she allegedly got from her own father and conservator, Jamie Spears.
"If I thought getting criticized about my body in the press was bad, it hurt even more from my own father. He repeatedly told me I looked fat and that I was going to have to do something about it," she wrote, according to PEOPLE.
"Feeling like you're never good enough is a soul-crushing state of being for a child. He'd drummed that message into me as a girl, and even after I'd accomplished so much, he was continuing to do that to me," she continued.
She Felt Like a "Robot" Under Conservatorship
In 2008, Britney was placed under a conservatorship following a 5150 hold. Reflecting back on that time in her life, Spears said she "became a robot -- a sort of child-robot."
"I had been so infantilized that I was losing pieces of what made me feel like myself. The conservatorship stripped me of my womanhood, made me into a child. I became more of an entity than a person onstage. I had always felt music in my bones and my blood; they stole that from me," she wrote.
She said she would "Vacillate between being a little girl and being a teenager and being a woman," claiming there was "no way to behave like an adult" because she wasn't treated like one. "So I would regress and act like a little girl; but then my adult self would step back in — only my world didn't allow me to be an adult," she explained.
While she said she was told to be "wild onstage," she claimed she also had to act like "a robot the rest of the time," something which felt like "death to my creativity as an artist." She also said her father and his team "having contorl over my body and my money for that long" made her "feel sick."
Saying she felt like a "shadow of myself," Spears added she believes if she had been allowed to "live my life," she would have eventually "followed my heart and come out of this the right way and worked it out."
Britney Got Pregnant with Justin Timberlake, Had Abortion
According to TMZ, Britney claims in her book that in 2000, she learned she was pregnant with then-boyfriend Justin Timberlake's baby. Though she wanted to have the child, partly due to her religious background and family upbringing, and was "conflicted" about the decision, they both agreed an abortion was the right decision.
"It was a surprise, but for me, it wasn't a tragedy. I loved Justin so much. I always expected us to have a family together one day. This would just be much earlier than I'd anticipated," she wrote of the pregnancy, via PEOPLE. "But Justin definitely wasn't happy about the pregnancy. He said we weren't ready to have a baby in our lives, that we were way too young."
Of the abortion, she added, "I don't know if that was the right decision. If it had been left up to me alone, I never would have done it. And yet Justin was so sure that he didn't want to be a father." Spears concluded, "To this day, it's one of the most agonizing things I have ever experienced in my life."
She and Timberlake would split in 2002 and she'd later welcome two sons with ex-husband Kevin Federline in 2005 and 2006.
Truth or Dare with Justin Timberlake
Long before they ever dated, Britney and Justin also both appeared on The Mickey Mouse Club, something she wrote about in another excerpt from the book.
Calling her time on the show "boot camp for the entertainment industry," she said The Mouseketeers "split into our own cliques" dictated by their dressing rooms. She shared one with Christina Aguilera -- calling themselves the "younger kids" -- and said she "quickly connected with a boy named Justin Timberlake."
"At a sleepover, we played Truth or Dare, and someone dared Justin to kiss me. A Janet Jackson song was playing in the background as he leaned in and kissed me," she also claimed.
Overall, she looked back at her time on the show as "unbelievably fun."
Britney Struggled Filming Crossroads
Reflecting on filming the 2002 movie Crossroads alongside Zoe Saldana and Taryn Manning, Spears said the project "wasn't easy" for her. While she didn't have issues with anyone on set, she said the issues stemmed from "what acting did to my mind."
"I think I started Method acting -- only I didn't know how to break out of my character. I really became this other person," she said of connecting with her role, Lucy -- adding that she "didn't have any separation at all."
She wrote that she began to walk, talk and carry herself differently and was "someone else for months" while making the movie. "Living that way, being half yourself and half a fictional character, is messed up," she added, "After a while you don't know what's real anymore."
Spears joked her costars must have thought she was "quirky" due to her behavior, adding that she was glad she didn't end up getting cast in The Notebook or else she would "have been acting like a 1940s heiress day and night."
In 2007, before she was placed under a conservatorship, Spears shocked everybody by completely shaving her head.
After being put under the conservatorship, however, she said she was "made to understand that those days were now over" -- adding, "I had to grow my hair out and get back into shape. I had to go to bed early and take whatever medication they told me to take."
The Woman In Me drops October 24.