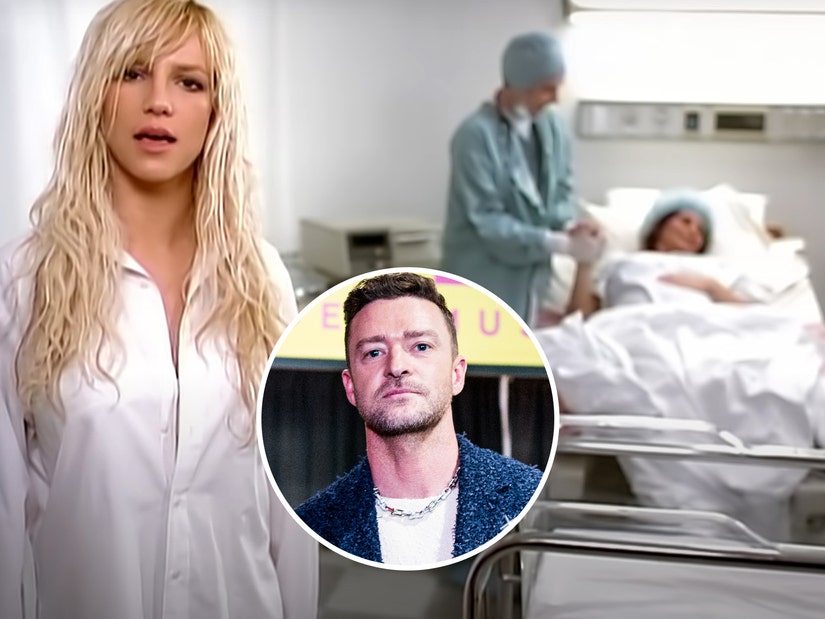 YouTube / Getty
Following the bombshell from her upcoming memoir, The Woman In Me, fans are revisiting the 2003 track and music video, which features a scene of a woman giving birth.
Britney Spears' upcoming memoir isn't set to be released next week, and it's already making an impact on both the book and music charts.
After the 41-year-old pop star made a bombshell claim while looking back at her relationship with ex-boyfriend Justin Timberlake, fans began revisiting her 2003 hit, "Everytime," and the song began charting on iTunes.
According to TMZ, Britney claimed in her book, The Woman In Me, that in 2000, she learned she was pregnant with then-boyfriend Timberlake's baby. Though she wanted to have the child, partly due to her religious background and family upbringing, and was "conflicted" about the decision, they both agreed an abortion was the right decision.
Less than a day after Britney's claim made headlines, "Everytime," began climbing the iTunes charts, and coincidentally, overtook Justin's recently-released song with NSYNC, "Better Place," which marked the first song the boy band had recorded together in 20 years.
"Everytime" -- which appears on her 2003 alum In the Zone -- entered the Top 100 iTunes chart for Top Songs, All Categories, and is continuing to climb. Fans are also revisiting the 2004 music video, which is currently in the Top 5 music videos on iTunes.
It's likely not a coincidence that "Everytime" is the particular song that is climbing the charts, as it's long been rumored to be about Justin.
Britney sings in the chorus, "And every time I try to fly, I fall / Without my wings, I feel so small / I guess I need you, baby / And every time / I see you in my dreams / I see your face, you're haunting me / I guess I need you, baby."
Meanwhile, following the singer's claim about her pregnancy in her book, some fans are speculating that the "Everytime" music video touches on her abortion.
Towards the end of the video, below, Britney can be seen walking into two different hospital rooms. One room featured a woman giving birth, while the other included a woman who died after drowning in a bathtub.
In her upcoming memoir, which will be released next week, Britney opened up about her alleged pregnancy.
"It was a surprise, but for me, it wasn't a tragedy. I loved Justin so much. I always expected us to have a family together one day. This would just be much earlier than I'd anticipated," she wrote, per PEOPLE. "But Justin definitely wasn't happy about the pregnancy. He said we weren't ready to have a baby in our lives, that we were way too young."
Of the abortion, she added, "I don't know if that was the right decision. If it had been left up to me alone, I never would have done it. And yet Justin was so sure that he didn't want to be a father." Spears concluded, "To this day, it's one of the most agonizing things I have ever experienced in my life."
She and Timberlake would split in 2002 and she'd later welcome two sons with ex-husband Kevin Federline in 2005 and 2006.
Check out all of the biggest bombshell clams from Britney's memoir in the gallery, below.
The Woman In Me drops October 24.