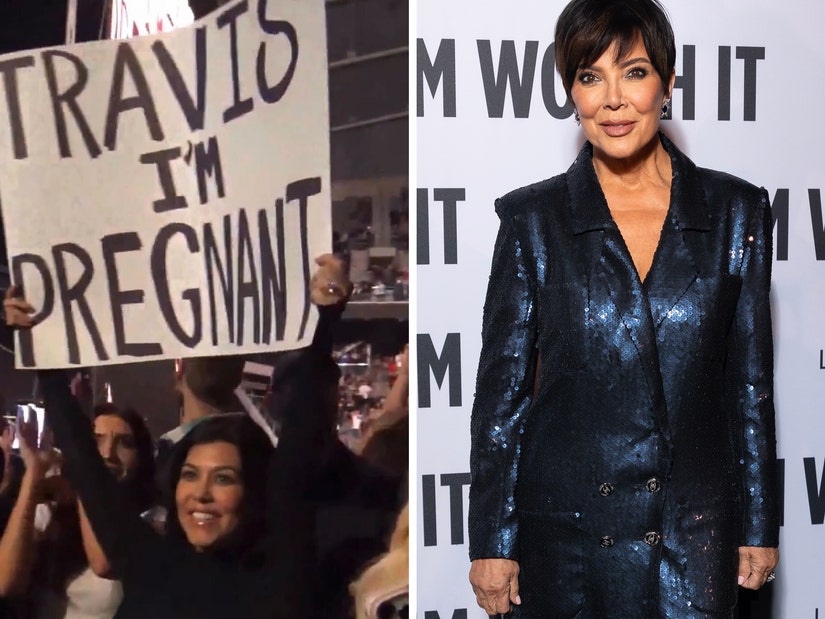 Instagram / Getty
"My mom found out on the news. She wasn't very happy," Khloe said in a preview for an upcoming episode of The Kardashians.
The world learned that Kourtney Kardashian and Travis Barker were expecting their first child together when the former announced the exciting news at a Blink-182 concert.
And it's now been revealed that Kourtney's mom, Kris Jenner, found out the news with the rest of the world.
In a promo clip for an upcoming episode of The Kardashians, Khloe Kardashian shared that Kris first learned of Kourtney's pregnancy through the media -- and was less than thrilled.
"My mom found out on the news," Khloe said. "She wasn't very happy."
Kris then jokingly admitted with a laugh, "I thought I was being Punk'd."
In June, Kourtney, 44, and Travis, 47, decided to share the news that they're expecting during a Travis' Blink-182 concert in Los Angeles, where Kourtney held up a sign saying, "Travis I'm Pregnant" -- an homage to the band's "All The Small Things" music video.
Kourtney and Travis tied the knot in May 2022. While the new baby will mark the couple's first child together, the two are also parents to six kids from previous relationships.
Kourtney shares Mason, 13, Penelope, 11, and Reign, 8, with ex Scott Disick, while Travis is also dad to Alabama and 29-year-old Landon Barker with his ex-wife Shanna Moakler. He also helped raise her daughter with Oscar De La Hoya, Atiana.
Earlier this month, Kourtney revealed she and Travis conceived their baby naturally, with the Poosh founder calling it "God's plan" after the pair unsuccessfully tried fertility treatments.
In a recent cover story for Vanity Fair Italy, Kourtney opened up about trying fertility treatments to try for a baby.
"It arrived when both Travis and I no longer even thought about it, and when I had stopped fertility treatment," she said, also sharing that she's not concerned with commenting about her age, with the 44-year-old reality star, saying "those comments don't affect me."
She added, "To those who make them, I just say: 'How could you question God's plan?' Because that's how I see this pregnancy."