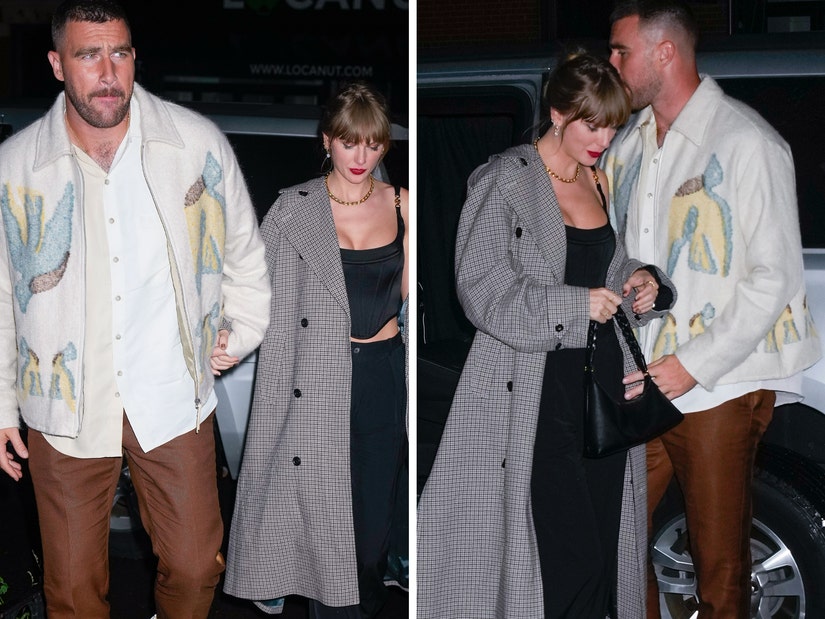 Getty
"I feel like whenever I'm on a date, I'm always having the sense [that] I'm a man in the situation. I'm like protective," the Kansas City Chiefs tight end explains
During a new episode of his New Heights podcast Wednesday, Travis maintained he did not push Taylor's security guard during their date in New York City Saturday -- a claim made after Travis seemingly had Taylor's security detail step to the side so that he could open the car door for his lady love.
When asked by his older brother and co-host, Jason Kelce, whether he got "any pushback" for taking over to open Taylor's car door, Travis stressed that he didn't shove him.
"I didn't push [him]," the 34-year-old Kansas City Chiefs star said. "I placed my hand on the gentleman's back to let him know I was behind him."
Travis continued, "If I would have pushed him, he probably would have turned around and tased me."
Though Jason pointed out that the alleged push was caught "on camera" before poking fun at his younger brother for sounding how "somebody who pushed somebody would" sound, Travis doubled down.
"[It was more like], 'Good sir, would you excuse me? I need to get the door. Sorry. Right behind you. Don't want to startle you. I know it's your job to keep crazy people away and if you get randomly pushed in the back while standing in front of a door, that could probably be a little alarming,'" Travis explained.
He also noted that Taylor's security didn't say anything about him stepping him, calling the "Anti-Hero" singer's team "good people."
The NFL tight end also touched on the role he takes on when he's on a date, telling his brother that he can be quite "protective."
"I feel like whenever I'm on a date, I'm always having the sense [that] I'm a man in the situation. I'm like protective," Travis said. "You always kind of have that feeling or self-awareness I guess."
Swfities and the internet seemed to be all for Travis stepping in to protect the Grammy-winner, with fans praising his "queen-like" treatment of Taylor, 33, following photos of their New York City outings.
Travis and Taylor were spotted on multiple occasions over the weekend, with the pair making a cameo on Saturday Night Live as well as enjoying dinner at upscale NYC eatery, Waverly Inn, Sunday.
Check out their loved-up date night in the gallery below.