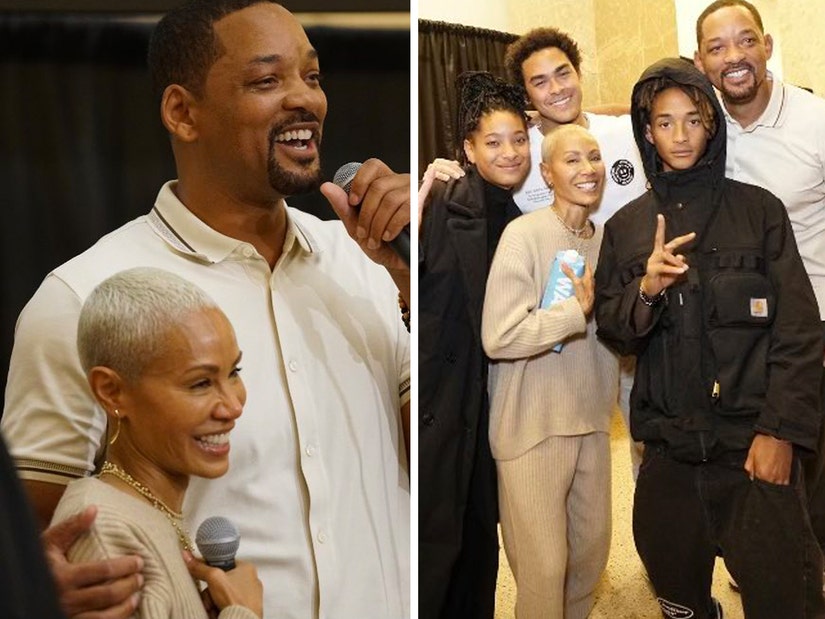 X
Will tells a very emotional Jada their relationship is a "sloppy public experiment in unconditional love".
While Jada was at the Baltimore School for the Arts, her alma mater, promoting her memoir Worthy, Will also took the stage to share some more details about their relationship, per Page Six.
"I just really wanted to come out and just be here and hold it down for you the way you have held it down for me," said Will.
"We have had a very, very long and tumultuous [relationship]. We call it 'brutiful.' It was brutal and beautiful at the same time," continued Will.
Jada reportedly got emotional while Smith continued to speak about their relationship.
The pair were also joined by their kids, Jaden, 25, and Willow, 22, and Jada's mother Adrienne Banfield Norris. Will's son Trey Smith was also in attendance.
Will also called his relationship with Jada a "sloppy public experiment in unconditional love".
"As I stand here before you today, I am happier than I've ever been in my entire life," shared Smith. "I have achieved every single thing I have ever wanted in my entire life."
"There is not one thing left that I desire in this world-- all of the awards, all of the money, the family-- everything I've ever dreamed," gushed Will, noting that his success was "largely built on the foundation of Jada's sacrifices."
"Can you show up and love somebody for the rest of your life, even when you don't agree with them?" continued Smith.
"Jada is the best friend I have ever had on this planet and I am going to show up for her and support her for the rest of my life," he concluded.
Jada even called Will "babe" as he finished speaking.