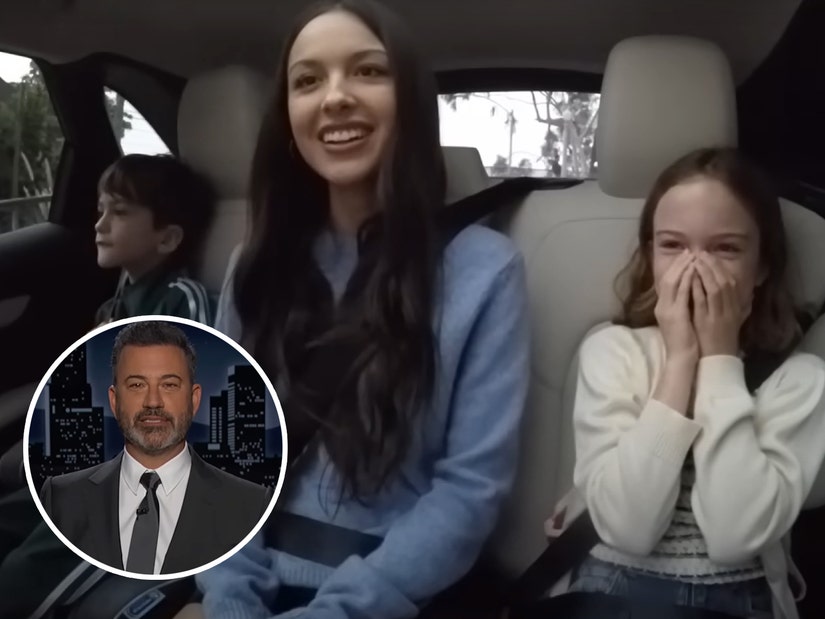 YouTube / ABC
Olivia Rodrigo made Jimmy Kimmel's kids morning just a little bit sweeter when she joined them on their drive to school.
In the adorable clip, the "Drivers License" singer hitches a ride with Kimmel, his wife Molly McNearney and their two kids, Jane, 9, and Billy, 6, on their way to school, as part of a taped segment for Jimmy Kimmel Live.
In the clip, released Tuesday, Kimmel and McNearney are sat in front with Jane and Billy riding the backseat, the impending dread of another day of school setting in.
"I just don't like school," Jane admits before the Kimmel family makes an unexpected stop to pick up a "hitchhiker."
"Oh, there's a hitchhiker over there, should we pick her up?" Kimmel asks as their car turned to reveal Rodrigo standing with her thumb out, sporting a lilac sweater and black shorts.
"Oh my God Billy, it's Olivia Rodrigo," a stunned Jane says, covering her face with her hands.
It's then that Rodrigo hops in the backseat, sitting in-between Jane and Billy.
"Hey! Do you guys mind if I hitch a ride?" She asks with a smile.
Both Jane and Billy are seemingly in a state of shock, but warm up quickly thanks to the 20-year-old singer, who starts by asking Jane what her favorite Olivia Rodrigo song is.
"Um, I really like 'Ballad of a Homeschooled Girl,'" Jane shares.
"That's one of my favorites too, that's so sweet, thank you for saying that," Rodrigo replies. When prompted by his mom, Billy then weighs in with his number one pick: "The 'Get Him Back' song."
Billy, a staunch protector of Rodrigo, proclaims that he not only wants to help her get "him" back, he also wants to "punch him in the penis" once he does.
The 6-year-old's hilarious admission prompts shock and laughter from the Kimmel car, with both Rodrigo and Jane gasping over Billy's adamant statement.
The backseat trio then proceeds to belt out the songs on the car stereo, with Jane's choice up first, then Billy's.
Upon arriving to school, Rodrigo hugs the siblings goodbye. "Thank you guys, I feel so loved!" she says before McNearney helps the kiddos with their backpacks.
After advising Rodrigo against hitchhiking, Kimmel and his wife let the singer out in the school parking lot to catch her own ride, as she ironically reveals that she does not have her drivers license yet.
Speaking to the popstar later on during Tuesday's show, Kimmel thanked Rodrigo for the sweet singalong.
"Hey, thank you for getting up early and giving my kids a real thrill," Kimmel said, before telling the audience that his kids listen to her music every day during the morning car ride.
"It was so much fun. I hope they had a good time," Rodrigo responded, with Kimmel thanking her once more. "Oh, it was a pleasure."