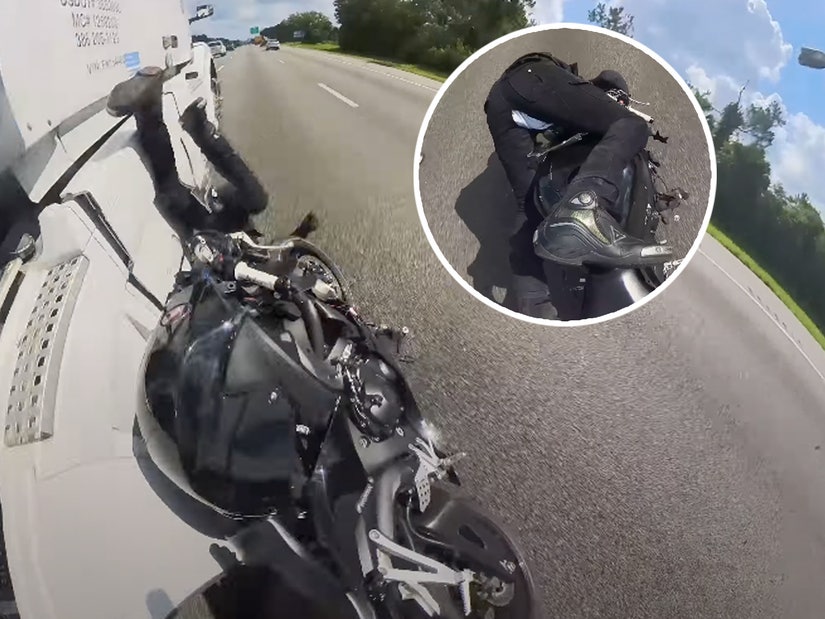 YouTube
"I call it an accident but it was clearly my fault," he said of the footage, which ends with him hitting a truck, before a semi hits him and sends him flying off the road.
One daredevil biker says he's "changed my ways" after surviving a horrific crash.
A YouTuber known only as Street Demon uploaded a video to his account showing the scary ordeal on a highway outside of Daytona Beach earlier this year, which he simply titled "Crash."
"My accident from about 4 months ago. I call it an accident but it was clearly my fault. Too much confidence for too little skill," he captioned the footage.
"Thankfully made it out alive, and didn't lose any limbs. 20+ fractures in my face, broke arm in half in two different places, collapsed lung, broken rib, two fractured spine discs," he wrote. "I'll be back to ride again one day, but not like I used to. Riding like I did was fun as hell, but I want to have fun for a long time."
The video shows him whipping around the highway on his Honda CBR600RR, weaving around trucks, cars and semis while filming with an insta360 with a selfie stick.
After a few near-misses and a stretch of open road, the number of vehicles on the highway starts to increase, as his weaving continues. At one point, right near the end of the footage, he tries to squeeze in-between a tractor-trailer and a pickup truck and instead slams right into the back of the latter.
He's then seen hunched over the front of his bike as it skids along the road, before the semi-truck sideswipes him, sending him head over feet before rolling across the highway into grass on the side of the road. Debris from the bike is also seen flying everywhere.
The comments on both his YouTube page and Instagram account were filled with others calling his actions reckless, selfish and dangerous, while others urged him to use his platform to warn others about his own behavior.
"If I were you I'd dedicate the rest of my time showing bikers why they shouldn't ride like this," wrote one. "It's fun but just not worth it man. Glad to hear you made it out alive. Don't take it for granted."
The biker responded to that comment by writing, "that's the plan homie."
"I rode like an idiot for a long time. About time I got a reality check," the biker responded to one of he said to another commenter. "I learned my lesson. If you find it unforgivable I get it. Not looking for anyone's forgiveness, just want to let you know I've changed my ways."
"It's more posted as a lesson learned and hopefully a video for other riders to see and slow down," he told someone else. "Putting my life on the line, being as reckless as I was, wasn't even the issue. I put random innocent lives on the line. I was being risky as usual and got too close to the truck and he closed the distance between us. I panicked and it was too late."
"If you're a rider please take this video as a sign and a warning," he added. "We love what we do and if you want to keep doing it just keep in mind not everyone gets a second chance."