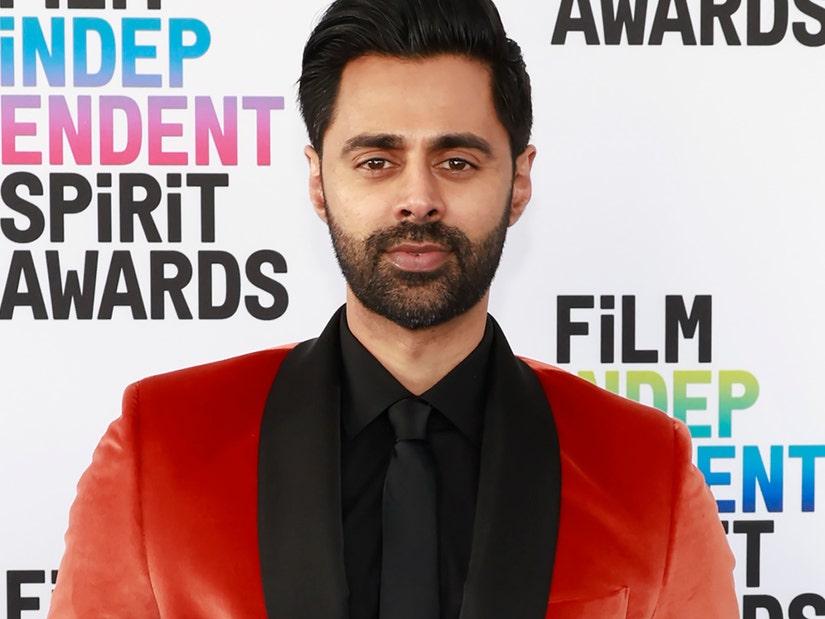 Getty
Comedian Hasan Minhaj releases a new video on Thursday responding to a New Yorker article stating he made up stories about racism and Islamophobia for his standup.
"Is Hasan Minhaj just a con artist who uses fake racism and Islamophobia to advance his career?" It's a question the comedian asked and addressed in a new 20-minute video posted to his Instagram on Thursday and first released to The Hollywood Reporter. It comes in response to a New Yorker article alleging he made up stories for his standup comedy.
After posing the question, the Daily Show correspondent -- who was reportedly at one point being considered to take over until these allegations created pause -- agreed that he would think just that after reading the article, which he called "needlessly misleading."
He also acknowledged that he is fully aware that some might question him doing this at all. "With everything that's happening in the world, I'm aware even talking about this now feels so trivial," said Minhaj in the video. "But being accused of 'faking racism' is not trivial. It's very serious, and it demands an explanation."
Waiting for your permission to load the Instagram Media.
"I just want to say to anyone who felt betrayed or hurt by my stand-up, I am sorry," Minhaj said. "I made artistic choices to express myself and drive home larger issues affecting me and my community, and I feel horrible that I let people down."
"The reason I feel horrible is because I'm not a psycho," he continued. "But this New Yorker article definitely made me look like one. It was so needlessly misleading, not just about my stand-up, but also about me as a person."
While Minhaj admitted to the New Yorker and afterward that he does embellish the truth for his story, they all start from a place of truth. "All my standup stories are based on events that happened to me," he said in a statement received by TMZ.
"Yes, I was rejected from going to prom because of my race. Yes, a letter with powder was sent to my apartment that almost harmed my daughter. Yes, I had an interaction with law enforcement during the war on terror. Yes, I had varicocele repair surgery, so we could get pregnant. Yes, I roasted Jared Kushner to his face," he continued. "I use the tools of standup comedy -- hyperbole, changing names and locations, and compressing timelines to tell entertaining stories."
Now, he's turning the tables and claiming "omissions and factual errors" in the New Yorker article, which he says misrepresented his life story. As such, his video was to offer up the context and materials he provided the outlet.
He then took a deep dive on three of the stories from the article: getting rejected for prom due to racism, run-ins with undercover law enforcement surveilling Muslims, and an anthrax scare at his house.
In his standup, he says the prom girl's mom told him she wouldn't go with him when he showed up to pick her up. In this latest video, he says it happened a few days before prom, as he'd admitted to the New Yorker. "I created the doorstep scene to drop the audience into the feeling of that moment," he explained.
He claims the article framed the story to make it appear as if race wasn't a factor in his rejection while ignoring emails and supporting proof he'd provided to affirm that it was the reason.
Minhaj did concede that he made up the story about his daughter getting rushed to the hospital after an anthrax scare, but said that he did receive white powder at his home (though he quickly knew it wasn't anthrax). He also admitted he embellished his encounters with undercover law enforcement, but they did happen.
The New Yorker responded to Minhaj's latest video, but their takeaway from it is that their article got it just right and he only confirmed that. "Hasan Minhaj confirms in this video that he selectively presents information and embellishes to make a point: exactly what we reported," the magazine said in a statement to THR.
"Our piece, which includes Minhaj's perspective at length, was carefully reported and fact-checked. It is based on interviews with more than twenty people, including former Patriot Act and Daily Show staffers; members of Minhaj's security team; and people who have been the subject of his standup work, including the former F.B.I. informant 'Brother Eric' and the woman at the center of his prom-rejection story. We stand by our story."
Minhaj said that he was operating under the belief that standup exists under different expectations than the political comedy he's done for his television shows. "Facts always come first" on the latter, but his belief has been that working as "a storytelling comedian, I assumed the lines between truth and fiction were allowed to be a bit more blurry."
He then called out the magazine for not doing their full due diligence in targeting him for embellishing stories for his standup by looking at his fellow comics.
"Someone genuinely curious about truth in stand-up wouldn't just fact-check my specials. They would fact-check a bunch of specials," he argued. "They would establish a control group, a baseline, to see how far outside the bounds I was in relation to others. They wouldn't just cherry-pick a few stories."