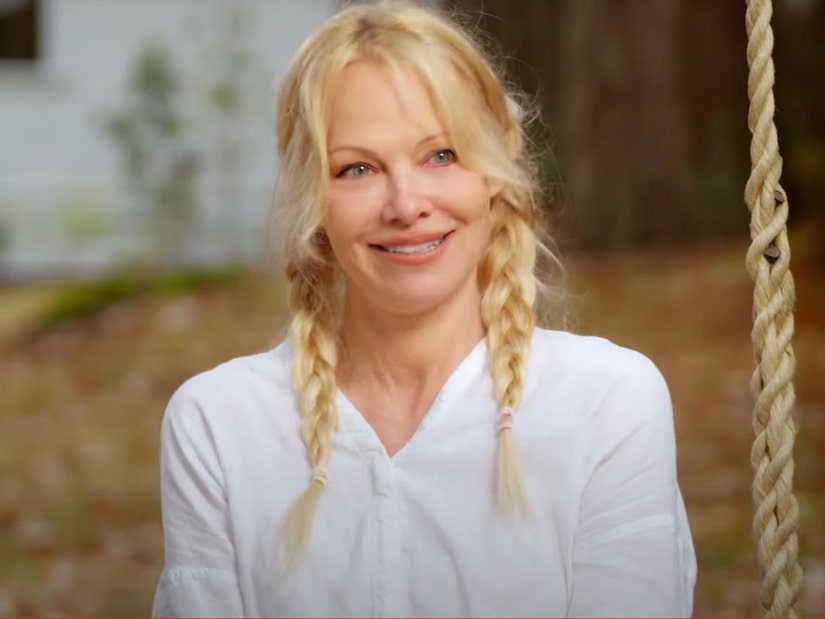 YouTube / Hulu
The actress made the comments while promoting Season 2 of the same HGTV show.
Pamela Anderson is opening up about the first season of her reality home improvement series, Pamela's Garden of Eden, and why she had a much more pleasant experience when she returned for the sophomore season.
While promoting Season 2 of the HGTV Canada series in an interview with People, the model shared that she was "an open wound" and "a bit of a mess" during the filming of the first season, admitting that she "felt slightly exploited.
"The first season, I was a bit of a mess. It was not my favorite time of life," Anderson, 56, recalled. "I was in survival mode while writing my memoir [Love, Pamela], the documentary [Pamela: A Love Story] was being made, and I was an open wound when it was being shot. I just wasn't that happy with it."
Anderson's memoir, Love, Pamela, and documentary, Pamela: A Love Story, were released simultaneously on January 31, 2023. Season 1 of Pamela's Garden of Eden was released in Fall 2022.
The actress said her expectations of the show unfortunately turned out to be "wrong."
"Before, I was thinking it was a little HGTV Canada show and that it was going to just be about sustainable design," she told People. "I was wrong, unfortunately, and once again I felt slightly exploited."
"I was allowing others to make decisions," she added. "I had no idea they'd use old photos or ex husbands, or any of my celebrity life. It always is shocking that that part of me seems interesting at all, when I felt my weakest and my worst. Anyway, that was then and this is now."
Pamela's Garden of Eden centers on Anderson renovating her grandmother's property on Vancouver Island, Canada. Season 1 primarily focused on that, and she continues to restore and expand the property in the second season. However, Season 2 also features Anderson helping her two sons -- Brandon, 28, and Dylan, 25, -- renovate their new Los Angeles home. She also recruits her sons to help her out on Vancouver Island as well.
"The second season is about redemption, authenticity, truth and self acceptance," Anderson told People. "I'm taking my power back, instead of giving it up. I took control of the show and figured out a way to keep to my vision, and turn it into a positive experience. I kept it real."
She also shared why it meant so much to her to get her sons involved.
"We have gotten into our groove," Anderson recalled of shooting. "The boys are much more a part of the family property creation now, which was my dream. I wanted to involve them without consuming them. We also renovated their new house in L.A. while we had to wait for the never-ending permit and restriction process that comes with living on the water."
"All decisions must be taken seriously when you're living in a rainforest, since there are environmental impacts of building anything," the Baywatch alum. "I'm only wanting to put cabins where my grandmother had hers, and keep the rest of the property simple and beautiful... gentle, and not overdone."
Anderson went on to reflect on the experience of renovating her grandmother's property, including what she's learned.
"I've learned not to rush things, to focus on the gardens while my sons figure out the buildings," she said. "I'm in a happy place, Surrounded by flowers, trees and dogs... And making pickles!"