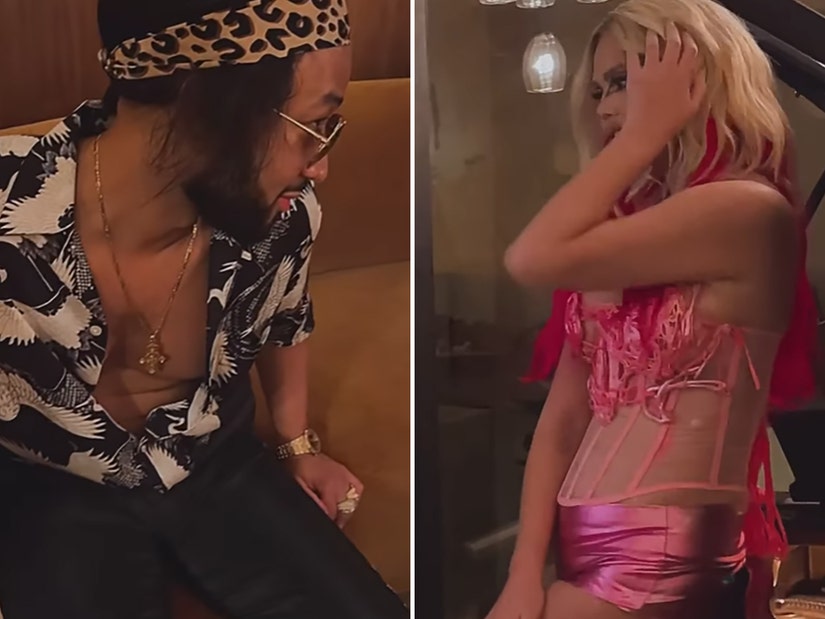 Instagram
Chrissy Teigen and John Legend channel their best Tedros (The Weeknd) and Jocelyn (Lily-Rose Depp) in a series of costumes, poses and even creepy video as they bring HBO's critically-derided The Idol back for Halloween madness.
HBO may have mercy-killed The Idol after one disastrous season, but Chrissy Teigen and John Legend brought it back to life one last time for a hilarious series of Halloween homages.
The couple went all in with multiple costume changes as they recreated some of the most iconic looks from The Weeknd's Tedros and Lily-Rose Depp's Jocelyn. We use the term "iconic" in the same way that Showgirls is an iconic movie from the 1990s.
The dedication to recreating these looks was impressive, with Teigen slaying in one of Jocelyn's red tank tops, complete with tasteful(?) underboob. Legend matched The Weeknd's animal print top flawlessly.
Waiting for your permission to load the Instagram Media.
For all that The Idol was trashed, it gained a lot of attention online, with a lot of attention paid to some of the over-the-top looks Depp wore throughout. Teigen managed to recreate the pink corset-top look from Jocelyn's music video and her silky red robe.
As for Legend, he had Tedros' terrible braid and slicked hairstyle, while managing to look half blitzed out of his mind in every scene, with dark circles all around his eyes. You can check out side by sides with the original looks over at The Daily Mail.
But perhaps the funniest moment came in a short video when Legend proved that he could mimic not just Tedros' look but his creepy, leering as he watched his wife as Jocelyn posing for photos.
Teigen spoke for all of us when posting the video, captioning it, "i don't think I've ever laughed and puked as hard as I did after seeing this video."
Without context, the video is still pretty funny just for Legend's commitment to the creep factor. Knowing anything about The Idol, though, and this is next-level trolling and brilliantly hilarious.
Waiting for your permission to load the Instagram Media.
Running just five episodes, The Idol was hit with controversy before it had even finished filming. Original director Amy Seimetz walked away with about 80 percent of the series filmed as the series was being creatively overhauled.
Sam Levinson, creator of HBO's hit Euphoria had co-written the series alongside creator The Weeknd and took over as director after Seimetz's departure. The show reportedly shifted from a story about a starlet falling victim to a predator in the industry fighting to regain herself became ... well that with a more degrading focus on tawdry sex that's trying too hard to be provocative.
The series currently holds a 19 percent critics score based on 103 reviews on Rotten Tomatoes, with audiences only slightly more generous at a lowly 41 percent.