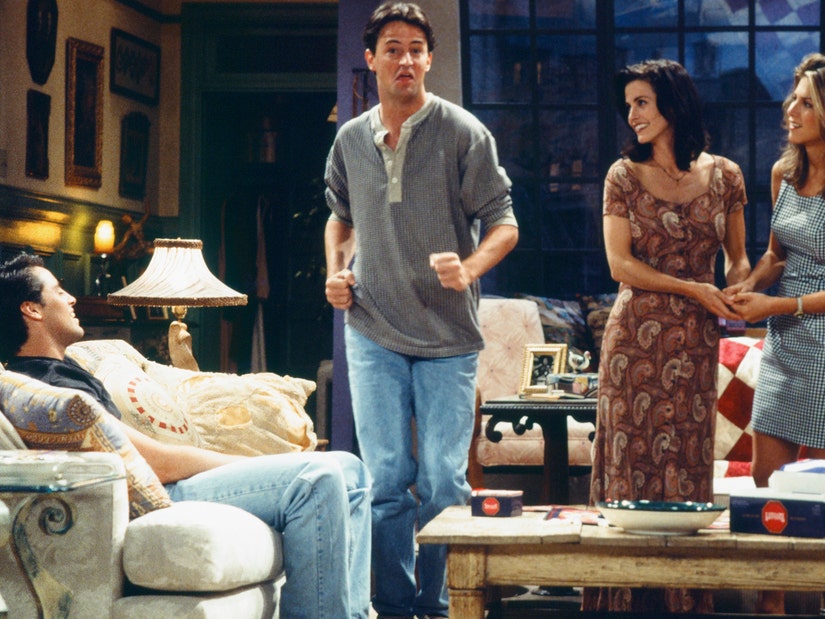 Getty / NBC
From eating cheesecake on the floor to popping the question, Chandler had so many iconic moments…
Friends fans were heartbroken to learn of Matthew Perry's tragic passing just last month. The actor achieved icon status in his role as Chandler Bing on the hit series, which has gone on to become one of the most popular sitcoms in television history. Over the course of 10 seasons, Matthew provided some of the show's greatest moments thanks to his comedic timing and unforgettable mannerisms. Friends simply wouldn't have been the same without Matthew's role as Chandler, and his memorable moments will undoubtedly live in fans' hearts forever.
Read on to look back on some of Chandler's most unforgettable scenes…
The one where he gets stuck in an ATM vestibule
During the show's first season, Chandler got stuck in an ATM vestibule with Victoria's Secret model Jill Goodacre during a power outage. Throughout the experience, Chandler totally obsesses over how to talk to her and manages to embarrass himself in a number of ways. Jill even has to save his life when he's choking on chewing gum. Despite all that goes wrong, the whole thing ends with Jill giving Chandler a kiss on the cheek.
The one where he wears women's panties
Julia Roberts made an unforgettable guest appearance during Season 2 when her character Susie left Chandler stranded in a restaurant bathroom wearing nothing but ladies' underpants. It all went down as an act of revenge because Chandler had humiliated her in elementary school when he lifted up her skirt and exposed her underwear. When she gets the chance to go on a date with Chandler years later, she enacts her revenge -- asking him to change into a pair of her panties in a restaurant bathroom and then stealing his clothes.
The "pivot" scene has become one of the most iconic moments in Friends history. When Ross acquires a new couch, he recruits the help of Chandler and Rachel to get it up to the apartment, which doesn't quite go according to his sketch. The trio are left stuck on the staircase as Ross repeatedly yells, "Pivot!" and Chandler yells, "Shut up, shut up, shut up!"
The one where he and Rachel eat cheesecake off the floor
Chandler becomes a dessert stealer in a Season 7 episode where a cheesecake is incorrectly delivered to his apartment. Instead of delivering it to the rightful owner downstairs, he begins to eat the cheesecake and realizes how delicious it is. Rachel gets in on the cake too, convinced that a second order will be delivered to their neighbor when she realizes it never showed up. When the second cake is once again delivered to Chandler, things get messy -- and the pair end up eating it off the floor.
The one where he tries to quit smoking
Chandler tries to quit smoking during Season 3, and to help him, Rachel gives him a hypnosis tape. It turns out the tape is actually meant for women, so while he listens to it in his sleep, he ends up internalizing both its anti-smoking guidance as well as its message that he is a "strong, confident woman."
The one where he moves to Yemen
Chandler has a lot of hilarious moments with his ex Janice, but in order to finally get her out of his life, he tells her he's moving to Yemen. To make it authentic, he actually goes to the airport, but when Janice comes with him, he realizes he actually has to get a ticket. He ends up dropping over $2,000 on a ticket to Yemen and then is forced to get on the plane as Janice watches from the gate.
The one where Joey's tailor takes advantage of him
When Chandler needs some pants altered, he heads to Joey's family tailor Frankie…but has a pretty jarring experience. The tailor gets a little too up close and personal with Chandler's personal areas. When he describes the "cupping" experience to Joey, he doesn't think anything's wrong with it -- until Chandler and Ross set him straight.
The one where he pretends to be interested in Phoebe
When Chandler and Monica start dating, they keep it secret from the friend group. Over time though, Phoebe and Rachel discover what's going on. While it's a big game of trying to figure out who knows what, Phoebe comes up with the plan to pretend to be interested in Chandler so he'll confess about his relationship with Monica. It doesn't quite work out as Chandler pretends to be interested in Phoebe in order to keep his relationship with Monica secret. In the end, everyone finds out what's going on.
The one where he proposes to Monica
Chandler and Monica had some bumps in the road when it came to their proposal. After a rushed proposal that Monica turns down in Season 5, Chandler does things right during Season 6. While he plans to pop the question at a restaurant, their evening gets interrupted by Monica's ex, Richard. Chandler skips the proposal and, fearing that Monica may have caught on to his plan, tries to trick her by acting like he's scared of commitment.
He does it so well that Monica actually starts to believe that Chandler is never going to propose -- and meanwhile, Richard tells her that he's still in love with her. Monica turns him down and decides to take the proposal into her own hands. Just when Chandler believes that Monica is truly upset about his fake lack of commitment, he walks into their apartment which has been set up with hundreds of candles -- the perfect spot for the couple to propose to each other.
The one where he sits on Monica's dad's lap in a sauna
In a Season 7 episode, Chandler attempts to bond with Monica's dad, Jack, over a game of racquetball. After the match, they head to the sauna where things take a turn for the worse. Chandler, whose glasses have completely fogged up due to the steam, accidentally sits down on Jack's lap -- all while they're totally naked.
The one where he tells the kid he's adopted
When Chandler and Monica are in the early stages of the adoption process, they meet up with a couple who had previously adopted a son. The couples hit it off, and everything is going great -- until Chandler accidentally tells the other couple's son that he's adopted, which he didn't know yet. He gives the little boy money to keep quiet, but the parents quickly find out that Chandler spilled the secret.
The one where he becomes obsessed with baths
During Season 8, Monica convinces Chandler that he needs to try taking baths, despite the fact that he doesn't like them. When she sets up a bubble bath for him, he discovers what he's been missing and becomes obsessed. He even sneaks into a bath that Monica actually intended for herself. In the middle of it all, the entire cast ends up in the bathroom, and Rachel and Ross spill the news that they're having a baby girl.
The one where he gets the last word
On the show's finale, Chandler gets the final word of the entire series. After the group of friends say goodbye to Chandler and Monica's apartment before they move, Rachel suggests they get one more coffee together. As if they'd choose anywhere other than Central Perk, Chandler jokingly asks, "Where?"