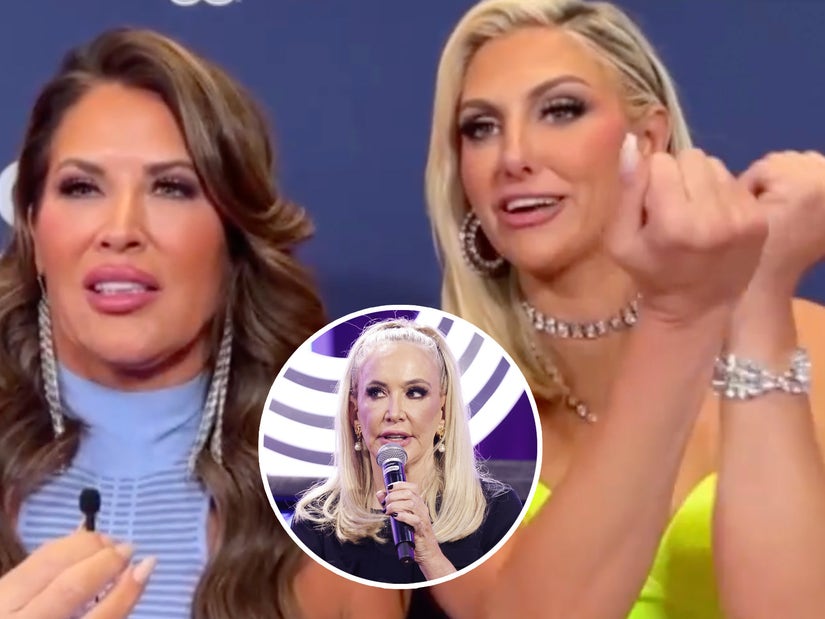 TooFab/Getty
"I got to see the reunion between them at the airport and it was nice," added Emily Simpson ... after Gina made an accidental joke about Shannon being "cuffed" at BravoCon.
Fans of the show will remember that Gina too was arrested for a DUI in 2019, with the event recently re-surfacing thanks to Beador on the most recent season of the reality show. The vitriol Shannon spewed toward Gina over Kirschenheiter's arrest -- including claims Child Protective Services could've taken Gina's kids away had it not been for Beador's help -- led to serious issues between the pair.
With their beef still simmering after the reunion, Beador got into her own DUI in September, while the show wasn't in production. Some of the other women in the cast hadn't seen Shannon until her BravoCon appearance this weekend and, for Gina, the event was a good way to break some of the ice between them, for now.
"I'll be truthful, I was nervous to come here honestly for her, because I didn't want to make it worse for her," said Gina. "Since we've been here, I feel better about it because we ripped the BandAid off. I didn't know if I would be put in a weird situation regarding all that and it's been okay."
Added Emily Simpson, "I got to see the reunion between them at the airport and it was nice."
"I know, I didn't even know she was gonna be in my flight! It was a little nerve-wracking, but we just hugged each other," Gina continued. "There are conversations we have to have, but not now. She needs to focus on her health and getting well and we will have those later. And you can all see."
Simpson said that Shannon could "focus on Gina later," acknowledging their issues were "at the bottom of the totem pole right now."
TooFab also caught up with Dubrow at BravoCon, where she revealed she reached out to Shannon after the arrest but added the two "haven't really been in touch much since it happened." She added, "I know her people are rallying around her. We're very happy no one else was hurt and she seems to be on a really good path of health and wellness."
During a panel for RHOC earlier in the weekend, Beador addressed the situation after being sentenced to three years of probation.
"It's been a tough six weeks, but I will tell you that I made a terrible, terrible mistake and I'm incredibly grateful that it didn't hurt anyone," Beador said, via Variety, adding that she already completed a 28-day program for "behavior wellness" with an alcohol specialist. She added she's been "able to focus on elements of my life that are unhealthy and toxic," concluding she was "moving in a good and positive direction."
The Shannon of it all aside, both Gina and Emily explained why they feel it's actually been a really great BravoCon experience for them all.
"I think it's been better for us this year in general, like, not because of [Shannon's situation] but because we're coming off of a really good season and it feels very different," said Gina. "I just feel good that we delivered to the fans a good, solid season and I feel proud to be here. Where as the last year, I was like, ehhh, you know? So that feels good."
"Last BravoCon, we were filming and it was right in the middle of filming and the season prior was like the Noella, Dr. Jen-- who was that other woman that I yelled at?" added Emily. "I feel like, this year, it's so much more fun because the fans are very receptive to OC and us being back. And it's good for Gina because Shannon is here but Shannon can't get mad at you."
Kirschenheiter then cracked that Shannon was "cuffed," before making an action with her hands of someone in handcuffs. "Oh, that was bad!" she exclaimed, adding that she "didn't mean it like that" -- suggesting she meant Beador had to be on her best behavior this time around due to her circumstances.