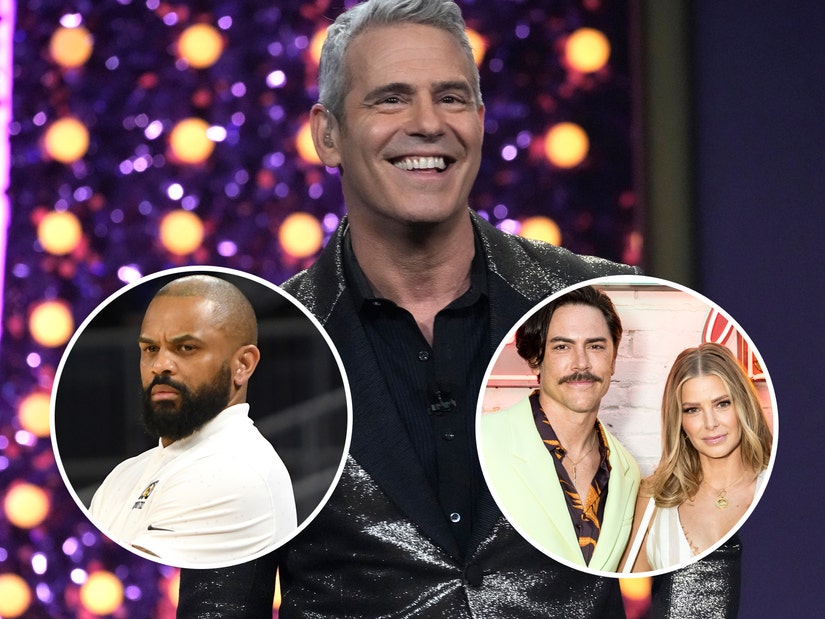 Getty
"I know you're all very busy, especially Ariana, who in addition to taking part in tonight's show, is also starring in every commercial you'll see tonight. Get that coin, Ariana," the Watch What Happens Live host quipped
No cast was spared at the Bravos!
Andy Cohen delivered a hilarious comedy roast at BravoCon's very own award show over the weekend.
Cohen helmed "The Bravos," taped live from the Las Vegas convention center, where he gathered all the Bravolebrities in attendance for a night of comedy as the audience reflected on another drama-packed year for the network.
After kicking things off with a song and dance number, Cohen wasted no time poking fun at some of this year's biggest headline makers, including Ariana Madix, Juan Dixon and more.
"The cast of Pump Rules is in the building," Cohen began before making reference to perhaps the biggest scandal at Bravo thus far -- Scandoval. "I know you're all very busy, especially Ariana, who in addition to taking part in tonight's show, is also starring in every commercial you'll see tonight."
Waiting for your permission to load the Instagram Media.
"Get that coin, Ariana," the Watch What Happens Live host quipped.
After touching on his musical performance, Cohen shed light on another tone deaf moment -- Real Housewives of Salt Lake City's Lisa Barlow throwing a fit after losing her $60,000 diamond ring during a girls trip to Palm Springs.
"By the way, thanks for indulging my musical performance, that was truly terrifying," Cohen added. "I know a lot of you might be irritated by singing, except maybe for Lisa Barlow, who's just happy her $60,000 ring is no longer the most tone deaf moment on Bravo."
"You're welcome, baby gorgeous."
The Bravo exec took time to point out some of the awkward seating assignments in the audience -- referred to by Cohen as the most "high stakes" decision made by him and his staff all weekend.
Done in part to avoid the many cast rifts and breakups that have shaken up the Bravo world over the last year, Cohen sat a Southern Hospitality member next to a Real Housewife of Miami, RHONJ heavy hitters next to Pump Rules cast mates and lumped more members from the Bravo universe together to create some dynamic duos we didn't know we needed.
It wouldn't be BravoCon without one of the many Housewives stealing each other's look. While last year it was Toya Bush-Harris from Married to Medicine and RHONY alum, Tinsley Mortimer, this year, RHOBH's Garcelle Beauvais and RHONJ's Margaret Josephs were spotted rocking the same black dress to The Bravos.
"You both look like a million bucks," Cohen assured the pair.
Cohen also took aim at Real Housewives of Orange County star Jennifer Pedranti and her boyfriend, Ryan Boyajian, who was slammed during the show's 17th season for sending a dick pick to a woman that was definitely not his girlfriend.
"Unfortunately not everyone will win an award tonight. But, look on the bright side, there's a hundred percent chance that every person in the room will get a dick pick from Ryan from OC before they leave," Cohen said, to the shock and applause from the audience.
He also took aim at another headline-making man from Bravo, Real Housewives of Potomac's Juan Dixon, who was once again accused of cheating on wife, Robyn. Before the show's eighth season aired Sunday, Juan was accused with cheating on Robyn with a woman from Canada, whose hotel room he paid for after she was reportedly stranded in the Potomac area.
"I want to thank everyone here for being good sports about my roast, and for making the trek out to Vegas. Thank you Bravo who paid for everyone's hotel rooms, so that Juan Dixon didn't have to."
"I love you, Robyn," he added.
See more epic moments from BravoCon in the gallery below.