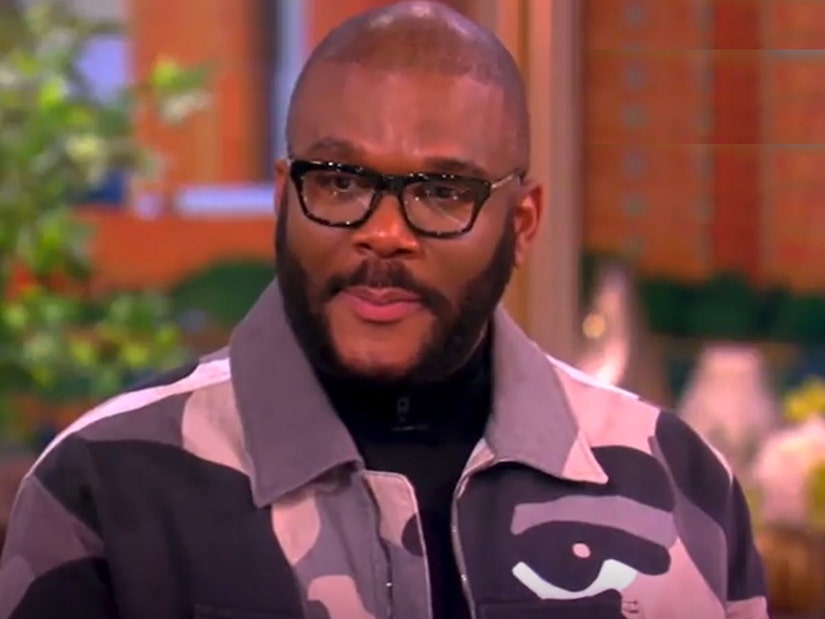 ABC
Tyler Perry struggled to finish his interview on 'The View' while appearing on the morning show Tuesday, as he recounted memories of his late mother, Maxine.
Perry, who appeared on the morning show to promote his new documentary, Maxine's Baby: The Tyler Perry Story, which chronicles his life and is named after his later mother, Maxine Perry, who died in 2009 after a long illness, began to choke up after The View co-host Sara Haines remarked on how powerfully Maxine came through in the film.
After praising Tyler for "living every word" she's ever learned in her faith and spirituality, Haines, who watched the doc, said she "met Maxine" throughout the film, noting she "didn't know her before," which visibly moved the Madea's Family Reunion star.
"OK, wait a minute... You met my mother through [the doc]? Wow," Tyler said, as tears welled up in his eyes. "Thank you."
"To say that you met her through that, that takes me somewhere because she -- this woman endured so much pain and she didn't have some legacy, but she had me," he continued.
Tyler added, getting increasingly emotional, "To say that I was able to introduce her to you -- you got me there, man. I'm sorry. Lord, have mercy."
Haines then thanked Tyler for "sharing" his mother with the public before touching on the media mogul's "violent" and trauma-filled childhood.
Still moved by Haines' remarks, Tyler interrupted the TV personality once again saying, "S--t. S--t. I'm sorry."
"You really got me, there," he added. "I'm sorry. I need to get myself together."
Later on in the interview, Tyler reflected on his mother's life and the trials she faced along the way.
"I just imagine a woman who's lived her life with so much pain and she was always worried about everybody else and, I think, I watched her get sick, I watched her get cancer, I watched her get all of these things because her intention was, 'Are you happy? Are you OK?'"
He continued, "She never thought that she was important and she never thought that anybody would care, so to say that this documentary that [filmmakers] Gelila [Bekele] and Armani [Ortiz] did about my life introduces her to the world, that moves me because she was very much that special to me."
The emotional moment was met with lots of love online, with one user tweeting, "Sara said what Tyler needed to hear. That was a beautiful moment," and another writing, "This brought the tears on. What a beautiful moment. @tylerperry, you have that spark… that light. You make us all smile. You bring joy into our lives. Thank you!"
Maxine's Baby: The Tyler Perry Story starts streaming on Amazon on November 17.