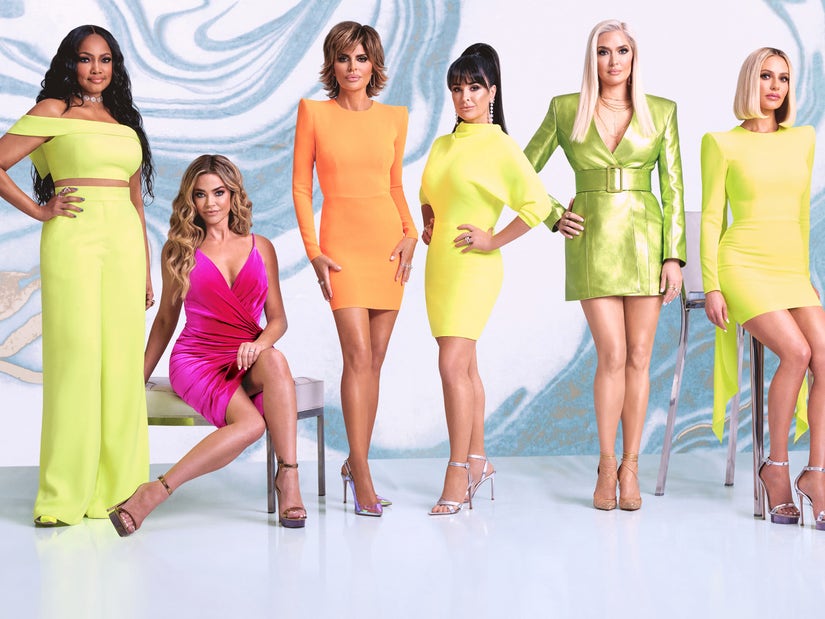 Getty
The Wild Things star reveals how her cameo this season came about during an appearance on Bethenny Frankel's podcast, before calling most of the cast "a-holes" and slamming Lisa Rinna for "sacrificing" friendship for a show.
The Wild Things actress was a main cast member for two seasons, before making an abrupt exit following continued spats with both Lisa Rinna and Brandi Glanville over the latter's claims she and Richards hooked up. Denise repeatedly denied those claims, sparking a friend fallout with Rinna from which they've never recovered.
Appearing on Bethenny Frankel's Just B podcast this week, Richards explained how her cameos on the current season of the show came about, before sharing why she doesn't believe a full-time return is in her future. According to Denise, she first showed up to a screening for one of Garcelle Beauvais' films, without letting anyone know she'd be there, and that led to her return.
"I didn't ask to be paid to go to her screening, I didn't expect it, I was truly going to support her and they were filming it," she shared. "After I went to the screening, she called me the next day and asked me if I would ever do anything. I said, if it's with you, I would do it. I did a couple lunches and a dinner, it's not a big deal."
"Garcelle, I was friends with her before the show, I will continue to be friends with her. I love her," added Denise, who also said she became friendly with Sutton Stracke thanks to the show as well.
Richards said she decided to leave the show because she wondered, "My experience with Lisa Rinna was so bad that I thought, 'Okay, what would happen next season?'" had she returned.
"I did have a s--tty experience ... it wasn't good with Lisa Rinna and it was sad to me. I had a 20-year friendship with her," she continued. "And to see how she could sacrifice a friendship of 20 years for a show that isn't gonna last forever -- obviously, she isn't on it anymore -- like, at what cost?"
Richards also said she believes she and Rinna would still be friends "if we weren't on the show" together. "I think that you learn a lot about people when you live with them, travel or work with them. I had never worked with Rinna before," she added.
When Bethenny wondered whether she'd return full-time now that Rinna is gone, Richards didn't rule it out.
"We'll see whatever happens. I don't know if they'll ask me back, I just did a few episodes. I didn't call to say, 'hey, can I come back?'" Denise responded. "After my second season, I also -- because I wanted it to be real -- thought, 'How would this make sense, if all the women f--king hate me?'"
"Almost everyone did, except for Garcelle and Sutton, but everyone else was such an asshole to me," she continued, asking "how would it make sense" for them to all film together without a "genuine" connection.
As for why she did RHOBH in the first place, Richards said "you don't do the show for the money," adding that she "didn't do it because I couldn't pay the bills" but because she "thought this could be fun and different."