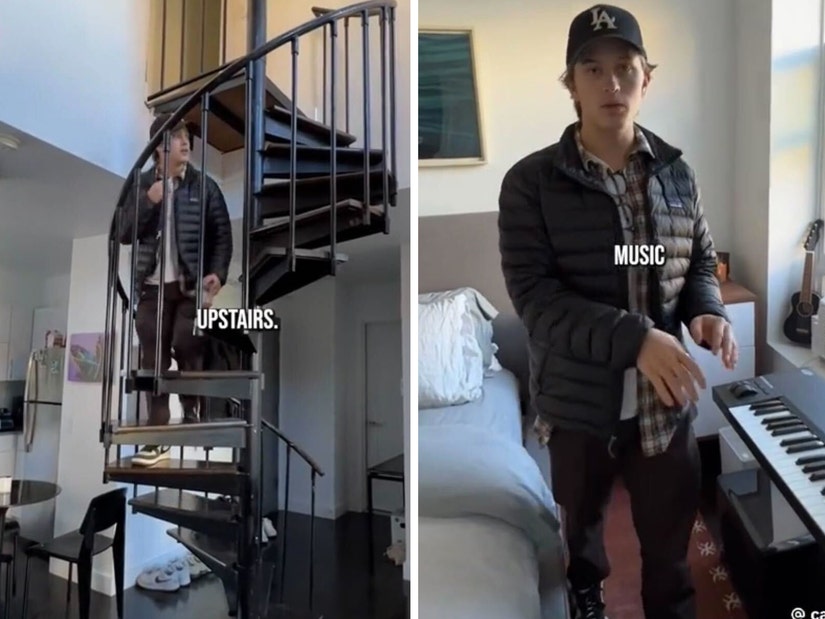 TikTok
The son of Reese Witherspoon and Ryan Phillippe is currently a student at NYU -- and showed off his place after being asked how much he pays for rent.
Deacon Phillippe, 20, has divided TikTok after giving social media star Caleb Simpson a tour of his NYC apartment.
Simpson is known on the platform for approaching people on the street and asking them whether they'd be comfortable giving an on-camera home tour. In his latest video, he was seen approaching the son of Reese Witherspoon and Ryan Phillippe, who's currently a student at NYU.
"How much do you pay for rent in New York?" Caleb asked, before Phillippe said, "West Village prices, man."
Saying he had some "time between classes," he then agreed to give Simpson a walkthrough of his place -- which he apparently shares with at least two other roommates.
The pad has a spiral staircase in the middle of the living room, which has exposed brick, very high ceilings and a "vinyl wall." While the staircase looks impressive, Deacon also warned it can be a little "sketchy" late at night.
During the tour, Deacon also showed off his bedroom, which doubles as a studio for the singer, who released an album back in April. And though the living area is spacious, there are still some tight spaces in the abode -- with the bathroom door barely closing without hitting the sink.
The comments for the video showed a pretty even divide between those thinking the place was too fancy for a kid his age, as others defended Phillippe.
"How much do you pay? The correct answer is: ask my mom and dad," read the most popular comment, which was liked more than 1,500 times. Another laughed at his occupation being listed as simply "student" in the video's caption -- suggesting it should read, "Occupation: student parents: Reese Witherspoon & Ryan Philippe."
"Nepo Baby says 'West Village prices man' Hahahahahaha," wrote another.
Many of the comments, however, also defended and praised Phillippe for seeming like a well-adjusted celebrity kid.
"Why are people being mean? He's in school. Seems humble. Has roommates. Plenty of NYU kids also come from rich families," wrote one commenter. "He has roommates? Thats cool," said another.
"Cleanest boy apartment I've ever seen," read one comment, along with an applause emoji.
"Honestly…it's not outrageous, so i don't get the hate," said someone else. "He even has roommates! yes, they are probably all rich kids, but so what 🤷🏻‍♀️"
Reese and Ryan also got some props from one commenter who wrote, "aww it seems like they raised a humble kid"