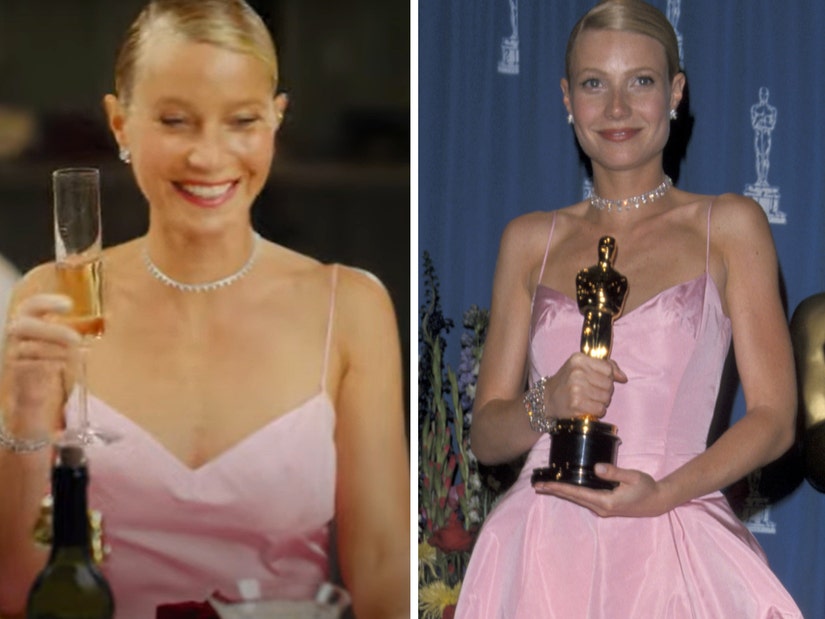 Getty / YouTube
From the pink gown she wore to the Oscars in 1999 to the blunt bob and fur coat she rocked in 'The Royal Tenenbaums,' Gwyneth Paltrow sports some of her most iconic looks for Goop's latest holiday ad.
Gwyneth Paltrow is taking fans back -- all the way back to some of her most iconic looks.
While unveiling the new holiday campaign for her wellness brand, Goop, Paltrow recreated a few of her most memorable moments -- both on screen and off -- to promote the brand's holiday gift guides.
Shared to Instagram Tuesday, the ad kicked off with Paltrow sitting at a desk as she filled out a card which she then attached to a small, red present.
A classic, Christmas tune began playing in the background as the Shakespeare in Love actress made preparations to host a holiday party for her very special guests.
Delicious treats and glasses filled with champagne lined a perfectly decorated table, along with a Dirty Santa candle from Goop that was also lit.
Waiting for your permission to load the Instagram Media.
As present-day Paltrow steps into the room to welcome her guests, she's greeted with various, past versions of herself sitting at the long table -- from 1999 Paltrow, wearing the iconic pink, Ralph Lauren taffeta gown she had on when she won her Oscar, to the blunt short hairdo and fur coat her character Margot rocks in The Royal Tenenbaums.
Other versions of the actress and entrepreneur included 90s Paltrow, complete with an oversized leather jacket and shades, workout Paltrow, dressed to sweat in a sports bra and leggings and mom Paltrow, who giddily held up a framed photo of her kids, Apple, 19, and Moses, 17, with each mingling and opening gifts from Goop.
The festive ad ended with the doorbell ringing to reveal one final character, Pepper Potts, who she portrayed in Iron Man. "Room for one more?" she asks.
"You never know who might show up around your holiday table. Shop gifts for even the most distinct personalities," she captioned the video, before providing a link to this year's Goop gift guides.
Social media applauded Paltrow's effort in the comment section, with one fan writing, "THE GWYNETH PALTROW ERAS TOUR."
Another commended Goop's marketing team and Paltrow's commitment to re-doing the looks, from little details like her character Margot's cigarette to the wispy bang wig she sported to portray Pepper, "Marketing team deserves a raise."
With one fan adding, "Iconic in so many levels."
While speaking about the lifestyle brand's longevity to People Tuesday in celebration of Goop's 15th anniversary, Paltrow reflected on those that doubted her vision.
"Early on people thought we were nuts," Paltrow admitted. "To me, it's such a good lesson, just be who you are, stick to your guns, find your resilience, keep going and you can build a brand that's meaningful if you really mean it."
In regards to the brand's long-term success, she added, "I think we're really clear about our values and it's nice to see that they've resonated more and more over time."
Paltrow previously shared her plans to sell Goop in a few years time, telling Bustle in October, "We're not ready to sell yet. I need a few more years," before adding that she would be "happy" when the reporter suggested she make "a dramatic exit" on her 55th birthday.
"I will literally disappear from public life," Paltrow revealed. "No one will ever see me again."