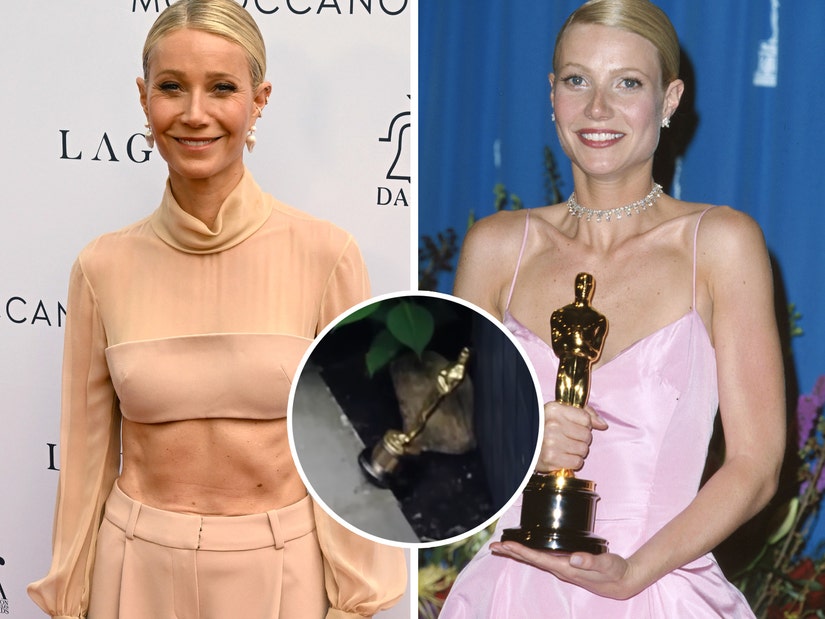 Getty / YouTube
In the Vogue 73 Questions video Paltrow is seen using her precious Academy Award to prop open a gate
"What a beautiful Academy Award!" said the camera man, panning to her Oscar that kept the gate open.
"My doorstop!" chimed in Paltrow. "It works perfectly!"
The actress is now clarifying that the moment was a joke, and that she does not actually use the prestigious award as a doorstop.
In a statement to Variety, a representative for Paltrow said "of course, it's a joke" of her supposed doorstop and referenced to this NYT interview where she revealed she keeps the Oscar in her New York home.
Paltrow won her Oscar for Best Actress for 1998's Shakespeare in Love.
And while Paltrow may not actually use her Oscar as a doorstop, she did reveal some fun facts in her 73 Questions interview, which was to celebrate 15 years of her wellness brand Goop.
As for "three super specific tips for maintaining the best skin," Paltrow says "exfoliation, hydration, and nutrition" are the most important.
She shared that the "most simple wellness advice that anyone can follow" is "quiet the mind."
They also circled back to the doorstop joke when the interviewer asked for "a three word description of that velvet Gucci suit that you wore," to which Paltrow responded "bold, red, trend setting."
"Where is it now?" he continued, before Paltrow shared that it's "in my closet in California."
"So you're not using it to hold any doors around here?" joked the cameraman.
"Not currently!" said Paltrow.