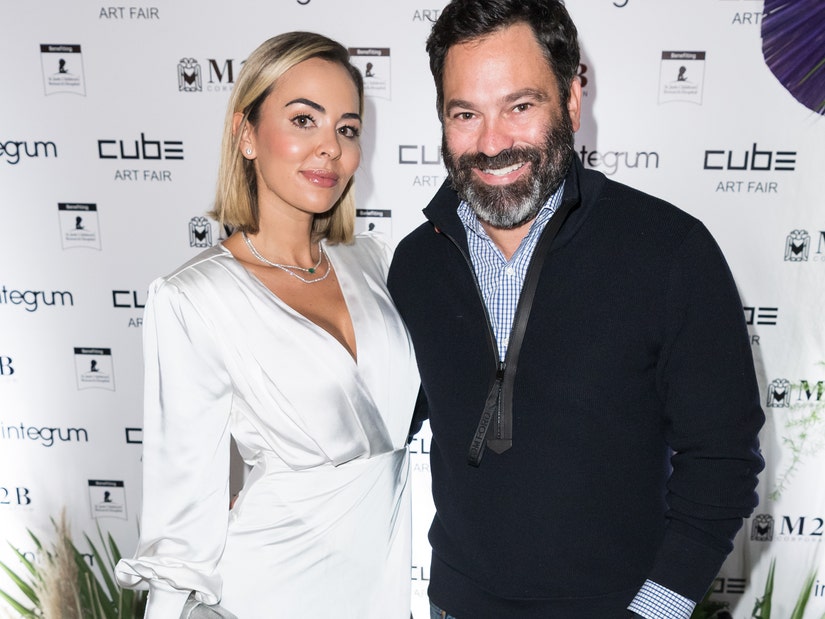 Getty
The reality star opens up about expecting her second child, whether her son wants a brother or sister and whether she plans to use Guerdy Abraira to help plan her wedding.
And baby No. 2 makes four!
After taking to Instagram to announce that she and husband, Anthony Lopez, are expecting their second child together, Dr. Nicole Martin is opening up about how she's feeling as the pair prepare to add another little one to their bunch.
"I feel great. At first I was a little tired, but I'm now in the second trimester, so I'm over that first trimester hump and I feel good," Martin gushed. "And we're so excited about the new addition to the family."
Waiting for your permission to load the Instagram Media.
The idea to grow their family actually came from the pair's four-year-old son, Greyson, who's long been asking for a little brother or sister.
"He was actually the one that got us thinking about baby No. 2, because he kept asking," The Real Housewives of Miami star shared, during an interview about her new partnership with Clorox. "You know at school, he sees siblings go to drop off and he's like, 'Why don't I have a little brother or little sister?' He was very excited."
The pair have yet to find out the sex of the baby, though Greyson is keeping his fingers crossed for a girl.
"He specifically wanted a little sister, because he said if he had a little girl, she would have different toys and she wouldn't take his stuff," Martin quipped before revealing the couple's plans for a gender reveal party.
A self-proclaimed planner, the doctor of anesthesiology said she "cannot live with the anxiety" of not knowing the baby's sex before welcoming the little one next year.
"We are actually going to find out. We are going to do a little gender reveal with the family first, and then we'll let everybody know," Martin shared.
In addition to prepping for baby, Martin and her husband are also finishing up renovations on their new Miami mansion, which they hope will be completed in April.
The beautiful property boasts waterfront views and even a spot to park Lopez's new boat.
"Renovations are in full swing, and we are working against the clock," Martin shared. "Right now we're in our apartment, which is beautiful, but it's not very spacious, and so we are trying very hard to finish the home renovations before baby comes in April."
One thing the pair aren't working on? Wedding planning. The RHOM star said preparations for their upcoming nuptials are on hold for now, with plans for Martin and Lopez to officially tie the knot sometime after the family welcomes their second child.
"Wedding planning is on hold right now. We are putting all our attention into getting into the house and having a safe and healthy pregnancy," Martin explained. "I think it would be nice to have the family involved -- have a ring bearer and a flower girl or two ring bearers or whatnot, and I would like the kids to be involved."
She continued, "I think a marriage is about family, and what better way to celebrate our marriage than with our children? So, I think once the baby comes, we'll start setting a date and planning the details."
And no, castmate and close friend, Guerdy Abraira, will not be planning the wedding.
"She will definitely be a big consultant," Martin said of Abraira, who previously tried to help plan castmate Alexia Nepola's wedding to husband Todd. "I want her there as a friend. And I think if she's the wedding planner, she's gonna be busy focusing on all the event details and not necessarily being there having fun, which is more important to me."
For more on Martin's journey to baby No. 2, check out The Real Housewives of Miami airing Wednesday at 9:00 PM on Bravo.