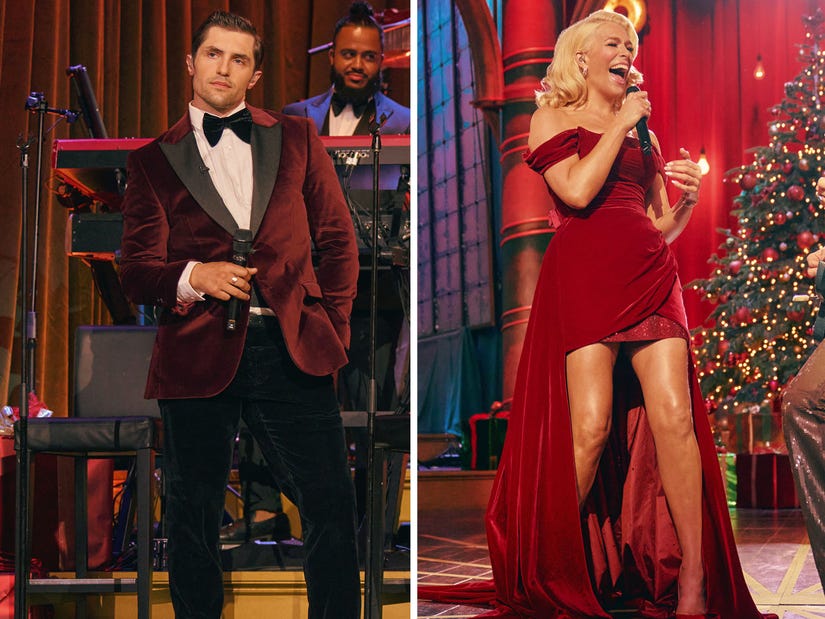 AppleTV+
The heartwarming Ted Lasso singalong comes just days after Waddingham reunited with co-star, Jason Sudeikis, to perform a duet of the A Star is Born track, Shallow.
In a preview clip of the special, shared to YouTube Wednesday, Dunster joined Waddingham onstage, both dressed to the nines as they prepared to belt out the Christmas classic, "Have Yourself a Merry Little Christmas," alongside The Fabulous Lounge Swingers duo of Scott Baker and Patrick Davey.
While Waddingham's singing chops have been long been on display both on the Apple TV+ series and off, this is the first Ted Lasso fans are getting to hear of Dunster's singing skills, which proved to be both smooth and melodically pleasant, as he sang the heartwarming tune.
Dunster also did a little dance for the crowd, his cheeky Ted Lasso character, Jamie Tartt, peaking out as he fluttered across the stage before ending the duet sprawled out in front of Waddingham, -- with the Emmy-award winning actress covering the hem of her high-low dress to avoid Dunster seeing anything he shouldn't.
Recorded live at The Coliseum in London, the one-hour special and its companion album -- both set to drop globally next Wednesday -- will see Waddingham ring in the season with musical performances of beloved Christmas classics, as she shares her favorite memories about her own holiday experiences with audiences.
The duet actually marks the second time in days that fans have seen her team up with her Ted Lasso family for an epic sing-along.
Last weekend, Waddingham, whose picked up three Olivier Award nominations for her work in musicals including Spamalot, A Little Night Music and Kiss Me Kate, sang a duet of Lady Gaga and Bradley Cooper's "Shallow" from A Star Is Born, with none other Jason Sudeikis.
Done at his annual Thundergong! charity event in his hometown of Kansas City, Missouri, and held at the Uptown Theater, the event featured appearances from Sudeikis, Will Forte, and fellow Ted Lasso alums Brendan Hunt and Sam Richardson.
"There is nobody I would rather sing this song with," Sudeikis said, as he stood alongside Forte, before surprising the crowd with Waddingham's appearance, a chorus of cheers erupting from the audience.
After Sudeikis sang Bradley Cooper's opening verse, however, Forte was cut off by Waddingham -- whose booming voice took over from backstage.
The former costars shared several sweet moments throughout the song, wrapping their arms around each other at the end and hugging before Waddingham left the stage.
For more music from Waddingham, tune into Hannah Waddingham: Home for Christmas debuting Wednesday on Apple TV+.