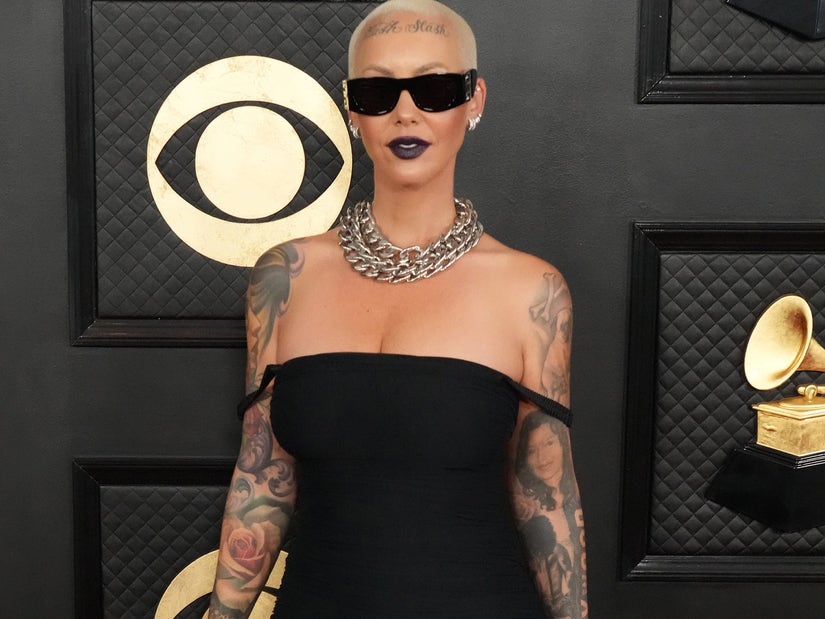 Getty
"Me and my kids sit, and we drink coffee, and we talk," the model, who is a mom to sons Sebastian, 10, and Slash, 4, said. "It's not a big deal. It's really not."
Coffee is the drink of choice in Amber Rose's household!
While appearing on the No Jumper Podcast, the model touched on the topic of parenting, and behaviors adults engage in that kids know they aren't allowed to, like drinking coffee for example -- something Rose revealed she lets her two boys do.
"I give my kids coffee," Rose, who shares son, Sebastian, 10, with Wiz Khalifa, and Slash, 4, with ex, Alexander "AE" Edwards, said.
"Slash is 4, and he drinks coffee all the time," she continued, before confirming that the little one enjoys a daily cup of Joe.
Caffeine isn't taboo in their household either, with Rose adding that she allows her kids to drink Coke and root beer as well.
Drinking coffee together has very much become a family ritual for Rose and her two boys, telling podcast hosts Adam Grandmaison and Lena Nersesian, that both Sebastian and Slash drink their coffee from an adult-sized cup.
"Me and my kids sit, and we drink coffee, and we talk," Rose explained further. "It's not a big deal. It's really not."
She continued, "My 4-year-old will wake up and be like, 'I want coffee and breakfast.' It's only caffeine. It's a little caffeine. It's not bad for you."
Elsewhere in the interview, Rose dished on how she approaches adult topics with her children, noting that she talks to her son about "everything" -- but in ways and times she feels appropriate.
Using her OnlyFans account as an example, Rose said she doesn't "volunteer information" to her children but added that her older son, Sebastian, "isn't stupid."
"He has the Internet, and I got to say, he's a really smart, funny kid, so he'll be like, 'Mom, I have an OnlyFans too,'" she said.
"He doesn't," Rose reassured, "But if Bash was sitting right here, you'd think you're talking to an 18-year-old kid. He cracks jokes because he's just a smart, funny kid."
At the end of the day, Rose said, there's very little you can hide from your kid when it's all already out there on the internet.
"You can't hide anything," the social media personality, who has been open in the pas about having tough conversations with her kids, added. "So, if you do try to do that, they will go somewhere else and get misinformed."