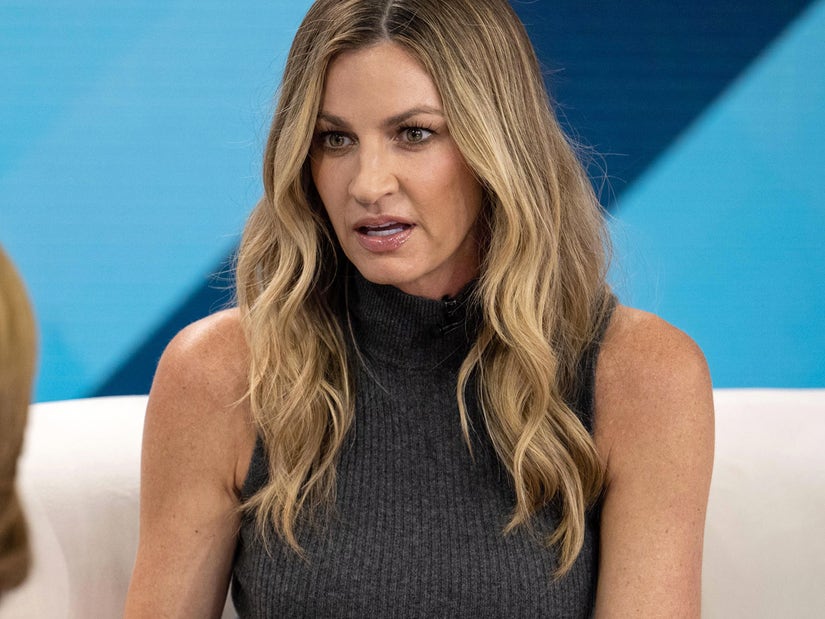 Getty
The sportscaster was videotaped without her permission while she was undressing in a hotel room in 2008.
Erin Andrews is looking back on the invasion of privacy incident that rocked her career.
While sitting down with Hoda Kotb in an interview on her Making Space podcast Monday, the sportscaster shared what she experienced after learning she had been stalked and unknowingly videotaped while undressing inside a hotel room in 2008.
It all went down after Michael David Barrett followed Andrews to the Nashville Marriott at Vanderbilt University while she was covering college sports, and used the peephole of her door to shoot footage of her undressing.
"People thought it was a scandal," Andrews said. "And I'm the square from high school. I don't do those things."
She continued, "I knew the second I got the phone call from my friend at Sports Illustrated that he said, 'There's this video,' and I said, 'No, there's not. I don't do that. I'm single. I don't have that going on in my life.'"
While Andrews was sure that it was all a big mix-up, she said her friend was adamant that it was her in the footage.
Once reality set in, Andrews was forced to inform her family, telling Kotb her parents "were incredible," while recounting the moment through tears.
"I called my parents and my dad said he had thought I had been in a car accident," Andrews said. "Because I was just screaming and I feel so bad because my parents were incredible."
She continued, "I was in my 30s when that happened, and I resorted to acting like a 15-year-old in terms of not wanting to deal, my parents really, they were on the forefront."
More than an isolated videotaping incident, Andrews would soon find out that Barrett had been stalking her, with the Illinois-based insurance executive later admitting to purposely renting hotel rooms next to the sports anchor in three different cities, to capture video of her through the peepholes.
At the time, the judge sentenced Barrett to 27 months in prison plus three years of supervised probation, $5,000 in fines and $7,366 in restitution. He was later ordered to pay her $27 million in damages to the journalist.
While Andrews admittedly suffers from post-traumatic stress as a result of the incident, she told Redbook in 2015 that it also showed her how tough she is too.
"It's proved to me how strong I am," she told the outlet. "I couldn't pretend like it wasn't a big deal. It was."