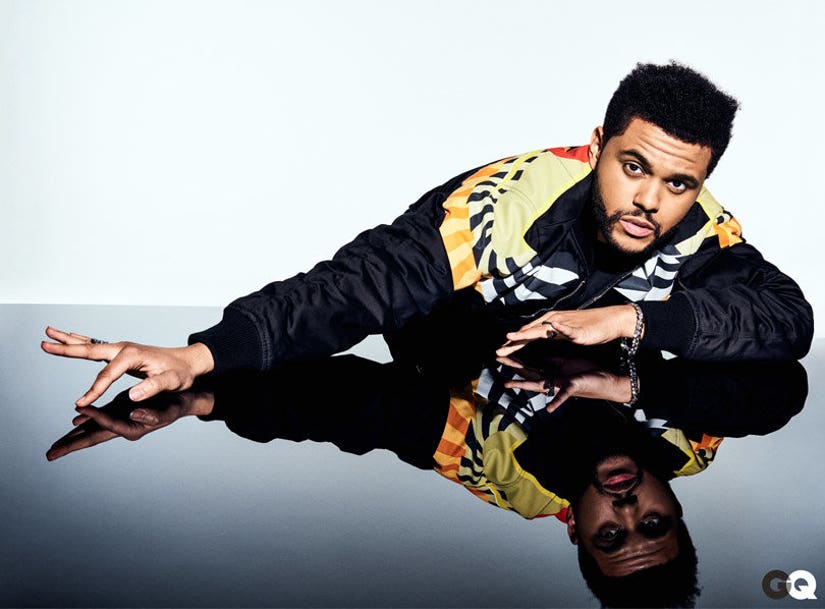 GQ
Abel Tesfaye, better known as The Weeknd, has made quite the name for himself.
But the Grammy-winning mega-artist said he's not the same 17-year-old boy who left Toronto on a mission. His hair is different, his priorities are different, his music is different -- and the "Starboy" singer is dishing on all that and more in the cover story of GQ's dual February issue, also featuring Chance the Rapper.
Here are TooFab's 5 biggest takeaways from The Weeknd's interview:
The Weeknd didn't love his iconic hair as much as the rest of us did:
"I couldn't walk around without seeing the f--king Weeknd hair. That's what I called it," he says. "New artists, artists that have been around forever––I'm not going to say any names––but they were f--king growing their hair."
The 26 year old says wrapping up his latest album, "Starboy," inspired him to lose the locks.
"I worked really hard on this album," he says. "And I felt like I need to relieve a lot of stress. [Cutting off my hair] feels good 'cause I get to blend in. If I want to go to a club, I can just go and I'm not there. I can go to a restaurant and I'm not there. I look like everybody else, which is boring, but maybe I just want to look like everybody else for a bit."
He didn't move to Los Angeles to "make it":
"It was scary [to leave Toronto for L.A. at 17]," Abel admitted. "I don't think I did it to make it, it was more like 'I need to get the f--k out of here and live another life.' You know? Be somebody else. Not a star, just someone else."
Abel's parents were Ethiopian nationals, and he was raised by his mother and grandmother in the exurbs of Toronto. Abel says he was terrified of Hell, so he went to church every Sunday. He's also fluent in Amharic.
Abel went to a working-class school, but instead of doing his homework, he says he watched movies online and downloaded scripts. His favorite: dark, psychologically disturbing films.
He thinks fame gives people a sense of sexual entitlement:
Abel didn't delve too much into his political views, but he did rebut Donald Trump's theory that "when you're a star, they let you do it."
"I don't know anybody that would do that," he says. "I now a lot of people in the industry, and I don't know anybody. Like, a random girl that you just spoke to? No. I mean, no. How do you even grab a p---y? Like, is it even grabbable? America, man. They never fail you."
Fatherhood excites him; marriage terrifies him:
Abel broke up with girlfriend of over a year, Bella Hadid, a month before his interview with "GQ." And although he wasn't keen on discussing the details of their split, he did open up about his unconventional views on marriage and fatherhood.
"I feel like I'm the kind of guy that would have kids before getting married," he says. "The first thing would be kids. Marriage is scary to me, man."
Despite his "sexually-charged songs," Abel doesn't necessarily see himself as the so-called "King of Sex Pop."
"Listen, I'm not walkin' around like f-----g Idris Elba, know what I mean? I'm not gonna walk into the club and be like, 'Oh, s—t, I'm the sexiest guy in here.' The reason why they want to f--k with me is because of what I do [in the studio]. So I'd rather just focus on doing that."
"Right now, I'm much more, like, self-regulating than I was four years ago when I first started getting everything and enjoying life," he says. "I don't focus on it as much as I used to. You know what I mean? Before it's like, 'Holy f—k, this is amazing.' Right now, it's like a good song turns me on way more. Like, that gets me horny, like, literally gets me horny."
The February issue of GQ hits newstands in New York and L.A. on Jan. 17 and nationwide on Jan. 24.