Drake's fans are descending on a Coachella-based country club after the rapper accused the facility of "racial profiling" on Sunday night.
"Put some respect on my bois drizzys name (sic)," reads one of the many one-star Google reviews that have popped up since Drake put The Madison Club on blast in an Instagram post, which has since been deleted.
"Blacks get no love here smh," another person wrote.
The onslaught of bad reviews were spurred by this caption: "The most offensive place I have ever stayed in my life with staff who pick and choose who they are going to accommodate based on racial profiling."
Bad reviews are popping up on Yelp, too.
"The staff is racist. Free schoke anybody want they can get it no joke," one person wrote, while another bad review read, "Right when I walked in seemed like I was in the movie 'Get Out' smh... gardeners running at me, staff all racist #morelife."
Drake was in attendance at Coachella as a guest for Future's Saturday night performance.
A rep for The Madison Club and for Drake have yet to respond to TooFab's request for comment, but the club did weigh in on Drake's Instagram feed.
"We are trying to get this issue fixed as soon as possible. Customer satisfaction is our number one priority and for you to experience such a thing is embarrassing for us," the club wrote, per TMZ. "We are very sorry for the inconvenience and we will be issuing out a formal apology to you and the public. We will also be investigating this as we do not tolerate racial discrimination."
Read more bad reviews below.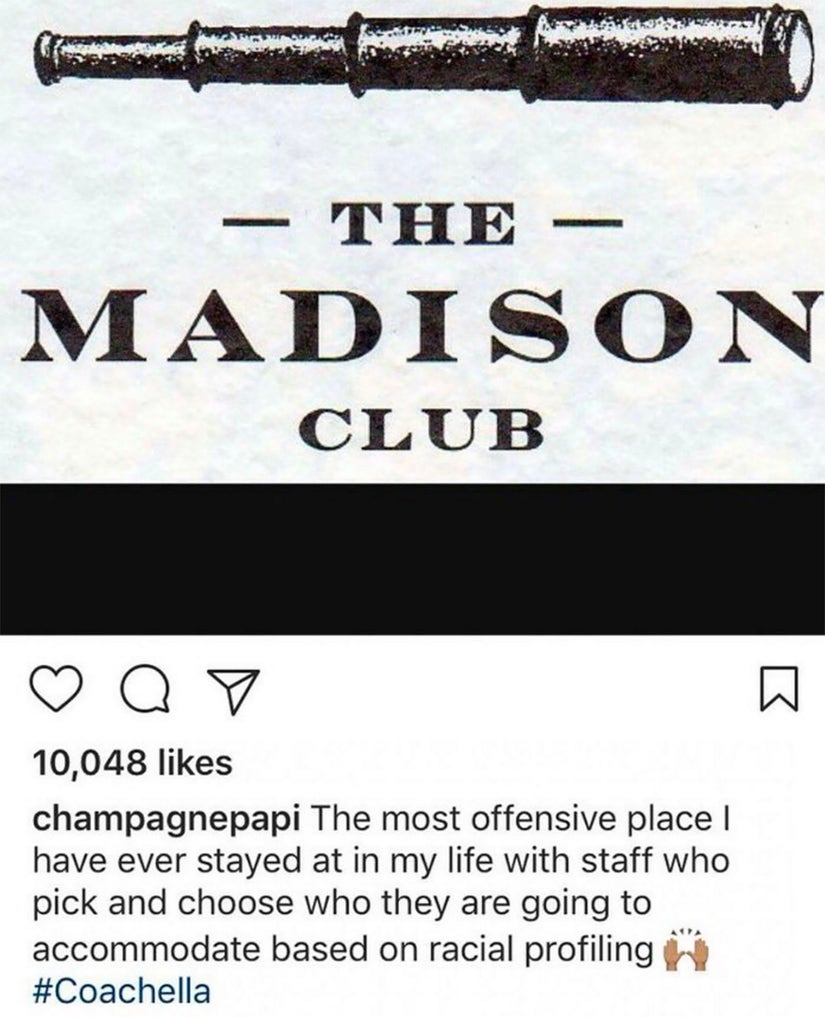 Instagram