Julia Roberts is just like like fine wine, better and better with age.
People has named the 49-year-old actress the Most Beautiful Woman in the World for its May 1 issue. Roberts makes history as the only person to receive the title five times now.
"I am very flattered," the Lancome brand ambassador said. "It will become embarrassing. Right now, let's just keep it with flattering."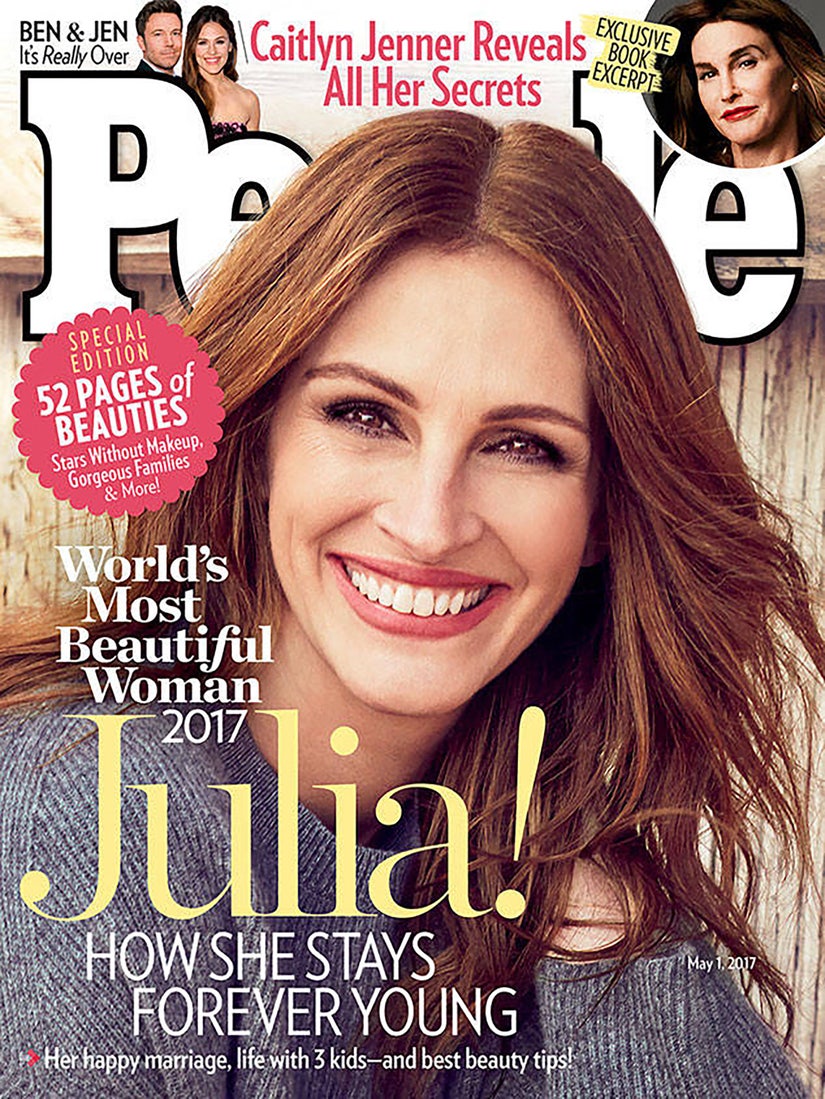 People Magazine
Roberts was just 23 years old when she first won the honor in 1991. She then covered the magazines Most Beautiful issue in 2000, 2005 and 2010.
"Was I old enough to be voted into this level of popularity," she said.
Roberts gushed about her 14-year marriage to cinematographer Danny Moder, her twins Hazel Moder and Phinnaeus Moder, 12 and her son Henry Moder, 9 in this year's issue.
"I think I'm currently peaking," she told People.
With her latest honor, Roberts has now more than doubled her longtime friend and co-star George Clooney, who's been People's Sexiest Man Alive twice.
Roberts laughed and said, "I'm going to mention that in my Christmas card to the Clooneys this year."
The other women featured in this year's issue include Viola Davis, Taraji P. Henson, Chrissy Metz, Mandy Moore, Emma Watson, Oprah Winfrey and Carrie Underwood.
Previous cover girls include Michelle Pfeiffer (1990, 1999), Jodie Foster (1992), Cindy Crawford (1993), Meg Ryan (1994), Courteney Cox (1995), Catherine Zeta-Jones (2001), Nicole Kidman (2002), Halle Berry (2003), Jennifer Aniston (2004, 2016), Angelina Jolie (2006), Drew Barrymore (2007), Kate Hudson (2008), Christina Applegate (2009), Jennifer Lopez (2011), Beyoncé (2012), Gwyneth Paltrow (2013), Lupita Nyong'o (2014) and Sandra Bullock (2015).