MTV branched out this year, turning its annual Movie Awards into the first-ever MTV Movie & TV Awards.
Honoring the hottest names in both television and film, host Adam Devine and guests including Amy Schumer, Cara Delevingne, Chrissy Metz, Gal Gadot, John Cena, Mark Wahlberg and Zac Efron all handed out the golden popcorn.
The night began with an epic "Beauty and the Beast" spoof, with host Adam Devine taking on the role of the title creature.
With Hailee Steinfeld as Belle, Blake Anderson as Lumiere and the film's star Josh Gad making a cameo appearance, it was an over-the-top way to kick off the evening.
Fresh off the opening number, "Beauty and the Beast" star won the first award of the night for Best Actor.
The award was a milestone for MTV, as it was the first time the golden popcorn was handed out in a gender-neutral category. The moment wasn't lost on Watson.
"The first acting award in history that doesn't separate nominees based on their sex says something about how we perceive the human experience," she said during her speech.
Millie Bobby Brown's Emotional Acceptance Speech
The "Stranger Things" star picked up the award for Best Actor in a Show and it was definitely an emotional moment for the young star.
While thanking her family and friends for their support, she couldn't hold back the tears.
Noah Cyrus Hits the Stage
With Miley working on her transition to country music, it was on her younger sister to perform at this year's show.
The 17-year-old singer performed her new single "Stay Young," rocking out in a pair of comfy-looking Ruff Neck drawstring pants and a fishnet top.
Best Kiss Goes to "Moonlight"
The gay liplock between "Moonlight" stars Ashton Sanders and Jharrel Jerome won Best Kiss.
"I think it's safe to say that it is OK for us young performers to step out of the box," Jerome said accepting the award. "I think it's OK to step out the box and do whatever it takes to tell the story, to make a change."
"This award is bigger than Jharrel and I. This represents more than a kiss," added Sanders. "This is for those who feel like the others, the misfits, this represents us. We love y'all and thank y'all."
Maxine Waters Gets a Standing O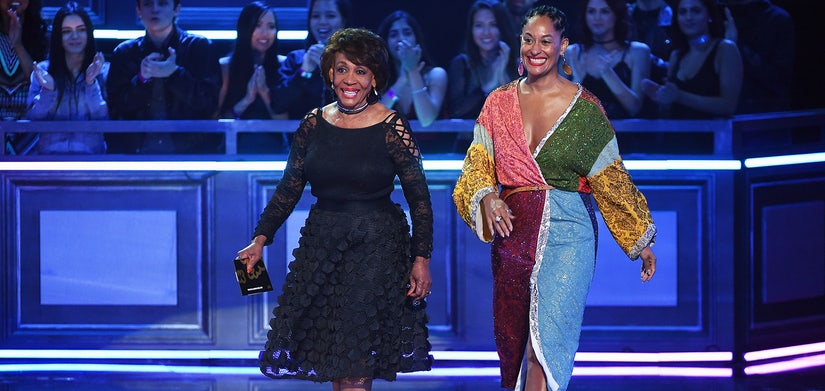 Getty
When presenting the award for Fight Against the System, Congresswoman Maxine Waters hit the stage with Tracee Ellis Ross. Waters got a standing ovation from the audience when she walked out.
"Congresswoman Maxine Waters, thank you for your work," Ross said when they got to the podium. "Thank you for your voice and how you use it and thank you for being an extraordinary example for all of us, especially in these times."
The award went to "Hidden Figures," with Taraji P. Henson accepting the trophy. "We're all humans right? God is very clever. He made us all different for a reason, so we better figure it out," she said during her speech.
"Fast & Furious" Wins the Generation Award
Vin Diesel, Tyrese Gibson, Michelle Rodriguez and Jordana Brewster were on hand to accept this year's Generation Award for the "Fast & Furious" franchise.
"Most importantly, I gotta thank our generation. A generation that was willing to accept this multicultural franchise," Diesel said, accepting the golden popcorn.
"When you're family, you're family," he continued, before thanking the late Paul Walker. "I could never stand on this stage and talk about 'Fast & furious' without giving love to my brother Pablo, our brother Pablo. we hope you're proud, thank you so much."
Trevor Noah Thanks Donald Trump
The star of "The Daily Show" won Best Host for his work, where he thanked his mother and the President.
While his words about his mama were nothing but love, it was less so for Trump. "Thank you to Donald J. Trump for the comedy," he joked. "The J stands for Jesus. And thank you to France for making the right decision."
The Inevitable Oscar Mix-Up Joke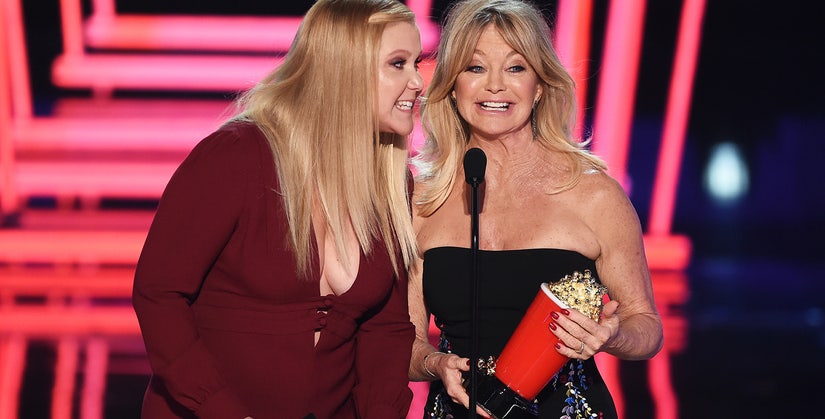 Getty
When it came time to announce the winner of Best Picture, presenters Amy Schumer and an incredible-looking Goldie Hawn spoofed Faye Dunaway and Warren Beatty's now-infamous Oscars screwup.
Schumer announced it as "La La Light," while Hawn went with "Moonland." The actual winner: "Beauty and the Beast."