The star of "The Bachelor" took to his social media accounts Sunday to say that he and his fiancé Lauren Burnham were expecting their first child.
Luyendyk posted a picture of Burnham cradling her belly along with the caption, "Secrets finally out, we have a bunny in the oven," followed by the kicker, "April Fools!"
But for those struggling with infertility, pretending to be pregnant isn't a laughing matter, and now the joke will be remembered mostly for how many people didn't find it very funny.
People took to Twitter to vent heir frustration, with some calling Luyenydyk a liar and referencing the "Bachelor" finale when he first chose Becca Kufrin and then left her for Burnham, the runner-up and his current fiancée, who appeared to be in on the April Fools' Day joke. Some were so offended they decided to unfollow the reality TV star.
We knew you were lying... just like you lied to Becca about being in love with her 😅😅😅

@RyanNewquist
That is THE worst thing to joke about when so many people are unable to conceive or have miscarried.

@K8te28
So distasteful. You thought the world was against you before. You just poured gas on that fire. Hopefully you two don't have to struggle with this issues so many women face each day. pic.twitter.com/VbwaOGdJh8

@TheBrookeBrooks
You should me ashamed of yourself! If you guys should suffer from infertility like myself and so many others I hope you remember this day that you joked about it!

@Loriringel
Despite the criticism, Luyenydyk carried on with his joke and posted a follow an Instagram Story follow-up: a photo of a "Cook's Country" Dutch baby recipe with the caption, "Sorry if you were offended but we really are making a Dutch baby."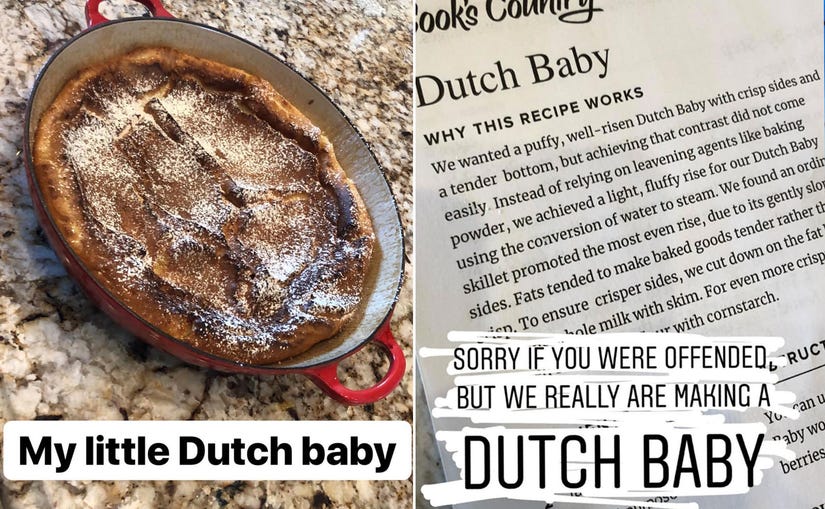 Instagram
In result of the backlash, the reality star tweeted an apology, giving his sympathies for women who suffer from infertility.
I do have sympathy for women struggling from infertility. My April Fools prank was in no way meant to offend women who struggle with that. I apologize if you were effected personally by my post.

@ariejr