Amal Clooney used to be a party animal, according to her mother.
"Amal partied hard and worked hard," Baria Alamuddin told Vogue for its May cover story. "All my family, we are party animals."
Amal's past and present was covered in the feature diving into the human rights attorney's childhood, career, motherhood and, of course, relationship with movie star husband George Clooney.
"It felt like the most natural thing in the world," Amal said of falling in live with her husband, while showing Vogue their home, Aberlash House, in Sonning Eye, Oxfordshire, England. "Before that experience, I always hoped there could be love that was overwhelming and didn't require any weighing or decision-making."
"It's the one thing in life that I think is the biggest determinant of happiness, and it's the thing you have the least control over," she said about the beginning of her relationship. "Are you going to meet this person? I was 35 when I met him. It wasn't obvious that it was going to happen for me. And I wasn't willing or excited about the idea of getting married or having a family in the absence of that."
And it seemed that George had a similar experience when he first met Amal. "I thought she was brilliant," he said. "Her life was incredibly exciting—the clients she was taking on and the superhuman work that she was doing. I was taken with her from the moment I saw her."
"She's the professional, and I'm the amateur," said George. "I get to see someone at the absolute top of their game doing their job better than anybody I've ever seen."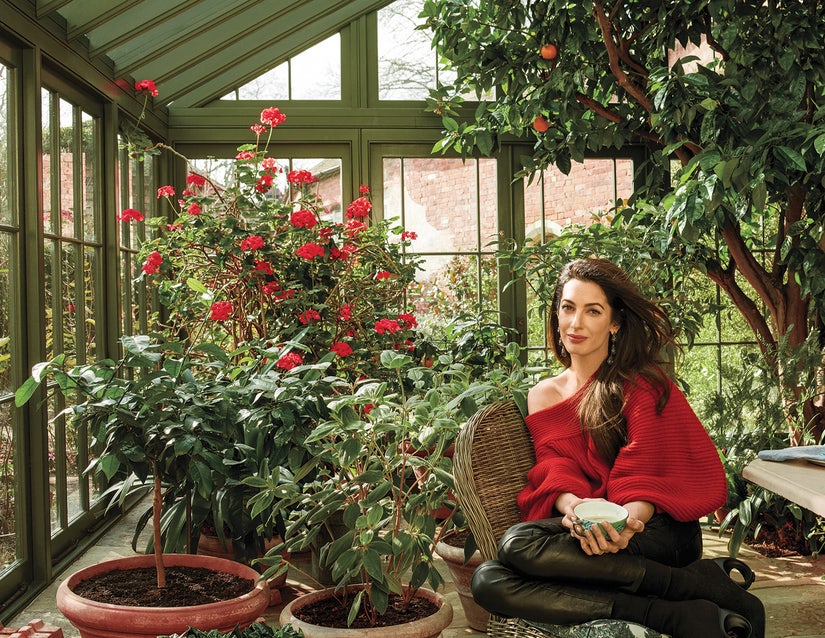 Annie Leibovitz for Vogue
Amal, who gave birth to twins Alexander and Ella last June, told the magazine about the importance of balancing motherhood and her career.
"Between six and eight in the morning we get to have them in our bed -- I don't schedule any calls before eight," she said about her "quality time" with the twins in the morning. "When I was nursing, it was much more complicated, because there are two. I had all manner of weird cushions and pillows and machines."
"We've had some 'Mamas' and 'Dadas,'" Amal said. "George was very careful to ensure that 'Mama' was the first word."
Nathan Heller, who wrote the feature, explained that the twins are already looking like their parents: Alexander looks like George ("George has finally conceded, possibly, a slight—extremely slight—resemblance around the eyebrows"), while Ella resembles Amal, in which George is very much relieved.
Dipping back into the past, Amal's mother described her pregnancy with the future Mrs. Clooney as "a rather difficult one."
Alamuddin had placenta previa and spent two months in the hospital, and to make things even more difficult, she was giving birth during the Lebanon civil war, so her husband named their daughter Amal, which is Arabic for "hope."
Her family left Lebanon when Clooney was still a child and moved to London. Youngest of her siblings, Amal did well in school, but it wasn't her top priority.
"I wanted to do well academically," Amal told the magazine. "But it was equally important to do things, in an effortless manner."
There were signs that Clooney was destined to become a lawyer from a young age. "She would come and grab a series of shoes and bags and whatever," her mother said. "I'd say, 'What are you doing?' She'd give me this legal argument that went on and on."
Amal first attended St. Hugh's College in Oxford and studied law and then continued on to the United States and went to New York University's LL. program. She built her way up to become not only a very successful London barrister, but a humanitarian, just like George.
"I remember all the stages in my career where I almost didn't have enough confidence to try for something," she said. "I almost didn't have the guts to follow something I was excited about doing, because I didn't know anyone else who'd done it or other people made me question it."
Amal and George, who often contribute in human rights activism together, both attended the March for Our Lives last month. "The fact is, there are violent movies all over the world, and there are mental-health issues in other countries," Amal said of the hot-button issue. "But this doesn't happen in other developed countries. The difference is guns, and how widely and easily available they are."
Although the power couple is doing their part to make a difference, Clooney said "there's a lot of work still to be done."