TooFab spoke with Khloe's astrologer, Susan Miller, who the Kardashian recruited to read her daughter's birth chart. The Astrology Zone founder told us that, despite all the damage, Khloe and Tristan "really are right for each other."
Khloe was born on June 27, which makes her a Cancer. Tristan was born on March 13, making him a Pisces. According to Miller, those two Zodiac signs -- both of which align with the element water -- are actually innately compatible.
"Water signs are emotional," Miller said. "And in society, the word 'emotional' had almost a criticism until we realized people with emotional intelligence were way ahead of the others. It's what separates us from the other animals in the kingdom -- our acute sensitivity to others."
The astrologer also foresees more babies in the Kardashian's future.
"Cancers make some of the best mothers," Miller said. "That's when they find their niche -- when they have children. I think [Khloe] will have more children. I think she'll have at least one more, if not more than that."
Although Miller did not say whether Khloe would be having more children with Tristan, she did say Pisces tend to make great fathers.
Miller also wanted to make one thing clear: "Any sign can get along with any sign -- with effort."
"This is a very close family unit," she added of the Thompson-Kardashian couple. "This is a loving set of parents, and I'm sure [Khloe] must feel changed from this experience."
True's Birth Chart -- And What Miller Didn't Tell Khloe About Her Daughter
Miller previously told Khloe that her baby girl -- born an Aries -- had prominent personality traits of Aquarius and Pisces, just like her father.
"Aries tend to be pioneers. They tend to want to do things first," Miller told TooFab. "Aries is also the sign of athletic competition. They want to win whatever they get involved in. Aquarius rule all things that have not been invented, not done and not embraced yet by society."
"Here's the most extraordinary part of this chart," Miller said before explaining how True and President Donald Trump have something in common, at least in astrological terms.
"True has Uranus conjuncts the sun. Some people have it, some people don't," the astrologer said. "Our president has Uranus conjuncts the sun, but I told [Khloe's app representatives] not to tell Khloe that because she'll make assumptions that aren't true. It means that little True's job is to challenge traditions, which I feel our president does in an extreme way."
See True's birth chart below.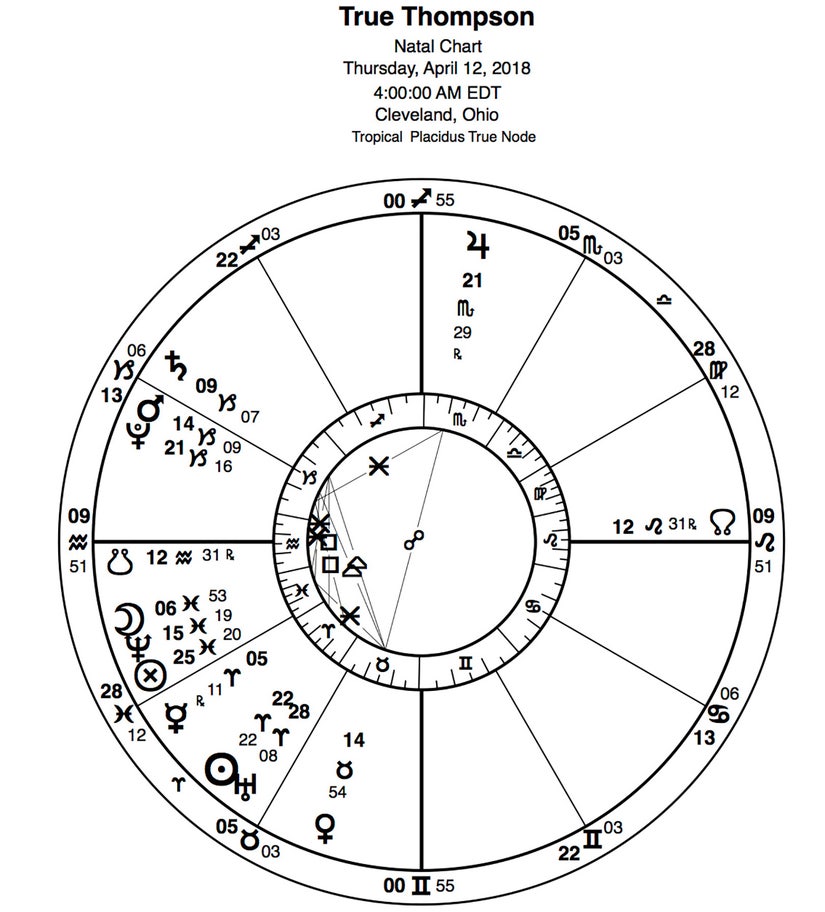 Susan Miller