Kendrick Lamar made history when he became the first hip-hop artist to win a Pulitzer Prize, but he feels that honor is long overdue. Not necessarily for himself, but for the rap pioneers and lyrical wordsmiths who came before him.
This was just one of many things the eloquent artist spoke on during a free-wheeling interview with Vanity Fair. And yet, there are a few areas he prefers to avoid, like politics, despite his music resonating in that arena. "I just get too frustrated," he told the magazine.
It's a stark contrast to many of his fellow artists, like Kanye West, who went into a huge political rant about Donald Trump and even slavery during a visit to the TMZ offices. When asked about that, Lamar said, "He has his own perspective, and he's on this whole agree to disagree thing, and I would have this conversation with him personally if I want to."
But that's the point. Apparently, Lamar doesn't want to have those conversations, and it's not the only thing he keeps private. The artist also sidestepped a conversation about his fiancee Whitney Alford, telling VF, "I want something that's just for me." For the world, he offers his unceasing drive toward perfection in his music.
"I'm obsessed with my craft and what I'm doing. I know what I'm chasing for my life, even though I don't know what it is. But it's an urge that's in my every day," he explained. "That urge to make an ultimate connection with words to man. And I don't feel I've done that yet." The Pulitzer organization clearly disagrees. They think he's made a pretty solid connection between words and man already.
Below are six more takeaways from Lamar's Vanity Fair interview:
Confidence has been a part of Lamar's DNA for as long as he can remember, which is something he credits to his mother. "My mother encouraged me to dream--she was very proud of my efforts. My third-grade teacher came up to my mother once at a parent-teacher meeting and she said, 'Your son used a word that I was totally amazed by--he said audacity.' Even then, it gave me an advantage in life, to be able to take information, listen to it, and take a perspective without judging it and do my own research."
Lamar's dexterity with language is one of the reasons he's been so lauded in the music world, and it played a part with the Pulitzer committee as well. And while a certain cleverness and intelligence came to him naturally, he admitted that he didn't read a lot of different books growing up, but he did find a way to expand his vocabulary. "I read the dictionary," he admitted.
If Lamar spits truth in his rhymes, then what about those lines suggesting he shot someone (maybe two people) when he was 16-years old? When asked about it, the interviewer said he smiled and paused for a moment.
"If I told you I killed a n---a at 16, would you believe me?" he rapped in "m.A.A.d City." On "The Blacker the Berry," Lamar said, "Gangbanging make me kill a n---a blacker than me," and on "Hol' Up," he said, "As a kid I killed two adults, I'm two advanced." Were this literal confessions or poetic license?
After a beat, Lamar answered the question. "I'll put it this way: I've seen my own blood shed, and I've been the cause of other people shedding their blood as well. There was a split second when I felt what my homeboys were feeling, like I don't give a f--k anymore, and that's when I knew something else had to happen."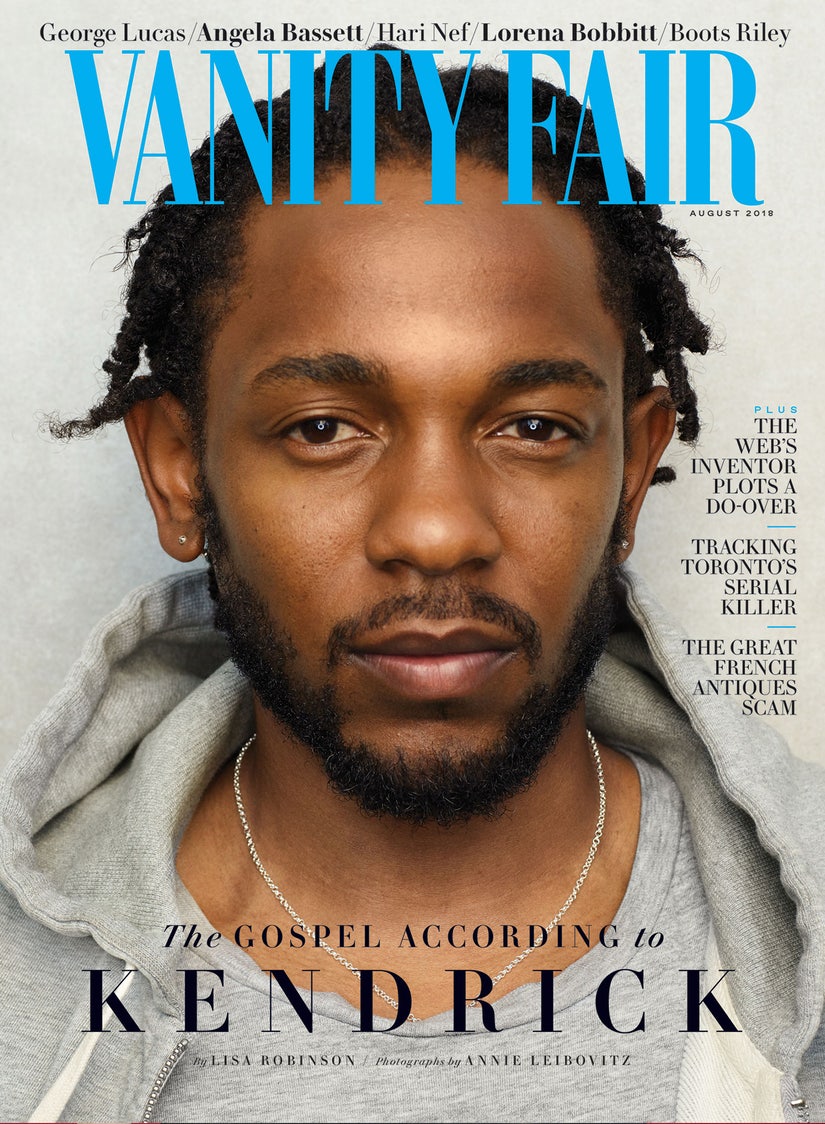 Annie Leibovitz/Vanity Fair
Whether he shot and killed anyone or not, it's undeniable that Lamar is one of many hip-hop artists who lived a rough life on the streets before finding success through their music. He's written about those experiences, and the "survivors' guilt" he's suffered since escaping from that world.
"I had three or four years of success and celebrity, but I can't get rid of the 20 years of being with my homies, and knowing what they go through. I can't throw that away," he said. "I know a lot of people who could. I've seen it, like, 'F--k you, I've got money now, I'm outta here, I don't give a f--k about none of y'all!'
"But that was something I couldn't deal with. I had to sit back and analyze it and [figure out] other ways I could impact these people without physically trying to bring the whole hood inside a hotel."
Like many in his field, Kendrick Lamar exudes confidence lyrically and when just talking. He even referred to himself as "the greatest rapper alive," in this interview. And while some might agree with that, it does raise a question. If Lamar speaks truth through his music, and he's been confident since childhood, where does all that self-doubt he writes about come from?
It turns out, this was something he hadn't really considered. "That's a question I'm going to ask myself tonight," he conceded. "Maybe it's that fear; a lot of artists have a fear of success, they can't handle it. Some people need drugs to escape. For me, I need the microphone; that's how I release it. And just figuring out a new life."
You can actually see him contemplating the question as he answers it, throwing out theories. "Maybe thinking that I'm doing something wrong, or that I'm a little bit different or gifted," he suggested. "It's the same thing as not wanting to accept compliments. Just wanting to work harder." Somehow, we think this whole notion might end up on a future album.
Why He Fights for the N-Word
Long-debated and possibly unsolvable, Lamar falls on the side of hip-hop artists who chooses to use the n-word. And yet, he's very specific about who can and can't use it, as he stopped a white woman during one of his concerts after he brought her on stage and she said the word while reciting his lyrics.
Lamar was challenged for his continued use of the word, even after Oprah Winfrey has said it makes her think of lynching no matter how it's pronounced. Again, Lamar takes a moment before delivering his carefully thought out response.
"Let me put it to you in its simplest form," he says. "I've been on this earth for 30 years, and there's been so many things a Caucasian person said I couldn't do: get good credit, buy a house in an urban city. So many things. 'You can't do that,' whether it's from afar or close up. So if I say this is my word, let me have this one word. Please let me have that word."
The word didn't give the Pulitzer organization any pause, as they selected his latest album, "DAMN." for their top honor in music. They describe the album on their website as "a virtuosic song collection unified by its vernacular authenticity and rhythmic dynamism that offers affecting vignettes capturing the complexity of modern African-American life."
It's an honor that isn't lost on Lamar. "To be recognized in an academic world, this thing really can take me above and beyond," he said. "It's one of those things that should have happened with hip-hop a long time ago. It took a long time for people to embrace us -- people outside of our community, our culture -- to see this not just as vocal lyrics, but to see that this is really pain, this is really hurt, this is really true stories of our lives on wax.
And now, for it to get the recognition that it deserves as a true art form, that's not only great for myself, but it makes me feel good about hip-hop in general. Writers like Tupac, Jay Z, Rakim, Eminem, Q-Tip, Big Daddy Kane, Snoop. It lets me know that people are actually listening further than I expected."