In Friday night's new episode of "Mama June: From Not To Hot", she was determined to lose a few extra pounds for a lingerie photo shoot. Although she had previously lost 300 Lbs. -- thanks to a tummy tuck, liposuction, dieting and working out -- June gained some of that weight back and was willing to do whatever it took to look good for the shoot.
"The lingerie shoot that Gina booked for me is in a couple days and I'm nervous as s--t," the reality star explained. "Tonia is a celebrity stylist. She's got this new lingerie catalog and she wants me to be on the front cover. I know I've gained a couple pounds and I've got to come up with some quick fixes to get some of this weight off so I look good in this lingerie."
Some of the "quick fixes" she tried out during the episode included shots of apple cider vinegar, running on the treadmill covered in Preparation H and wrapped in Saran Wrap, and wearing head-to-toe trash bags in a steam room.
"I think that's a little under what you need," Honey Boo Boo replied. "I think a good 45. I'm being serious"
With a mother-daughter pageant and Lauryn "Pumpkin" Shannons' wedding on the horizon, June suggested she and HBB work on getting healthy together. "I'm perfect the way I am," her daughter told her, "but if you need the support."
When it came time for the shoot, her boyfriend Geno Doak noticed she needed some, uh, grooming before getting in front of the camera.
"Chewbacca down there, we got a little scruffy going on," Geno said. "We gotta trim that s--t up some," he added, before offering to help her out with an electric razor down there.
"I used to be a landscaper," he joked. "Residential, commercial."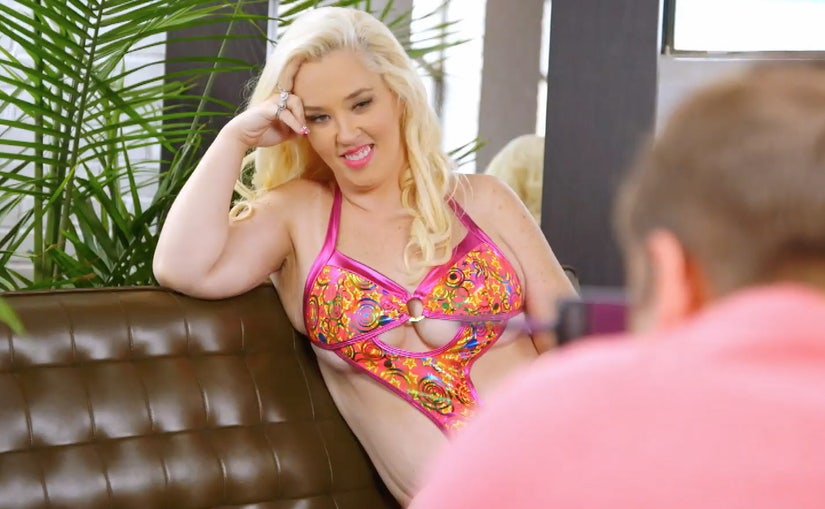 WE tv
June was thrilled with the results of the shoot, saying the photos proved her dedication to her family. "If this doesn't show you that I will do anything to keep my family fed, I mean nothing will," she said.
The family matriarch felt so good in her lingerie, that she thought she felt she could be a full-time model, but Geno wasn't totally on board.
"If you're going to do it full time, I think we should invest in a lawnmower," he quipped.
"Mama June: From Not to Hot" airs Fridays 9 p.m. ET on WE tv.