Colton Underwood, who was just named the latest "Bachelor," at long last got a lesson in sex education with the aid of visual props and less than accurate instruction on the fine art of lovemaking and procreation.
Colton, who came out as a virgin on the last season of "The Bachelorette," sat down with Kimmel for an uncomfortable father and son style talk about adult topics.
Kimmel prefaced the skit by telling viewers, "I want to help Colton. He's never done it. And I have a lot. I'm really good at it actually."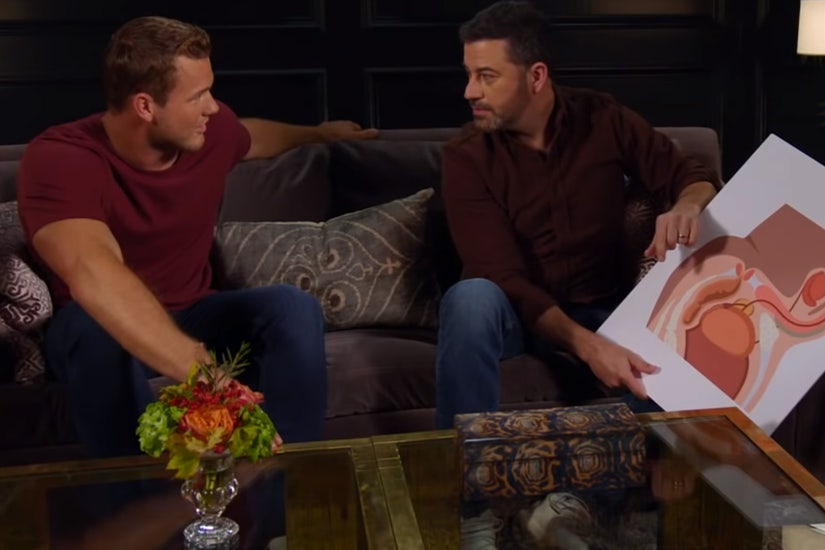 ABC
Colton claimed to have never had "the talk" allowing room for his host to ask him awkwardly, "Do you know where babies come from?"
"I think when a man loves a woman then they go into the bedroom," the reality contestant innocently replied.
"It doesn't have to be the bedroom," Kimmel said with a patient parental tone. "It could be the car, could be an elevator, could be the fantasy suite. My wife's parents conceived her on the kitchen table."
Kimmel then proceeded to pull out visual aids featuring male and female reproductive systems. However, when it came to describing anatomically and mechanically how babies are made, the host proved to be very unreliable.
But Kimmel did manage to conclude with some advice clearly born out of real life experience: "A human being comes out, and it wakes you up really early every single morning."
Watch the video below to see the hilarious and very awkward exchange.
Over the summer Colton broke down during the "Bachelorette: Men Tell All" special after his virginity was mocked by fellow dating contestants.
Later, the reality star expressed on Instagram that although these "insecurities" have been "buried for years," he's prepared to take on more "cheap shots" about his sex life if necessary to help others like him feel more "comfortable."
"Behind my smile are layers of insecurities, scars from my past & feelings that have been buried for years," he began in the lengthy caption. "It's easy to show only the good/happy times on social media...I do that. I love shedding light on positive/impactful events in my life, but the truth is I have had struggles."
"For years I hid my feelings, including depression & anxiety," he continued. "You see a portion of my life and a select few scenes that help portray a picture of who I am. I'm here to tell you that I am not perfect and that it's okay to not be okay sometimes."
"If I have to continue to take cheap shots about my virginity -- which is only a small part of who I am -- so that others like me can feel comfortable & relate -- Bring it on!"