Edwards tells TooFab how she's just like Bruce Wayne ... but with one fabulous wig.
"RuPaul's Drag Race" alum Alyssa Edwards is living her best life right now and is on a mission to get her fans to follow suit.
The drag queen just landed a major gig as the new face of TAZO tea's "Brew the Unexpected" campaign and its upcoming Camp TAZO experience. As counselor, Edwards will host a one-of-a-kind camp in 2019 and encourage people to "get out of their comfort zones and seek out the unexpected in new ways."
The message behind the campaign is one close to Edwards' heart, as she told TooFab how a young boy named Justin Dwayne Lee Johnson once took on the unknown to become the dancing queen she is today.
"My whole life, I was a very shy little boy, so it's about me overcoming that and that courage," she said before reflecting on her first solo dance recital.
"I remember going on stage for the very first time as a solo act, I was probably like nine or 10 years old," she recalled. "And being backstage, I started having anxiety ... I was literally getting sick. I remember my teacher giving me that pep talk like, 'You can do it Justin, you can do it. You have it all within you.' And I got on stage and it was a great, great performance and exhilarating."
Edwards said she stepped outside her comfort zone again years later when she was cast on "Drag Race."
"I had to find the courage to share not only myself, but my art with the world," she continued. "I faced fear and I went for it, I wasn't a failure and I'm very proud of myself."
Becoming the face of this campaign is a huge step for Edwards, one that also highlights just how mainstream drag has become thanks to the worldwide success of Ru's show.
"I'm kind of living a Bruce Wayne life and then morphing into Batman, but I'm glad now Batman comes out during the day," said Alyysa. "That's kind of like how drag was, we were called upon at night to make people smile and laugh and clap. This is the perfect opportunity for me to step out into the day."
"I think that drag, being mainstream, it's such a wonderful thing because even my sister, years ago, they thought it was so taboo and didn't understand it, or maybe they thought, 'Justin do you want to be a woman?' and I'm like, no Alyssa's my character," Edwards continued. "Everything Justin could never be or was too shy to be, me putting on that wig erased all of those insecurities. And I'm honored that I'm getting to share that, and I've been so grateful and thankful that TAZO is open to allowing me to share that."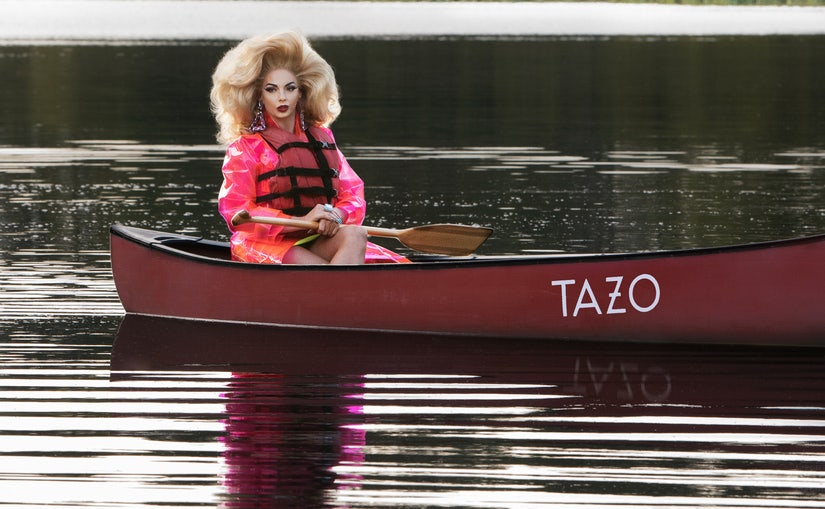 TAZO
Edwards had to once again experience the unexpected when it came time to shoot the campaign video and photos for TAZO, as she was tasked with doing ordinary camp activities in full Alyssa regalia.
"I've never canoed," she recalled, "And they're like, 'Alyssa we want you to canoe.' In drag?!"
"The water, the canoeing thing really shook me," she added. "I was shook to the core, like what if the thing flips over? What if an alligator comes and attacks me? What if a snake jumps in the boat? And then everyone's like, 'What if you get in the canoe and start canoeing and live your best life?' And then there I was."
TAZO tea drinkers can submit an application at www.CampTazo.com for the chance to participate in this once-in-a-lifetime experience early next year.
Waiting for your permission to load the Instagram Media.