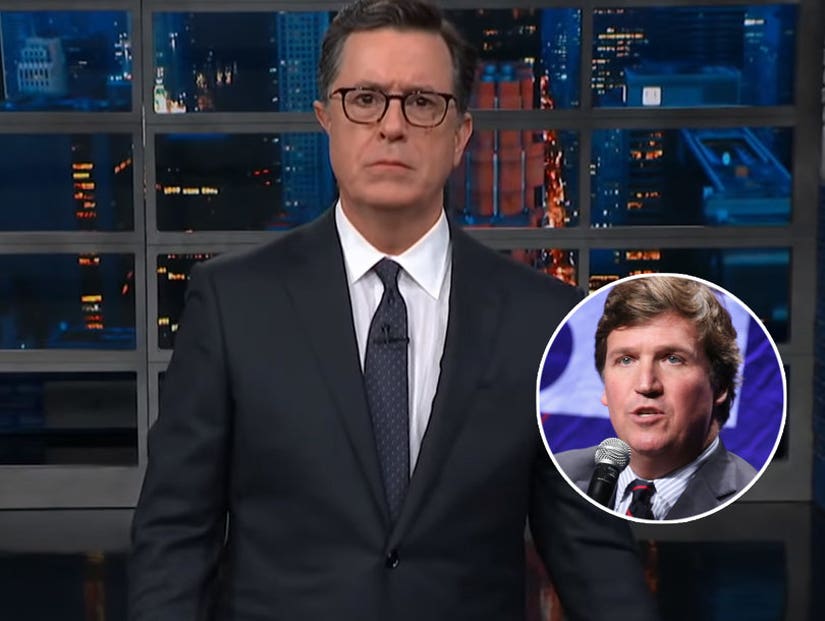 CBS/Getty
James Woods, Megyn Kelly and CNN stars are also among celebrities speaking out against demonstration organized by the anti-fascist group Smash Racism DC.
Stephen Colbert is one of Tucker Carlson's most famous and frequent critics, but he thinks the mob that surrounded the Fox News host's home on Wednesday night cross the line.
"Fighting Tucker Carlson's ideas is an American right," the "Late Show" host tweeted Thursday morning. "Targeting his home and terrorizing his family is an act of monstrous cowardice. Obviously don't do this, but also, take no pleasure in it happening. Feeding monsters just makes more monsters."
As TMZ reported, a group of protesters -- who clearly are not fans of Carlson's Fox News show -- gathered outside his Washington, D.C., home around 6:30 p.m. ET last night. Video footage from the incident shows the people in attendance chanting "racist scumbag, leave town."
Carlson was not home, but his wife Susie was. According to the police report, she retreated to a rear room in the house and dialed 911. Police found about 20 people there when they arrived and observed an anarchy symbol had been spray painted on Carlson's driveway. The Carlsons have four kids, but it's not clear if any of them were home at the time.
The group has reportedly been identified as Smash Racism DC, which used its Facebook page to encourage followers to confront famous right wingers at their homes. Colbert is not alone in thinking they crossed the line. James Woods, one of the few outspoken conservative actors in Hollywood, said he would not hesitate to attack if these people showed up at his front door.
I think Tucker Carlson is terrible.

Despicable actually.

Don't knock on his door or anyone else's door.

This is crossing the line.

@andylassner
Don't like someone on TV? Turn it off, change channel, let their advertisers know, tweet them ur opinion. But come on, don't show up at their home & scare their kids. -> "They were threatening me and my family': Tucker Carlson's home targeted by protesters https://t.co/IiOIUz0G1F

@ananavarro
.@TuckerCarlson I'm not in Antifa. No reasonable person thinks I peddle hate. But you told your audience those things. & then I received a barrage of threats & hate. & I had to take major steps to protect my family. So I can imagine how you feel right now. https://t.co/Ingi6aj7UL

@wkamaubell