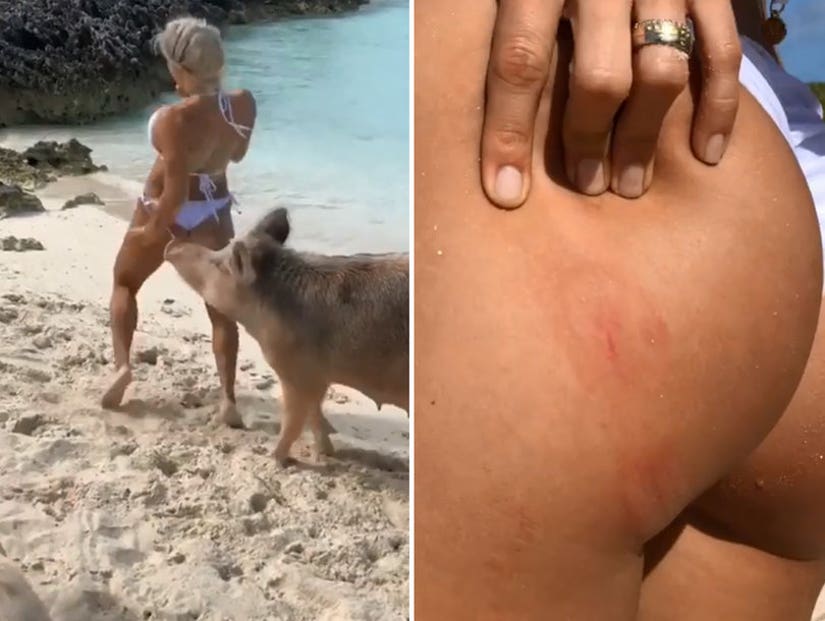 Instagram
This porcine group, made infamous by THAT FYRE fest commercial, are biting back.
Another disgruntled FYRE Festival group has joined the attack on models: the pigs.
Venezuelan model Michelle Lewin was savagely bitten on the butt on Monday while shooting on Big Major Cay in the Bahamas -- the spot made infamous by THAT FYRE Festival commercial. But the rage seems to be rather blind as Lewin had nothing to do with Billy McFarland or his failed party.
The 32-year-old shared with her 13.4million Instagram followers a video of a pack of unhappy ungulate charging her on the beach before sinking its teeth into her pert posterior.
The fitness influencer screams in terror "Me mordió! Me mordió!" (it bit me!), fleeing across the beach.
Afterwards she shows a close-up of the damage: painful-looking red teeth-marks on her otherwise-perfect behind.
Waiting for your permission to load the Instagram Media.
Things had been going swimmingly with the wild pack just beforehand; her Stories show her happily stroking some of the piglets, them licking her hands in return, and even going for a dip together in the crystalline waters.
The pigs shot to fame when they appeared in the gorgeous video promoting for FYRE Festival alongside the likes of Bella Hadid, Hailey Baldwin, Emily Ratajkowski, and Chanel Iman, as well as the subsequent exposeŽ documentaries when the event turned out to be a disaster / scam.
Iman even recently revealed that she was terrified of the pigs even as her fellow models frolicked with them.
"I don't like going to that island to see those pigs cause they really, really will bite you,' she said. 'If you see the Hulu documentary I am like running, I am jumping in the boat because I don't want anything to do with getting bit or getting hurt by the pigs.
"I know a lot of the girls are picking up the pigs, holding them, but like it just wasn't something that I wanted to do."