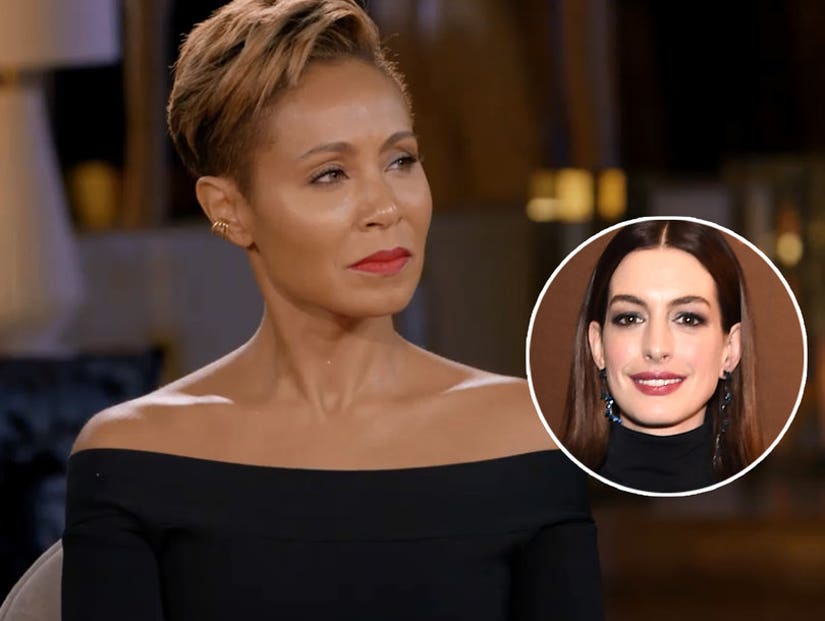 Red Table Talk Facebook / Getty
Jada believed Anne should be applauded, the panel was not so sure.
The host named her fellow actress during yet another blunt but fascinating "Red Table Talk" on Monday morning, this time centered on "white privilege".
As well as her mom Adrienne and daughter Willow, as always, the Facebook series welcomed black author and activist Rachel Cargle, Latina actress Justina Machado, and white writer Amie Newman as guests for what was a lively chat.
During the half-hour talk, the group tried to get to the bottom of the white privilege phenomenon.
While the panel unanimously agreed white women were not doing enough to promote equality — mainly out of lack of understanding — Jada insisted allies should be recognized when they do stand up.
"As women of color we really have to recognize when white women come in to help, that we make room for it,' she said.
"Because there's been a couple of times, like with Anne Hathaway... " she continued before she was cut off by a skeptical panel.
"It is trust issues!" Willow blurted, while her grandmother reinforced "and rightfully so."
Waiting for your permission to load the Instagram Media.
"I understand that Rachel!" Jada fired back, catching Rachel's look of skepticism. "But at some point, when are we as black women going to be able to recognize an ally?"
In July of last year, Hathaway sparked debate when she reacted angrily to the murder of black teenager Nia Wilson, who was stabbed to death by a white man.
"White people- including me, including you- must take into the marrow of our privileged bones the truth that ALL black people fear for their lives DAILY in America and have done so for GENERATIONS" she posted. "White people DO NOT have equivalence for this fear of violence.
"Given those givens, we must ask our (white)selves- how 'decent' are we really? Not in our intent, but in our actions? In our lack of action?"
She turned off the comments for the post, accurately predicting the wide -range of responses that followed elsewhere online.
Jada and Rachel disagreed on just how useful their "allies" have been to date.
"The truth is, until all women are free, no woman is free," Rachel said, quoting feminist author Audre Lorde. "And that's what white women don't understand."
Jada replied: "That's my belief; we all need each other. And I believe that white women are very clear about that, which is why they tend to rally for our support."
But Rachel countered: "How many of the women at the Women's March showed up at Black Lives Matter marches? I'd call it a parade... the Women's March was a parade of white women who wanted to feel like they were included in something. Not much changed in how they were showing up for people of color."
Rachel insisted that if white women want to help, they need to question where all the women of color are when they are in boardrooms and classrooms.
She accused white women of demanding the same power shift from men, without realizing they are the ones blocking women of color, inadvertently or not.
"It's not a matter of black women saying 'hey we're open to you being an ally!' that's not the case," she said.
"It's white women showing up and saying 'you have a righteous anger. You are allowed to be livid at the things we have imposed on you over history'."
"Instead of acting like they don't know: 'oh you're just angry!'," Willow chimed in.
Rachel continued: "They say why do I have to deal with what my ancestors did? And I say: 'until I don't have to deal with the consequences of what happened to my ancestors, I will be holding you accountable for what your ancestors did, because you're still benefiting from what they built on the backs of people of color'."
Jada did accept that some organizations tried to show they were "inclusive" just to show they were being "inclusive", slamming companies that ask people of color to come be photographed at events, without "showing receipts".
"I look at the resume. I'm not gonna be taking no pictures on the red carpet until you show and prove that you've actually been doing some work," she said.
"In my opinion we gotta stop flowing power to the photo op." Jada added. "You know as well as I do, there's a lot of performance going on. Show me the receipts."
Waiting for your permission to load the Facebook Video.