Even Gwyneth Paltrow has commented on the scandal -- and proves she has no idea what's going on.
UPDATE 6:40 a.m. on 2/23/19
Kylie has unfollowed Tristan on Instagram, but still follows Jordyn.
Jordyn has been removed from the website of Khloe's brand, Good American. In addition, Jordyn's "Good Squad" page has also been deleted.
UPDATE 1:29 p.m. on 2/21/19
Khloe has unfollowed Jordyn from Instagram. As of now she still follows Tristan. Kourtney has unfollowed both.
As the scandal continues to unfold in a public forum, Khloe hasn't shut herself off from the outside world -- and is instead stepping out on red carpets, reaching out to fans and posting to her own social media accounts with new updates.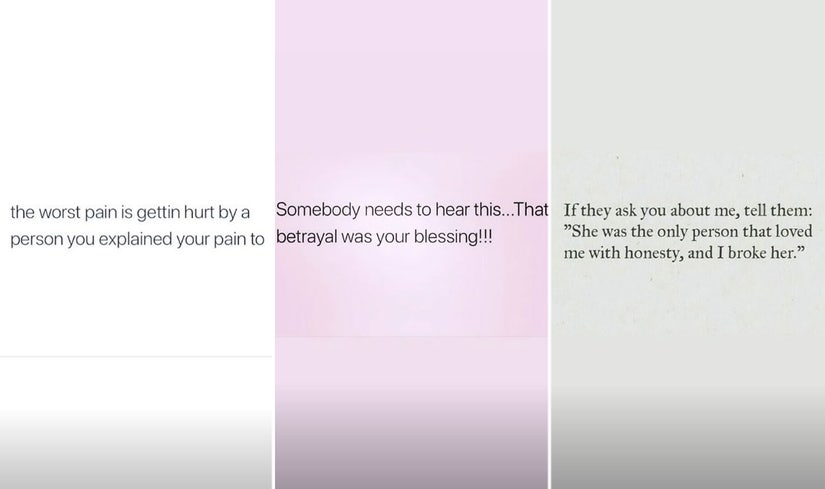 Instagram
On Thursday morning, Kardashian took to Instagram to post some very telling stories. While the quotes she shared were not her own, they all spoke to her current situation.
"The worst pain is getting hurt by a person you explained your pain to," read one. "Somebody needs to hear this... That betrayal was your blessing," said another. The third read, "If they ask you about me, tell them: 'She was the only person that loved me with honesty, and I broke her.'"
In a fourth story, she also shared some pop art of a crying woman.
The posts come after Kardashian attended made her first media event since the scandal broke.
The reality star attended the opening of PrettyLittleThing in Los Angeles on Wednesday night, alongside best friend Malika Haqq. Kardashian looked fierce in a sweater from the apparel line and leather pants and was seen interacting with "Vanderpump Rules" star James Kennedy inside the bash.
She had nothing but kind words for Kennedy and another unidentified partygoer in footage he posted on Instagram, where she was seen hugging both of them and telling the woman with a smile, "You're so beautiful."
Waiting for your permission to load the Instagram Media.
In other Khloe news, it seems she's also been leaning on her fans during this time.
Kardashian seemingly confirmed she's been reaching out to some of them privately on Instagram after she liked a tweet from one of her followers on Twitter. "I spoke to Khloé on IG DM and she wanted me to let you all know that she loves us all and that she can't 'thank God enough for each and everyone of [us],'" the fan wrote. "I notified her that I'm here to pass this message along."
That interaction came after she liked another tweet reading, "@khloekardashian dont let anyone ever say this is your fault! He is a sick man and if its true, then she is a terrible woman, both terrible people that do not deserve your love. TRUE does and ur doing great showing her that love."
While the entertainment news cycle has been obsessed with every late breaking development -- including word that Jordyn has moved out of Kylie's home -- not everyone is as well versed on the situation as they'd like to be.
Gwyneth Paltrow proved she hasn't been "Keeping Up with the Kardashians" when she was caught by Comments By Celebs showing her pop culture blind spots on Instagram.
One woman's post about the whole situation, she commented, "Can someone explain what's going on? I have never heard of half of these people, someone give me context. Please. It seems serious."
Gwyneth, we're here to help.
Waiting for your permission to load the Instagram Media.
And while Paltrow was clueless, Cardi B proved she could relate to Khloe during an Instagram Live she did last night.
"Why us women don't have compassion toward each other? Y'all know I've been through some shit, I know y'all know I've been through some shit," the rapper said to her fans. "This whole Khloe Kardashian thing and everybody is like celebrating that that happened to her. It's like, why? I know the Kardashians have done f--ked up shit before and everything, but the thing is, it's like, I think the karma got to them when the last situation happened to shorty before the day she gave birth."
"Whatever karma they deserve, I think they already have it," she continued, referring to Tristan's first infidelity scandal. "So why do you guys keep wishing that on a woman? Especially a woman that has a daughter? We know how it is when a n---a fuck up. Y'all know that your heart shatters in pieces. Y'all know it feels like your heart is literally bleeding and you just want to die. You can't even escape it when you're seeping, you dream about it."
Of Khloe, Cardi added, "She already learned her lesson, something real f--ked up happened before she gave birth, so why do you guys keep enjoying other people's pain, other people's misery, knowing how much it hurts when a guy that you're in love with, especially the father of your child, does something wrong?"
She also called out "all these fake ass woke people" celebrating women and feminism, saying they're the same ones "that will be laughing in the comments when another woman is going through some shit."